Imagine walking in stately Drexelbrook, a historic wedding and event venue in Delaware County, with your fiancé and served bay scallops wrapped in bacon, roasted pear and goat cheese tarts and mini beef wellingtons with a side of horseradish cream. And that's just a few of their butlered hors d'oeuvres.

That is what engaged couples experienced at Drexelbrook's recent bridal showcase. We reached out to Drexelbrook Director of Events Jean Fernandez for a peek inside this fabulous wedding event. Here is what she had to say:
Upon guests' arrival, they were welcomed by the Drexelbrook Team's professionalism, passion and impeccable service throughout this thrilling and memorable evening. Drexelbrook hosts the wedding showcase for the Brides, Grooms, Couples and their decision makers to prepare them for their menu meeting that they will have with their personal wedding specialist. There are several advantages to attending:
Meeting Wedding Professionals: During cocktail hour, our business partners are there to offer any service or advice needed for their wedding day.
Ambiance: Then the Drexelbrook Team invites our guests to an amazing reception in our elegant South Ballroom, displaying multiple linens, chair covers with sashes and resin reception chairs.  The Ballroom was filled with all of the glamorous choices that they select during their menu meeting.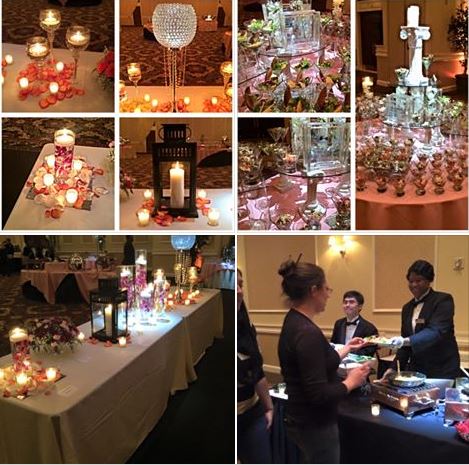 Menu: In our beautiful Center Ballroom, an array of fresh, house-made and savory food was displayed at stations such as cheese and crudite and a pasta primo bar and for them not only to taste but to see the presentation.
The dinner hour provided even more insight into the wedding menu as guests were invited to enjoy sample sizes of entrees at a poultry station with offerings like chicken piccata, panko and parmesan crusted chicken, a seafood station with pan seared salmon or pesto and parmesan crusted tilapia, among other choices. Perhaps the carving station is more your style with hand-carved slow roasted tenderloin of beef with brandy mushroom sauce. Of course, a vegetarian station was yet another option. And what event would not be complete without dessert—a Drexelbrook signature sundae bar.
Vision: Drexelbrook partners with Eventricity for our complimentary centerpieces.  Our complimentary centerpieces and upgraded ones are on display for viewing.  But, the best part is Phyllis Jablanowski, CEO/Owner of Eventricity, is there to answer any questions and offer the latest trends for bridal flowers and decor. Also, she provides insight on how she and her company can transform their Drexelbrook wedding ceremony and reception in the ballroom into their wedding vision.
Tastings: The Master's Baker and SophistiCakes are the chosen bakers for Drexelbrook.  They work with our couples for their very important wedding cake which really symbolizes the couple with their unique designs and with the most ever so scrumptious flavors that you can imagine.  Both bakers are there to show their very best cakes along with offering a tasting of a variety of flavors from traditional pound cake to tropical Pina Colada-- the latest trend.
The excitement that is projected by the brides, grooms, couples and families is electrifying as they realize this is just a peak at what their Wedding will be at Drexelbrook. Drexelbrook is not only there to meet their expectations but, to exceed them which is why it is called the Drexelbrook Wedding Experience.