A once-in-a-lifetime milestone should naturally match a once-in-a-lifetime cake. So, how do you set your wedding cake apart from the rest? We turned to Jordan Harvey, owner of Velvet Sky Bakery for her expert recommendations. Here is what she had to offer: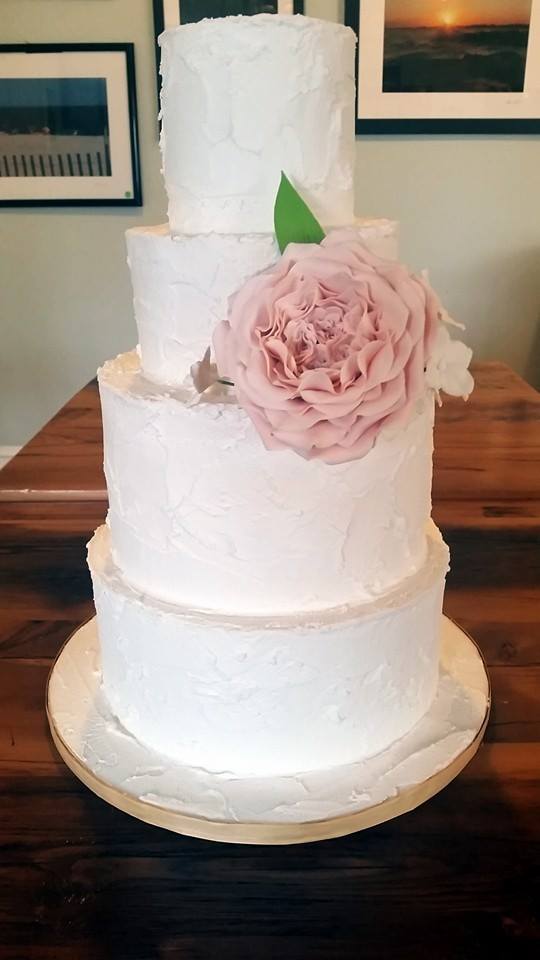 Photo credit: Velvet Sky Bakery
1. Preparation. Be sure to prepare well before your consultation with your cake designer. This is your cake, your wedding, and the centerpiece of your celebration (aside from YOU, of course!). Be sure to bring your individual style to the consultation and let your ideas be heard by your designer. Here at Velvet Sky Bakery, we encourage this. Bring invitations, any design elements, pictures of other cakes that have inspired you. The more the better! 
2. Details. Be sure to request sketches before finalizing your cake design. Don't skimp on the details, because the details can make all the difference between a generic wedding cake and one that is truly unique and individually expressive.
3. Swatches. Bring them to your consultation. The better your colors can be matched with your cake, the more the final creation will be a truly integrated part of your celebration. Don't rely on sending digital files of your colors -- I've seen more than a few mismatches due to computer screens being different!
4. Flavor. Be sure to explore options and request a tasting with your consultation - prices will vary per bakery, of course, but since everyone at your wedding will be eating your cake, it's important that your cake flavors speak to you, and for you. Are you a purist, and prefer a traditional vanilla cake throughout? Or are you more of a champagne cake with strawberry buttercream kind of person? Is your love bittersweet, and would a dark chocolate cake with salted caramel buttercream make a great top tier for you to take home? It's likely almost everyone at your wedding will be partaking in a slice and these are the details they are likely to remember for years to come. Besides, what's more fun than a private cake tasting with your fiancee admist the planning madness?   
5. Consider a Grooms Cake. This will really set your party apart from any other, and is a chance to surprise your partner with something incredible that you and your guests will remember for the rest of your lives. Think about your favorite things that you share with your groom and how you might transform that into an edible dessert. We've created sports helmets, comic characters, pint of beer and even tanks, to be served alongside a more traditional wedding cake. They are a huge hit at any wedding in the Philadelphia area!