Elements that dream weddings are made of --elegance, romance, and a majestic castle with sweeping views of the countryside. It sounds like a fairytale but historic castle wedding venues in the Philadelphia area truly exist.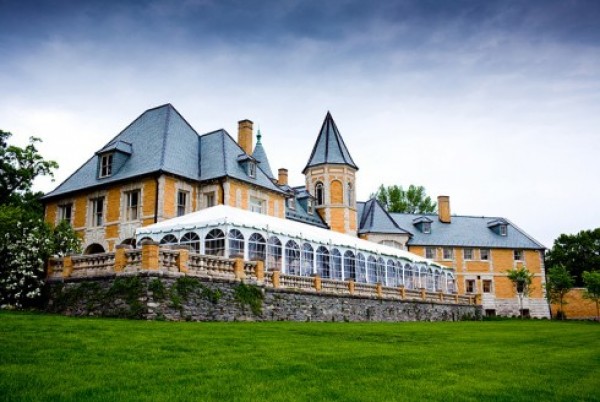 Photo credit: Cairnwood Estate/Wojtaszek Weddings
A castle or mansion wedding venue blends history with grandeur, and often nature. Distinctive period architecture offers a unique setting surrounded by English gardens, stone fountains, ponds. Many have an elaborate climate controlled tent for those wishing to dine and dance under the stars. Often, there are paintings, antique collections and period pieces on display that serve as great conversation starters among guests. Those seeking a little fairytale magic may even find a stone or wrought iron balcony fit for royalty! There, couples may offer a champagne toast to guests gathering below.
Here are some of our favorite fairytale Philadelphia wedding venues:
1. Cairnwood Estate: Designed by Carrere and Hastings and built by industrialist John Pitcairn in 1895, Cairnwood is quietly secluded behind walls and an entry gate leading to this Montgomery County wedding venue. The mansion is set among towering trees, bordering gardens, and expansive lawns descending from terraces at the rear.

Cairnwood's first floor offers an elegant setting for various functions. The centerpiece of the mansion is the Great Hall, a spacious and sunny room rising two stories and flanked by a wide and open staircase leading to the second floor balcony. Three arched glass doors open onto the terrace and lawn beyond. All rooms are large, beautifully decorated, and include fireplaces. Great care has been taken to make Cairnwood handicapped accessible. The fine craftsmanship and architectural details of this lovely former home will provide the perfect setting for a truly memorable event.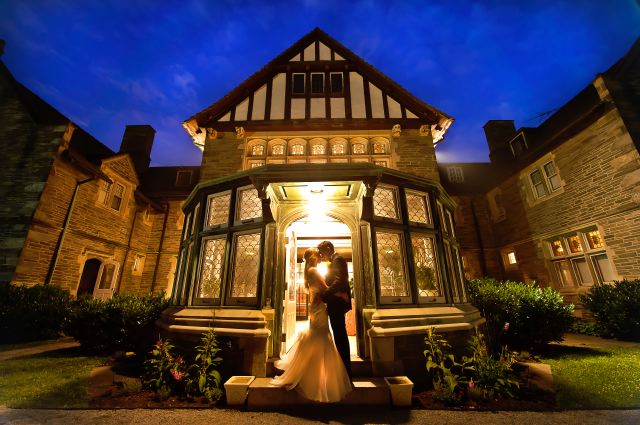 Photo credit: Greystone Hall/John Shetron Photography
2. Greystone Hall: Greystone Hal, a Chester County wedding venue, is an English Renaissance style mansion on a private country estate. Its rooms are furnished with private collection of antiques and oriental carpets. Wedding ceremonies take place in front of a wrought-iron arbor or inside the stately oak-paneled Great Hall.

From May to mid-December, dining and dancing take place in the Tent-Pavilion and adjoining terraces, which overlook the formal landscaped garden. Capacity averages 200 for dining and dancing, but will vary according to the type of food service style selected and if your ceremony is on site. It's the perfect setting for your Chester County wedding.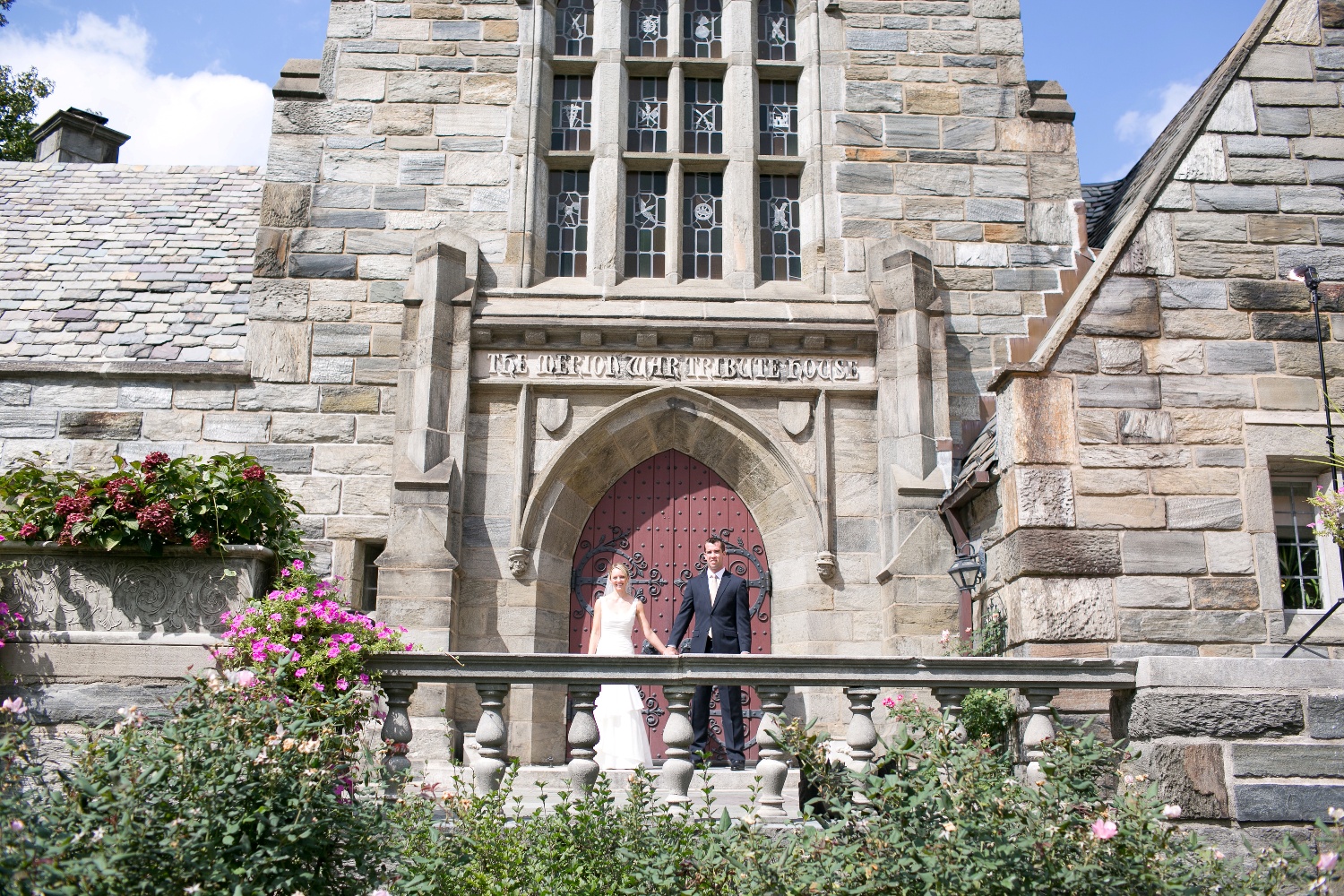 Photo credit: Merion Tribute House/George Street Photo
3. Merion Tribute House: Since 1924, the Merion Tribute House, a Montgomery County wedding venue, has hosted some of the Main Line's most spectacular social occasions. Designed in the Arts and Crafts style of the 1920's, Merion Tribute House was built to hold community events and social functions - so the layout is perfect for parties, large and small.

Merion Tribute House features three front rooms with slate floors, a breathtaking stone cathedral, carved wood-beamed ceilings, fireplaces and stained glass windows. Majestic doors open onto the flagstone terrace during cocktail hour while the ballroom will seat 175 guests with a dance floor for your reception.
Its wedding balcony is perfect for pictures of the couple or for the bouquet toss to guests waiting below. Located on eight well-manicured acres just minutes from Philadelphia, the fully air-conditioned Merion Tribute House can accommodate indoor and outdoor wedding ceremonies. Brides will enjoy a private dressing suite.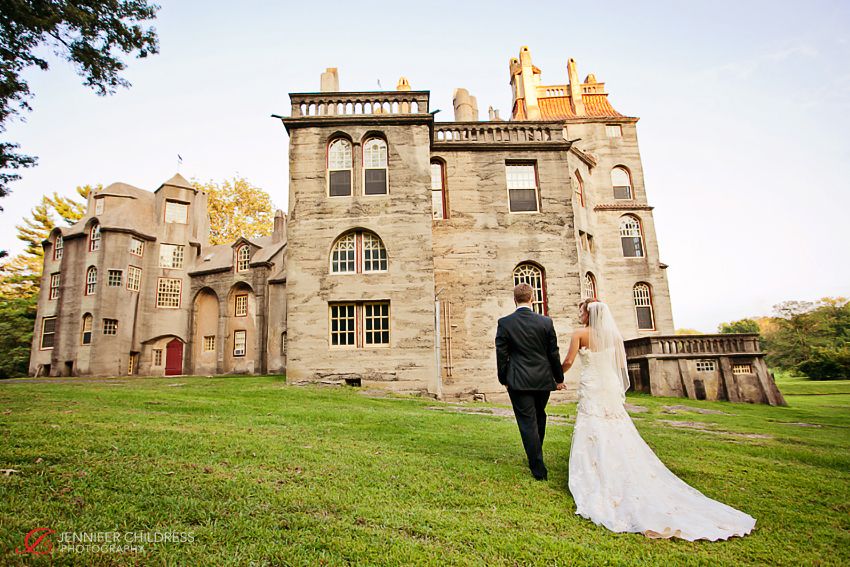 Photo credit: Fonthill Castle/Jennifer Childress Photography
4. Fonthill Castle: Enjoy cocktails on the balcony of the Terrace Pavilion before descending the winding staircase to dine and dance under chandeliers in the ultimate White Wedding Tent nestled beside the castle.
A National Historic Landmark, Fonthill Castle was designed and built between 1908-1912 by Dr. Henry Chapman Mercer, archeologist, collector, ceramist, and Renaissance man, and is situated on 30 private wooded acres approached via a long, tree-lined drive.
Fonthill Castle is constructed entirely of hand mixed concrete. Mercer embellished the interior of Fonthill with thousands of beautiful decorative tiles using his own Moravian Tiles that were hand-made on the estate at the historic Moravian Tile Works. Tiles are still made and sold there.

This truly unique and picturesque Bucks County wedding venue also features the intimate Terrace Pavilion - a romantic setting for a cocktail reception or a small seated dinner. The beautiful Grand White Wedding tent, on a seasonally permanent basis, offers heat, floor, carpeting and a silk liner.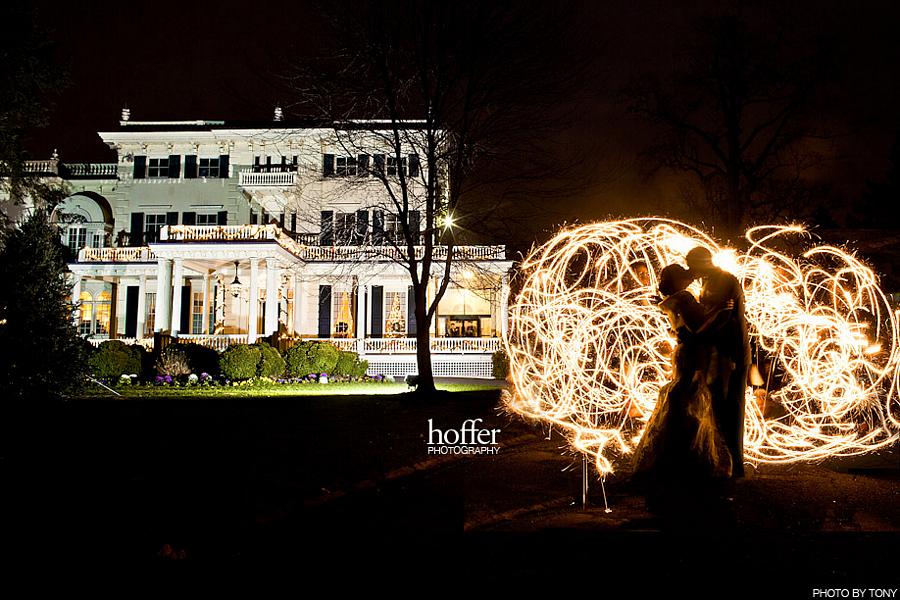 Photo credit: Glen Foerd/Hoffer Photography
5. Glen Foerd Mansion: Enter the gates of this historic estate and you will be greeted by acres of lush English gardens and stunning riverfront vistas. Glen Foerd's portico invites you and your guests to explore the mansion's grand elegance. Head up the grand staircase (with the dome of stained glass overhead) to the Art Gallery to admire works by Rembrandt, van Gogh and Monet. The mansion is fully furnished with a treasured collection of antiques, original chandeliers and other architectural elements. With the addition of a fully-customizable riverside event structure, Glen Foerd is the perfect setting for your Philadelphia County wedding ceremony and reception.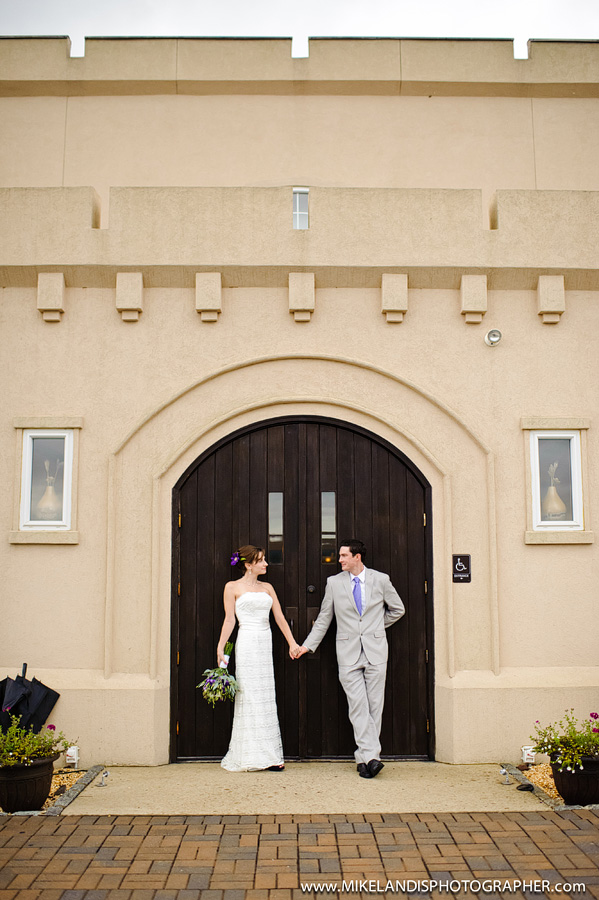 Photo credit: Sand Castle Winery/Mike Landis Photography
6. Sand Castle Winery: Sand Castle Winery, nestled on the banks of the Delaware River in historic Bucks County, Pennsylvania provides the perfect setting for your special event. Situated in the middle of over seventy acres of vinifera grape vines, Sand Castle Winery boasts spectacular views, charming ambiance and memories that will stay with you and your wedding guests for a long time.

Your guests arrive via the tree lined drive, enter the stately castle into the vast and charismatic tasting room and enjoy the evening looking out over the vineyard to the passing river below.

The state-of-the-art tented site has a carpeted floor, decorative lighting treatment on the high vaulted ceiling. The mountain view room gives you an unmatched view of the surrounding Bucks County charm. Your event will be memorable and personal to your own taste and style when you choose the caterer, decorator and entertainment that fits you.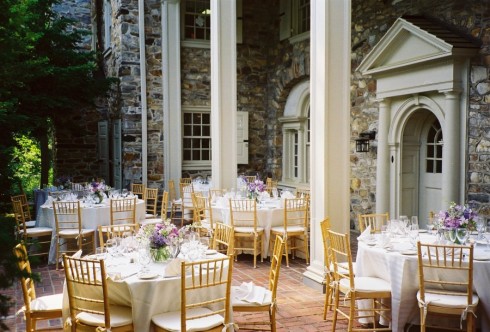 Photo: Bolingbroke
7. Bolingbroke Mansion: This Main Line wedding venue is an 18th century colonial mansion with four charming reception rooms, two spacious terraces and beautiful secluded gardens. The rear yard provides a picturesque outdoor ceremony site.
Bolingbroke is conveniently located just a half mile from Route 476. For more than 50 years, Bolingbroke has been providing an ideal setting for Main Line wedding ceremonies and receptions, rehearsal dinners, private parties and corporate events.
Catering by Design is an exclusive hospitality party to Bolingbroke. Catering By Design is the purposeful manifestation of pairing food and design in every last detail of an event. The menu, décor, entertainment, and facilities are all crafted specifically for each occasion.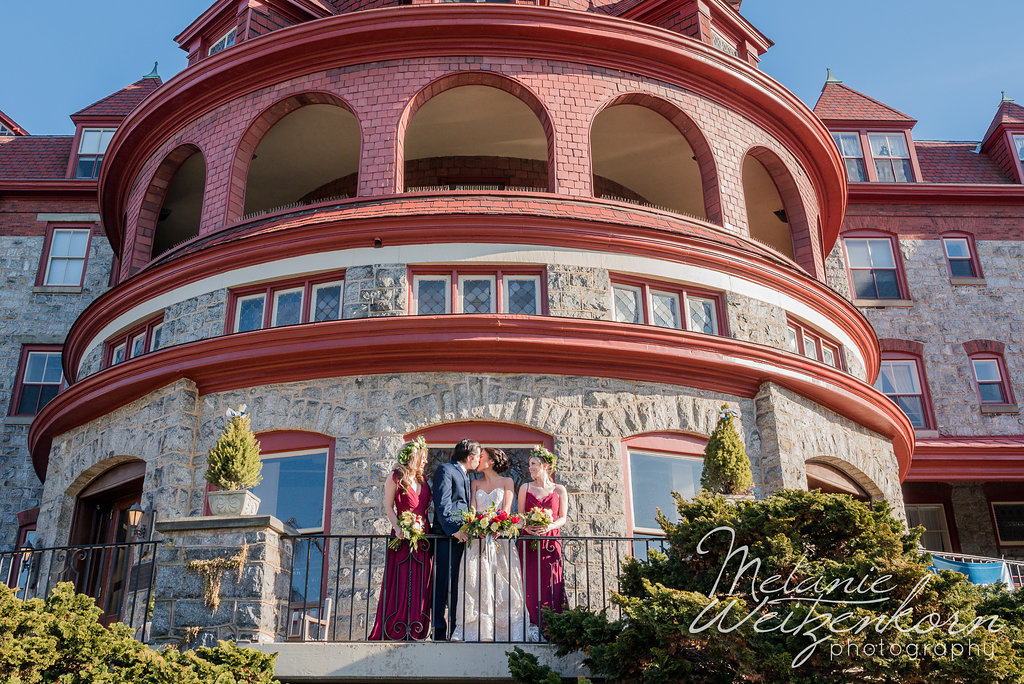 Photo credit: The Residence at Baldwin/Melanie Weitzenkorn Photography
Bonus Venue: Our list could not be complete without including The Residence at Baldwin, located on The Main Line in Bryn Mawr, PA! In fact, "its cascading grand staircase, provides a spectacular grand entrance" for the couple. And if the venue and its interior wasn't dreamy enough, the bride and groom "receive the royal treatment, seated on a gorgeous antique double throne as they are served their first meal together as husband and wife."