Are you thinking about a destination wedding? You may want to think about Bermuda with these unique and stunning locations for your wedding ceremony and reception.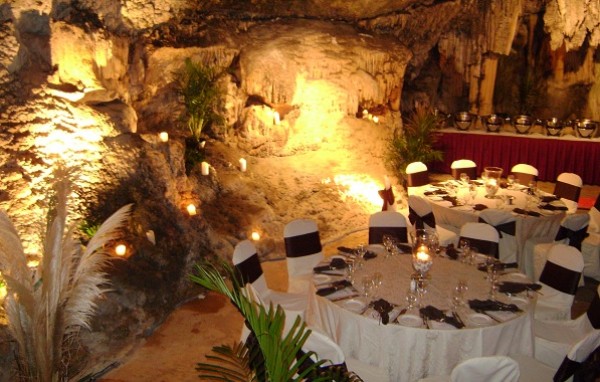 This list of wedding locations in Bermuda is sure to inspire you. With the island only a few short hours away from the east coast of the US – a destination wedding in Bermuda is the perfect place! All of these locations are possible if you come by air or cruise. If you love a specific area on the island, let us know in the comments below.
Bermuda Beach Weddings
Bermuda's fine, white sand with its heavy pink hue offers an intimate scene for a wedding, which will be remembered for a lifetime. Set your wedding on the sand or on a grassy area near to the beach. Have the sand between your toes with the soothing sound of the waves in the background. Its an idyllic setting. Many of the locations for a wedding in Bermuda revolve around the beach. You can find a wide variety of restaurants, cliffs, gardens, and hotels near a beach. Therefore, it is easy to host your wedding on the sand and have the reception of your dreams at any of these other fine locations.
A Cliff-Side Wedding
Take the beach wedding above and elevate it up on a cliff overlooking the amazingly beautiful waters of the South Shore. There are numerous parks in Bermuda that can be graced with a wedding. Astwood Cove and Park and many others on the South Shore are famous for the breathtaking views and surroundings they offer. The beauty of these views will forever be captured in your wedding photographs.
An Old Bermuda Fort
Most of Bermuda's forts are up high on a hill overlooking the ocean giving you the same remarkable views as if you were on a cliff on the South Shore, except this time you are surrounded by a historic fortress. You can time your wedding for the sun set, let children explore the fort, and have guests take pictures around the old cannons and fortress walls with this unique Bermuda experience.
A Luxury Yacht
You and your guests are sure to enjoy an evening cruise on a luxury yacht charter. You will see Bermuda's colorful water-front homes while cruising through hidden bays and coves. You can easily combine any of the other venues for your wedding and host your reception aboard a luxury yacht. There are many venues on this list that are a short distance walk to a dock where a yacht can be waiting for everyone. Or better yet, since this is one of the most precious moments in your life, there can be horses & carriages or a small train that can be used to transport you and your guests. The options are immense. Bermuda offers some beautiful yachts to choose from. Take for example two of the larger ones below:
Spirit of Bermuda: This is a 112′ modern built Bermuda sloop. The three-masted sailing vessel will turn heads as you and your guests sail around the island's waters. The yacht has a seating capacity for up to 50 people to host a wedding on board.
Venetian: 100′ Azimut Benetti. This extravagant yachting experience will be remembered for a lifetime. Host up to 36 of your loved ones on board this luxury yacht for a private wedding and sit down dinner.
Bermuda Botanical Gardens
The Botanical Gardens is a 35 acre park in the center of Bermuda with a variety of flowers, shrubs, and trees. Countless weddings have taken place on the garden's grounds and multiple couples have stopped by simply for their wedding photos. Head to the bright and fragrant rose garden, the huge banyan trees with their protruding root systems, or any of the other hidden areas in these amazing gardens.
In a Bermuda Cave
This is a truly unique experience. Enjoy your wedding or reception in a cave complete with an underground lake. The ambiance will be nothing less than spectacular! You can have your wedding on the beach out front and then have everyone move into the cave for dinner and dancing.
In An Old Church
You can have your wedding in an old Bermuda church and then celebrate with a reception at any of these other venues on the list. There are many churches in Bermuda that date back to the late 15th and 16th centuries and the island is known for the high amount of churches per square mile compared to anywhere else in the world.
In any of Bermuda's Unique Restaurants
There are multiple restaurants in Bermuda that offer wedding reception services. Enjoy your reception overlooking the South Shore with waves crashing over the boiler reefs below. Or take the celebration with your loved ones to a building that is hundreds of years old. There are many restaurants to choose from on the island, each with their own unique and desirable qualities. It is best you discuss with one of our wedding planners or your own about the style you are looking to achieve and the options available. This way, they can best guide you.
Thinking of Bermuda
If Bermuda is on your mind, make sure to contact Thinking of Bermuda. We are a full-service wedding consultant and travel agency dedicated to the island. Our wedding planners can help you choose your wedding and reception location – along with every other detail that goes into planning a destination wedding on this remarkable island. We work with the best vendors to ensure high demands and expectations are met. With Thinking of Bermuda you are able to organize cruises, flights, and hotels, and have your own personal wedding planner who will take care of everything else to help create a lifetime memory for your special day. By organizing everything for your wedding day with Thinking of Bermuda, it allows you to save time and money for the things that matter most.
Free Initial Consultations and Quotes.
Call us toll-free in the USA: (855) 777-2038
Or call us internationally: +1 (561) 674-1834