Come get inspired to plan your wedding from 12-3:30 p.m. April 24 at Aldie Mansion!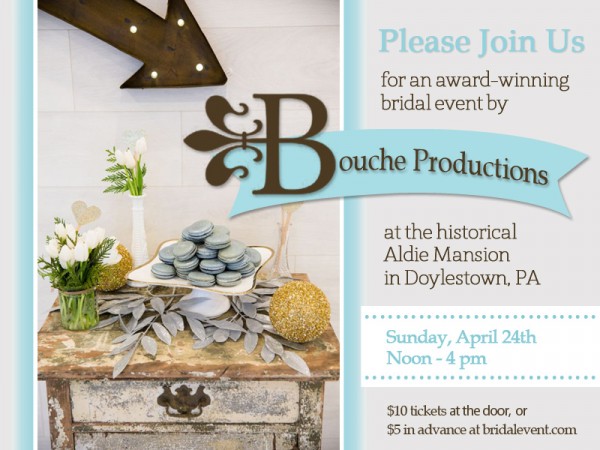 This special bridal show features the best wedding and event professionals in Bucks County, all while taking in this historic Bucks County wedding venue in full Spring splendor.
Described as a "boutique-style" bridal show, you will enjoy meeting vendors during a strolling fashion show throughout the Tudor mansion's many rooms, library and ballroom to inspire your perfect wedding day. Explore the oak paneled library, fireplaces, wrought iron balcony, distinctive fountains, bluestone flooring, all set on lush rolling lawns in beautiful Doylestown.
Enjoy butlered hors d'oeuvres, a tempting display of desserts, and fun beverages by Jeffrey Miller Catering. Sip and savor while speaking with local wedding vendors, taking in musical entertainment and the latest in bridal fashion and bouquets.
It's a truly fabulous upscale show for the discerning bride, without being stuffy.
Tickets are $10 at the door, but just $5 in advance here.
Aldie Mansion is located at 85 Old Dublin Pike, Doylestown, PA.