Here are some expert tips on how to design an elegant Art Deco cake for your glamorous wedding or special event.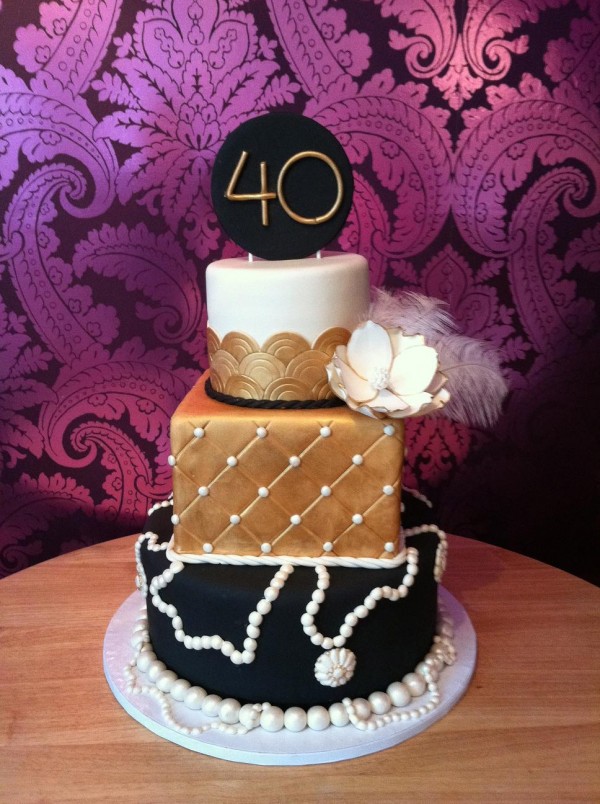 Photo credit: The Cake Boutique
The "Gatsby" era took place during the Roaring Twenties, a time period of economic prosperity in which artistic, cultural and social dynamism took place. Art Deco style was formed after World War I, this era offered people a glamorous lifestyle. Therefore, an Art Deco wedding cake should be both glamorous and elegant.
Art Deco was known for streamlined, modern look with a monochromatic color scheme. Metallics were also popular as they represented the wealth and prosperity of the times. You will see in our design, we choose a black and white color scheme with accents in gold.
To channel the "Gatsby" look lace, pearls, rhinestones, feathers, and brooches make great touches to accessorize an Art Deco cake. To incorporate Art Deco elements, geometric designs, rounded edges and a streamlined look is important.
The number of tiers for a wedding cake typically is reflected in the number of servings you are in need of, however, we would recommend doing a three tier cake as reflected by Art Deco. With Art Deco design, things seemed to come in 3's, 3 windows or 3 banding's- this is believed to be from the Egyptian influence of the pyramids. (You will see in our Art Deco Design that we use 3 tiers, and 3 rows of circles).