You are planning your summer wedding in the Philadelphia area, and you are looking forward to a glorious sunny day. Your ceremony (and maybe even your reception) will be outside, as long as the weather cooperates.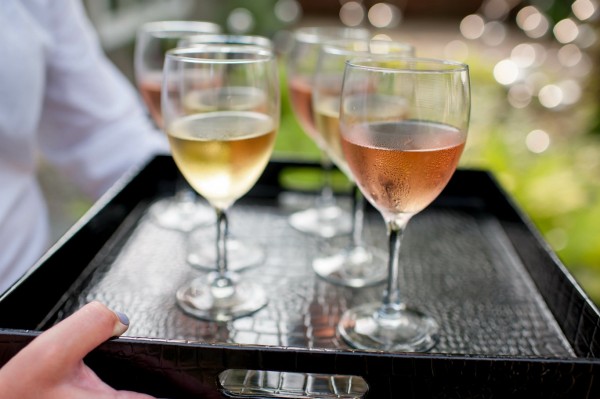 Photo credit: I DO Wedding Consulting/Regina Miller Photography
But that's the thing. As a Philadelphia wedding planner, I talk with couples very frequently who are concerned about rain, and that's the focus. The decision about whether to have the festivities outside or to go to an indoor Plan B is rain dependent, and when it rains, you simply go inside.
But I always follow this discussion with another weather-related conversation. What if it IS gorgeous outside. And HOT? We always speak about the guest experience, and here are eleven tips to help keep your guests cool and comfortable, letting them know that you are thinking about them on your special day:
1. Inform your guests about the location or your ceremony/party. If they are going to be outside, make sure they know so they can dress appropriately. And if you are going to have them stand/sit in chairs on grass, make sure to let the women know that there may be difficulties walking in high, slim heels. Plastic heel protectors, which prevent heels from sinking into grass, can be purchased and offered to your guests.
2. Water, water, everywhere. Water stations in a number of locations are vital. You will want your guests to stay hydrated throughout the event. And just a reminder to make sure your wedding professionals (including but not limited to your photographer, videographer, musicians, and of course your wedding planner) have access to drinking water all day.
3. The Dollar Store or equivalent is going to be your friend. You will want to purchase washcloths for all of your guests, and then have someone (the venue, caterer, planner, friend) roll them and put them in a bucket with ice and a bit of water so that guests can wipe their faces and refresh themselves. And don't forget a receptacle for the disposal of the cloths during the event and a way to get them home afterwards.
4. If you are transporting your guests on a bus, trolley, or other vehicle, you might consider purchasing instant ice pack/single-use cold compresses. These have granules at the bottom of the pouch that, when squeezed, make the pouch become cold. And these won't drip on your wedding party's clothing or that of your guests.
5. Instead of regular wedding programs, have the information printed on hand fans. Thus they can do double-duty.
Photo credit: I DO Wedding Consulting/Regina Miller Photography
6. Think about offering a butlered signature drink, water, iced tea, lemonade, and/or other drinks to your guests. That way they don't have to stand in the heat while they wait to be served.
7. You might want to purchase cute sunglasses for your guests. These will also be fun favors and will make cute photos.
8. If it is really sunny, and there is not enough shade to protect your guests, making suntan lotion available (at the end of several rows of seats, in the bathrooms, on the bars, or in other convenient places) will be incredibly helpful to your guests.
9. If the ceremony is outside on a hot day and then your guests come inside for a reception with major air conditioning, you might consider providing pashminas for the women. Going from very hot to very cold is sometimes a challenge.
10. Instead of having your guests seated and served an intermezzo, butlering sorbet in mini ice cream cones on the dance floor is a refreshing and fun touch and keeps the guests partying and cool at the same time.
11. And think about popsicles/ice cream as a welcome dessert!
Lynda Barness
P.O. Box 22450
Philadelphia, PA 19110
(215) 262-8188 http://www.idoplan.com
Master Wedding Planner
Author, I DO: A Wedding Planner Tells Tales
now available online at Amazon and Barnes& Noble
2016 Readers' Choice Best of Main Line Media News