Say, "I boo," to these bewitching Philadelphia wedding venues.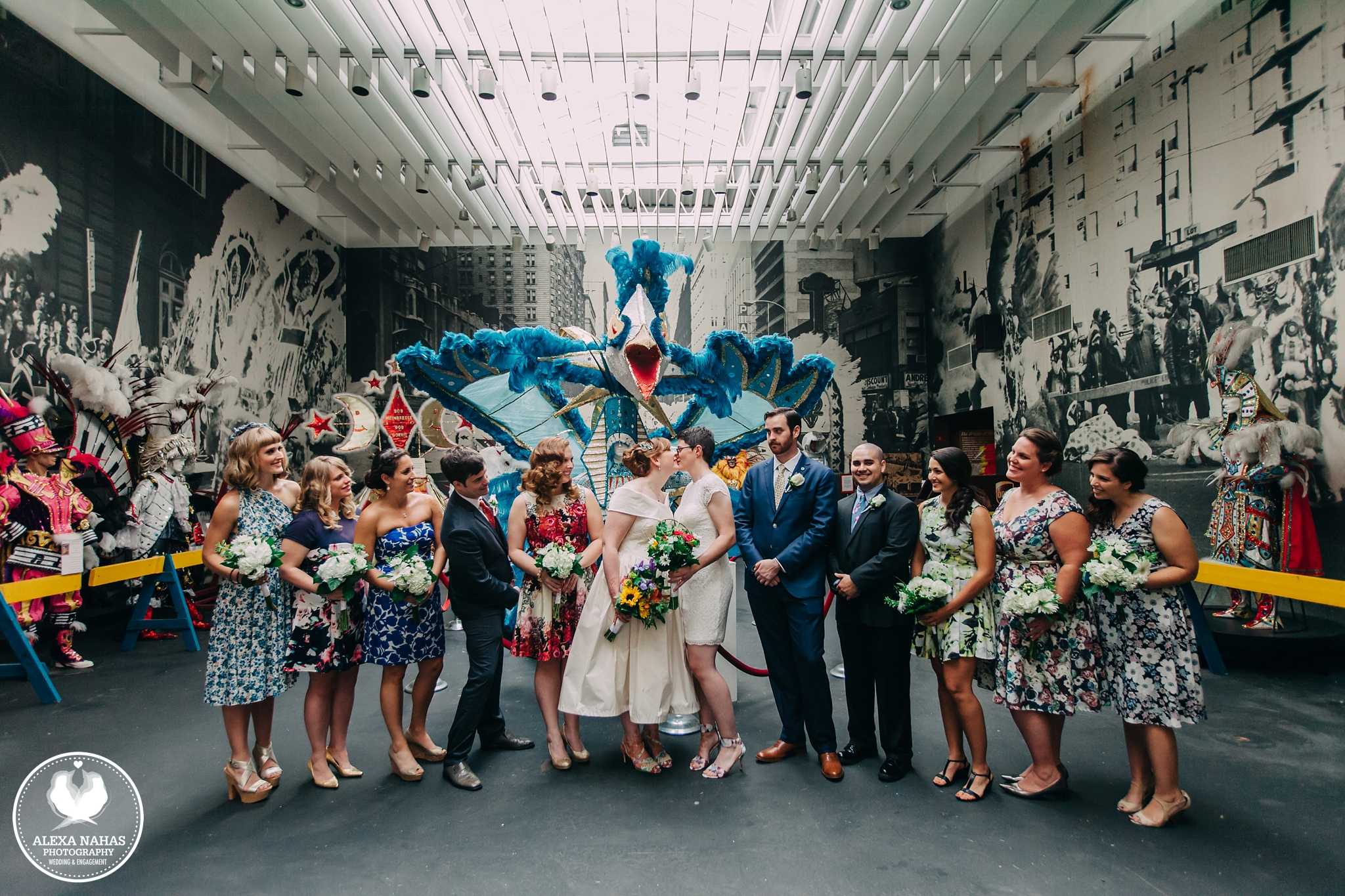 Photo Credit Alexa Nahas Photography
If Halloween is your favorite holiday, have you considered having a themed wedding? Guests can arrive in costume, your photographer can take autumnal wedding photos, and your vows can be exchanged during a dramatic candlelight ceremony...we're getting the chills just thinking about it! If you're more likely to wear black instead of white on your wedding day, these Philadelphia weddings venues are scary good.
Containing the famed Mütter Museum, The College of Physicians structure has the perfect atmosphere for gothic-influenced nuptials. A stunning marble staircase leads toward a grand ballroom and Mitchell Hall, offering unique spaces for the ceremony and reception. Cocktail hour is arranged in the Medicinal Herb and Butterfly Garden and in the Ashhurst Library. Guided tours of the museum's collections of medical abnormalities are optional as well. Antique medical tools, slides of Albert Einstein's brain, and an expansive skull collection are features at The College of Physicians that will stun your guests!
Photo Credit Amanda Danzinger
While Mummers are typically associated with New Year's Day, the colorful Mummers Museum is a great rental for a Halloween-centered festivity as well. The museum's exhibits offer vibrant backgrounds for wedding photos, with sequined, feathered costumes galore and elaborate parade floats on display. The tangerine-colored banquet hall can accommodate 220 party guests, with a large dance floor to host a "Monster Mash." If you're searching for an eclectic wedding venue, "Mummers" is the word.
Photo Credit Howl at the Moon
AHHHHH WOOOOOO...Prepare to tickle those ivories and dance to "Thriller" under the disco ball at Howl at the Moon! This lively downtown bar, known for its dueling pianos, is available for buyout for your Philadelphia event. The fun lights and the contagious energy of Howl at the Moon are perfect for a Halloween-themed wedding, especially if guests are dressed in costume. Audience participation is encouraged, so be ready to boogie down to the live music.
Photo Credit The Mask & Wig Club
It would be a challenge to find a clubhouse more unique, or more fitting for a Halloween celebration, than the historic Mask & Wig Club. The Clubhouse has a long, interesting history, "serving once as a church, a stable and carriage house, and dissecting rooms for Jefferson Medical College before being acquired by Mask and Wig." Perfect for a theatrical duo, this party venue, built in the early 1800's, has a working fireplace and a grand piano in the downstair Grille Room. The upstairs theater could hold up to 120 Tricksters or Treaters, with plenty of room for dining and dancing.
 
Photo Credit The Theatre of the Living Arts
The Theatre of the Living Arts
Let's do the time warp again! If you're looking to throw an elaborate Halloween-themed soiree, the Theatre of the Living Arts is a wonderful location to do so. Formerly a movie house that would screen art house films and showcase a weekly Rocky Horror Picture Show feature, there is plenty of space to accommodate your guests. With capacity up to 800 guests and theatre sitting, this South Street event venue will leave you shivering with antici...pation!