We noticed improvements recently at historic Merion Tribute House so we turned to Event Coordinator Colette Speakman to learn the latest about the Main Line wedding and event venue—as well as a little history. Here is what she had to say: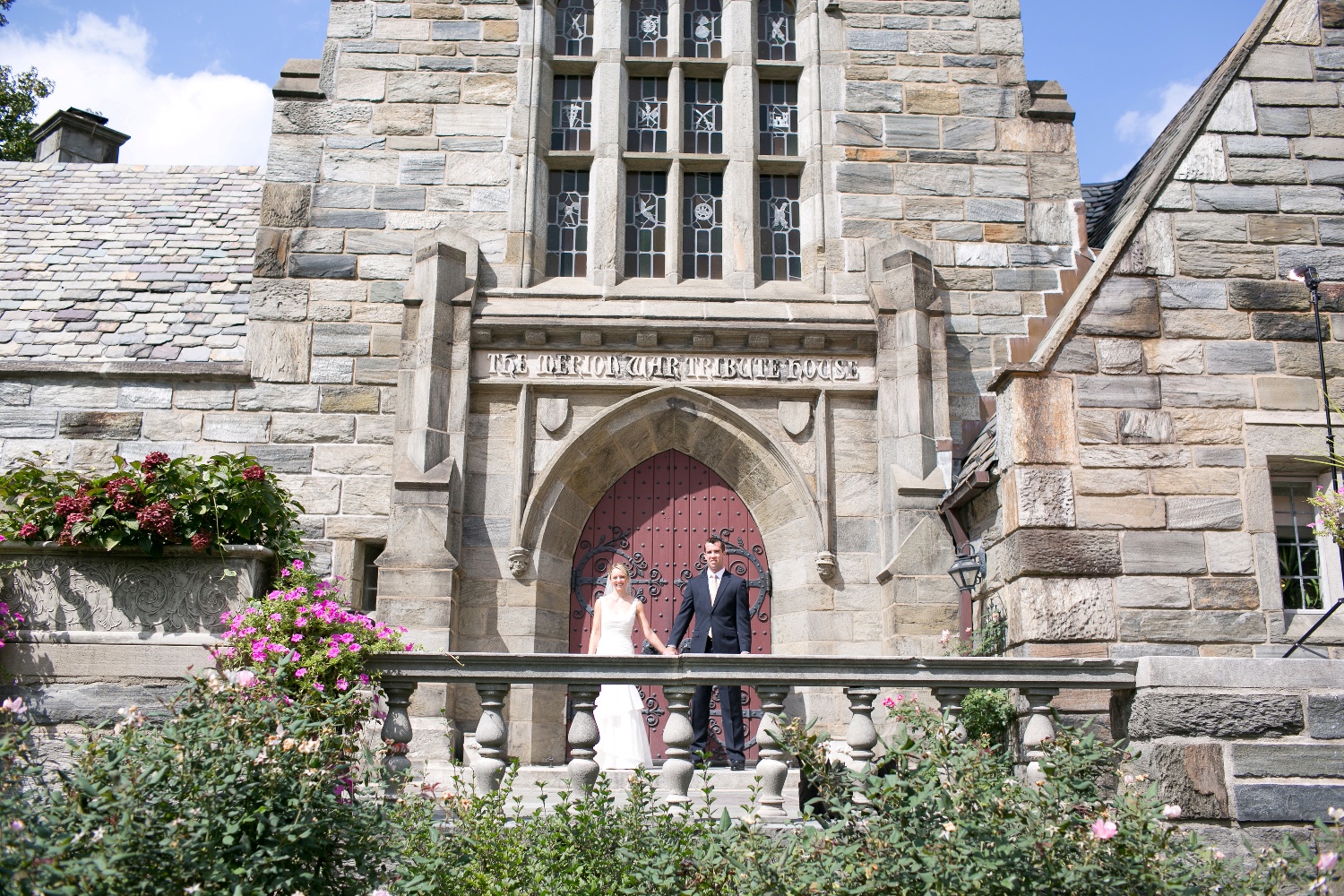 Last summer, the Merion Tribute House undertook a significant improvement project for our future clients – an update to our bridal suite.  The Tribute House hosts between 70 and 80 weddings a year, and most couples choose to hold their ceremonies on-site. Even those who have ceremonies elsewhere often come early and use our facility for getting ready before a church service.  So our bridal suite gets a lot of use each weekend!
The Merion Tribute House was built in 1924 as a community center after World War I and was intended for parties, concerts, performances, fundraisers, etc. for the neighborhood.   The bridal suite rooms were originally built as "green rooms" and rehearsal space for performers using the stage.  There were three such rooms and two restrooms located in ground floor space below the stage.  Performers could come in the back door, and then access the stage by two staircases on either side.  In the years that followed, some changed were made - one staircase was closed off and the other was diverted directly into the ballroom, one bathroom was made into a closet, and the green rooms were repurposed for bridal party use. One room was kept as a "bridesmaid's room" and the other two were combined for the bride's use. Still, the resulting effect was a bit cramped and awkward, with a tiny bathroom and two spaces too separated from each other for good gossiping!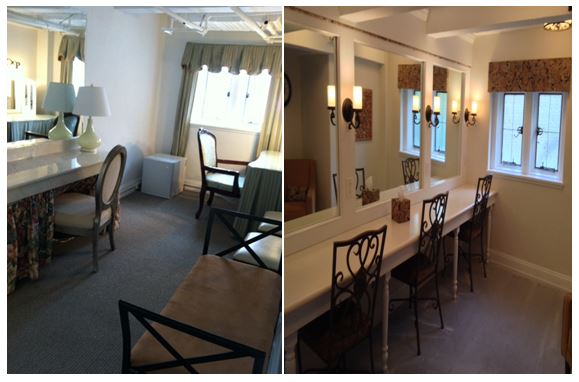 In the spring of 2014, the Board of Directors decided to plan some improvements and blocked off a couple weeks in August for construction.  Heating pipes, which shortened the ceiling height, were removed.  The contractor removed all walls and installed new drywall according to our architect's plan, which changed the entrance door and enlarged the bathroom. 
The result is now one large room,  a larger and updated bathroom, and a mirrored hallway "admiration" space.  Light now floods the new bridal suite room, which was furnished with a counter long enough for three people to do hair and make-up at the same time.  Lounge furniture is available for those watching all the primping taking place. There is plenty of hanging space for dresses and cabinet space for shoes, as well as hooks for floor-to-ceiling dress hanging.  A mini-fridge can hold refreshments for the bridal party.  And the bathroom is now large enough to move around in a wedding dress!
Undertaking a significant improvement and construction can be stressful for any building used by the public, but especially one used by wedding parties.  There is the fear that construction will be delayed and negatively impact an event, or that the result will not be what was intended.  But in this case, a lot of pre-planning, foresight and the years of knowledge of how bridal parties prefer to use such spaces were instrumental in having the project go off without a hitch. Our clients now have the use of a luxurious and practical space in the hours before their special day gets started!