For many brides, choosing a wedding gown is the most exciting part of her wedding planning. Whether one chooses to visit 38 stores and try on a hundred gowns, or whether the bride has the goal of a particular style and fabric, there are different approaches to finding that "perfect" gown.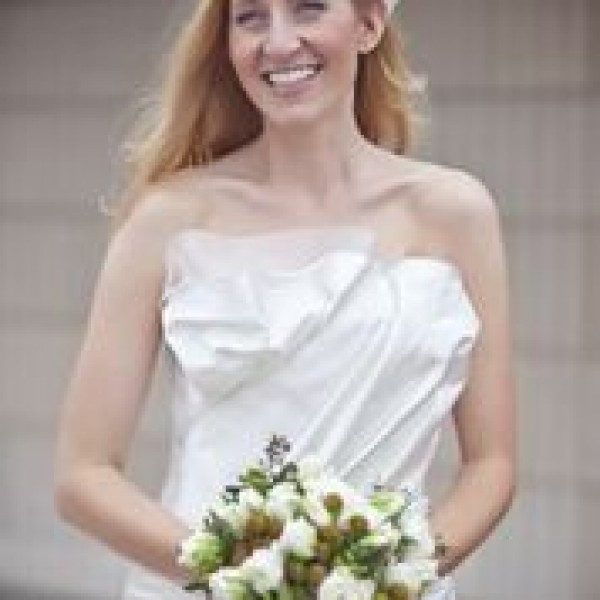 What many women do not understand is that couture and off-the-rack are entirely different. What is sold at retail, even if "custom" ordered by the bridal shop is still simply an off-the-rack gown ordered in a particular size to simplify the manufacturer's production so that when they cut their gowns (usually twice a year), they know what sizes have already sold.
Couture, on the other hand, is a process by which a pattern is made from a particular client's figure...based on the desires of that client for a particular silhouette, fabric...or dreamed about "fantasy." Retail purchases usually require 4-6 months to deliver and are usually gowns made off-shore, often out of synthetic fabrics. They are often "over constructed" so that they can literally "stand on their own" without a body to support them. Couture is often defined by the superior quality of fabric, fit and construction -- often which is so apparently light weight that the gown literally conforms to the client's figure.

Photo credits: Love Me Do Photography, above/ inset by Kevin York Photography
Because couture is made "on site," it is often a more suitable purchase for women who have rush orders (we've produced elaborate gowns in under two weeks), extraordinary design ideas (either ultra-traditional using unusual fabrics or very non-traditional creative designs), figure/fit issues (especially for large or large-busted women or women who desire a strapless gown that they won't have to "tug up" all night).
The first thing for a bride to determine is whether or not the bridal gown is important to her. It sounds simple, but there are some women for whom the gown is the least important element of the event...and others for whom their gown is very important. Some women start planning with the idea that their gown will be on eBay the week after the wedding. Others have the idea that the gown will become a family heirloom, or may design a gown with the idea of altering it after the wedding for additional events (an option with a historical precedent). Or, they have the idea that parts of the gown may be used for future use as a canopy over a child's crib or a christening gown.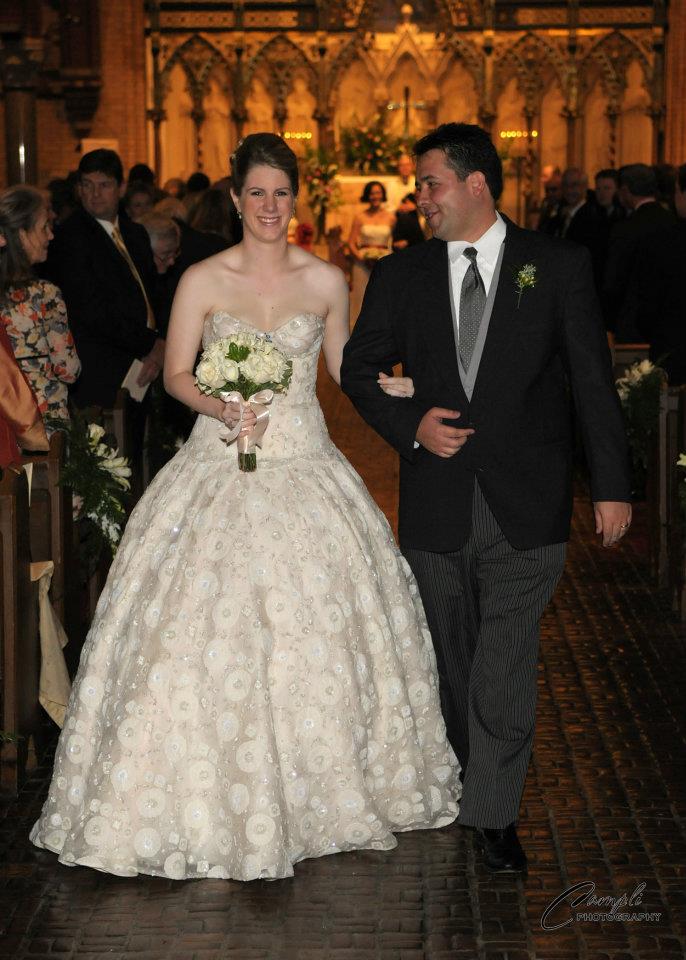 Photo credit: Campli Photography
Given that the fabrics/fit and overall quality of couture wedding gowns are superior to that of gowns off the rack, it may be more expensive to purchase, but the value is there for women who understand quality. Additionally, there is not the "bait and switch" of purchasing a gown for a set price and then having to pay for alterations or trying to take "an almost perfect" gown from retail and redesigning it into something the client wants. If working with someone talented, the client and designer can become a creative team. The client becomes the muse for whom the designer creates the perfect gown based on discussion, decisions and dreams!
At Janice Martin Couture, we discuss with the client her plans for her Philadelphia area wedding, the type of event it will be, her personal preferences in regard to clothing/her favorite clothing era, favorite colors (we've done turquoise, red, pink and blue gowns for brides). We edit fabric choices, influence silhouettes, and guide the process so that the gown "evolves" into something that is beyond the client's original expectations.