So, your dreamy rustic venue has been booked for your Philadelphia wedding and now you're faced with the task of planning the perfect menu and decorations to capture and enhance that natural, handcrafted look.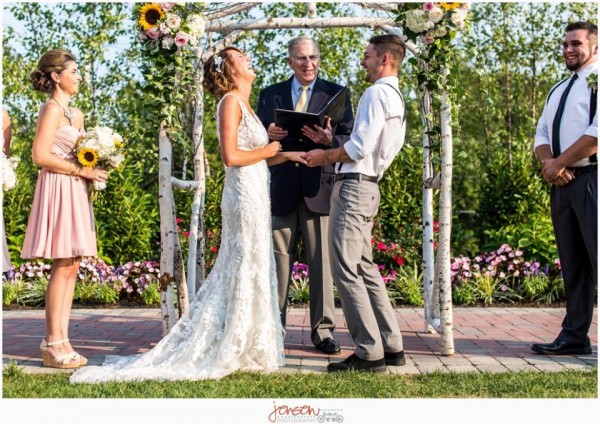 Photo credit: Jensen Photography/Robert Ryan Catering & Design
This week, we turned to the friendly folks at Philadelphia's own Robert Ryan Catering & Design for some fantastic tips on how to bring a rustic theme to life using your wedding menu and décor!
1. What kind of menu items do you recommend to couples planning a rustic-themed wedding?
Comfort food is huge! For example, during cocktail hour we have a Chicken & Waffle Cone passed hors d'oeuvre or various food stations that offer selection like Flat Bread Stations or Hot Soup and Mini Grilled Cheese Station. For dinner service, we have done upscale barbecue and the Braised Beef Short Ribs are by far one of our most popular entrees for a seated dinner. We like to think of it as the new filet! Our chefs also work with the local Chester County farms to incorporate many farm-to-table options.

For dessert, we offer gourmet cupcakes in place of a traditional wedding cake and our chef has created some beautiful home style desserts in mason jars. (For example, Peach or Berry Cobblers and a Chocolate Ganache with Peanut butter and a fresh Raspberry puree and a Graham Cracker Crust). Our S'mores station (see below) is hands down the most popular dessert station that we offer. It is interactive with one of our chefs torching the cinnamon marshmallow to "campfire perfection" in front of guests; they can then choose to dip into melted milk or white chocolate.
2. What display ideas do you use to create a rustic aesthetic?
We offer a Rustic Birchwood Arbor to the ceremony in our garden area, Burlap Linens for guest tables, Wood Slabs, Wrought Iron Pieces, Chalkboard Signs and Glass Blocks for buffet and food station, a Wooden Farm Table for a gift table and Apothecary Jars for Candy Bar set-ups.
The Barn on Bridge features an interior Wood Shingled Roof, original stones walls, and reclaimed barn wood throughout the renovated space of the venue.
3. Are there particular types of linens, crockery or garnishes that are more rustic than others?
We offer Burlap linens in various colors as well as Summer linens.
We offer Signature Cocktails and Various Desserts in Mason Jars, Wooden Planks for Crudité and hot griddles for food stations.
Garnishes vary for every entrée - for example, our chef created individual Mini Cheddar Biscuits to garnish our Roasted Tomato Soup.
4. Do you offer rustic party favors?
We don't offer favors but our couples often request that we create Late Night Food to offer their guests as favors. For example, we have done Slider Bars (Beef Slider with Gorgonzola and Caramelized Onion, Salmon Slider with Dill Crème Fraiche and Jerk Chicken Sliders with Chipotle BBQ Sauce), Philly Themed Stations - Soft Pretzels and Mini Cheesesteaks, Fresh Donuts and Coffee, Ice Cream Sandwiches Created w/ Liquid Nitrogen and Gourmet Coffee Bars with various Cordials.