Seasonal menus bring out the freshest flavors and unique pairings. We wondered what the latest menu offerings will be at Philadelphia wedding venues. We asked top Philadelphia wedding caterers what is new for Spring and what they are highlighting for the season.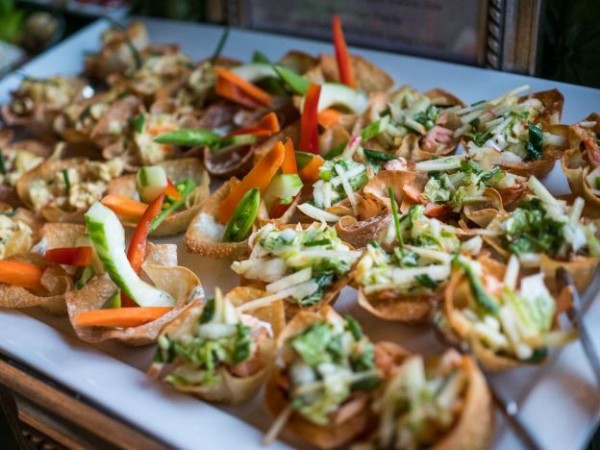 Photo credit: Perfect Setting Catering/Pictures by Todd [Pictured: House Made Wonton Cups filled with Mango Chicken Salad & Spring Crudité with Spinach & Watercress Dip]
Here is what they had to say. Fair warning though, don't read this between meals or during intense hunger.

Photo credit: STARR Events/Sarah DiCicco Photography [Pictured from left to right: Horseradish Crusted Salmon, Citrus Carrot Salad, Watermelon Gazpacho, Tuna Carpaccio]
STARR Events: Known for their locally-soured products and one-of-a-kind sensory experience, some of STARR Events' favorite spring menu items include Watermelon Gazpacho, Citrus Carrot Salad, Horseradish Crusted Salmon and Tuna Carpaccio. STARR Events is the exclusive caterer to many top Philadelphia wedding venues: The Barnes Foundation, New Liberty Distillery, Fairmount Park Horticulture Center, Grounds For Sculpture, Philadelphia Museum of Art and prefered caterer of Arts Ballroom and Pennsylvania Academy of the Fine Arts.

Photo credit: Perfect Setting Catering/Pictures by Todd [Pictured from left to right: Grilled Shrimp Cakes with Avocado Aioli & Corn, Edamame & Asparagus Sauté, Spring Cocktail Station, Chipotle & Bacon Deviled Eggs, Crab Cocktail with Bloody Mary Relish.
Perfect Setting Catering: Located on the Main Line in Berwyn, Perfect Setting is the preferred caterer to a variety of beautiful wedding venues: Appleford, Brandywine Manor House, Duportail House, Merion Tribute House, National Museum of American Jewish History, Cairnwood Estate, The Saturday Club, Chester County Historical Society,Society Hill Dance Academy, The Colonial Dames, Faunbrook Bed and Breakfast,The Yellow House of Willowdale, The Highlands, Hilltop House, and more!
What's Hot this Spring from this premier custom caterer:
Lemon Ricotta Toast with Pistachio & Honey
BLT Popper with Crispy Pancetta
Lobster & Corn Fritters with Basil Mayonnaise
Baked Brie with Warm Strawberry Mint Sauce & Toasted Pecans
Beefsteak Tomato & Burrata Cheese Salad with Olive Streusel
Grilled Peach & Apricot Salad with Feta, Shaved Romaine & Kale in a Citrus Vinaigrette
Braised Chicken Thighs with Peas, Asparagus & Melted Leeks in a Light Chenin Blanc
Orecchiette with Grated Summer Squash, Walnuts & Ricotta Salata
House Made Chocolate Bread Pudding with Sour Cherry Syrup!
Jeffrey Miller Catering: A great dish that we love to serve in the spring and that says "Spring" is a chilled asparagus soup shooter as an hors d'oeuvres. It is made when local asparagus are in season- usually end of April, and is made with just asparagus, chicken or vegetable stock, and some chive oil. We just blanche the asparagus, then puree them. to serve, we heat the stock, whisk in the puree, season, and serve with a little squeeze of the chive oil. No cream, not too thick, and chives give a springtime flavor to the dish.
Headquartered in Center City Philadelphia and Delaware County, Jeffrey Miller Catering is the exclusive caterer at the following Philadelphia area wedding venues Anthony Wayne House, Audubon, Tyler Arboretum, The Racquet Club of Philadelphia, American Swedish Historical Museum, Welkinweir, Aldie Mansion, MOYO, The Lake House Inn and Duke Art Gallery.

Photo credit: Herb Scott Catering
Herb Scott Catering: From elegantly lavish to tastefully simple, Herb Scott Catering is a preferred catering at historic Philadelphia wedding venues: Physick House, Powel House, Grumblethorpe Gardens, Colonial Dames of PA, The Mask and Wig Club, Lemon Hill Mansion and Duportail House, a rustic Chester County wedding venue.
Herb Scott Catering offered a multitude of delicious choices for Spring.
Dinner: Marinated Lollipop Lamb Chops with Red Wine Strawberry Demi Glaze.
Braised Boneless Chicken Breast with White Wine, Fennel, Lemon, and Dill, Frittata with Bay Peas, Fontina, Teardrop Tomatoes, Scallions and Asparagus.
Hors d'oeuvres: Dijon Honey Glazed Shrimp and Scallop Skewers.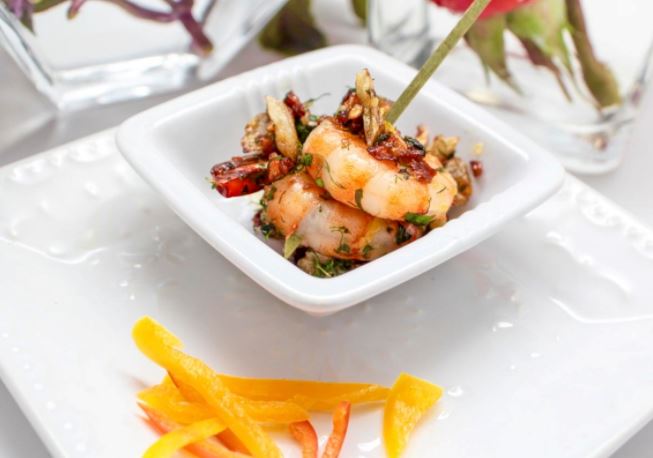 Photo credit: Herb Scott Catering
Puff Pastry and Spinach.
Deviled Eggs, Standing with pickle relish, chives, paprika.
Side: Spring Greens Salad with Roasted Beets, red onion
Check out our blog featuring nine questions to ask a caterer at a tasting.
Still searching for the perfect vendor? Click here! On the hunt for amazing venues? Click here!