This week we are featuring some of our favorite venues in the city of Philadelphia!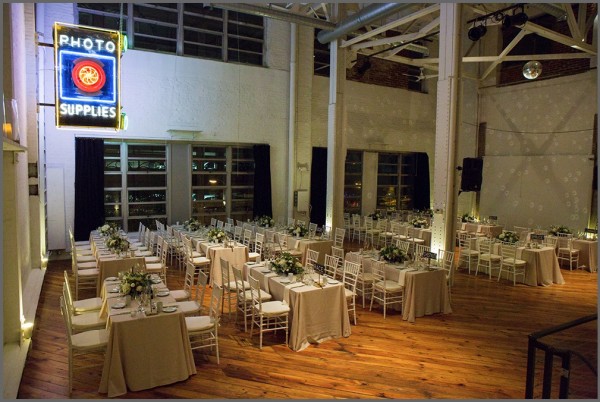 Photo Credit: Power Plant Productions
Racquet Club of Philadelphia: This historic Philadelphia venue is located in the heart of Center City, close to Rittenhouse Square. Designed by the architect Horace Trumbauer, the landmark building was once "a must-join enclave" of the city's high society. The Racquet Club of Philadelphia features a "stately grand staircase, soaring ceilings, marble floors, ornate millwork, original artwork, and vintage appointments," and "retains a timeless quiet majesty, serving as a jewel-like reminder of Philadelphia's rich heritage and sophistication."
Power Plant Productions: Called "the most unique venue in Philadelphia," Power Plant Productions is an Old City wedding and event venue. Housed in a 4,000 square foot former chocolate factory, the venue "retains all of the industrial feel from this early 1900's power plant, with steel beams, 34 feet of industrial windows, diagonal hardwood floors, a 25-foot ceiling, exposed and painted brick walls and a massive interior smokestack."
Sedgeley Club: Sedgeley Club is a wedding and event venue on the city's famous Boathouse Row. Situated within Turtle Rock Lighthouse, this unique waterfront venue features an "enclosed porch" that "has views of the Schuylkill River and Center City."
Sofitel: Sofitel is a Rittenhouse Square hotel and a wedding and event venue. Situated between Rittenhouse Square and the city's French Quarter, the venue features "a charming blend of French elegance and American style... the height of contemporary comfort and convenience and provides an ideal setting for your Philadelphia wedding or event."
Powel House: The Powel House is another historic Philadelphia venue; it was once the home of Revolutionary War-era mayor Samuel Powel. Built as a home for the Powels and a place for "refined entertainment," the Society Hill venue features "outstanding... Georgian architecture." On the first floor, the "dining room and parlor adjoin the passage, featuring one of the most elegant colonial mahogany staircases." While the second floor "highlights the rococo ballroom, where George and Martha Washington celebrated their anniversary in 1779. Also, in the adjacent withdrawing parlor, is yet another elegant setting for cocktails, conversations, and dining." This historic house and wedding and event venue also features an outdoor garden as an additional event space, one of only two in the city's historic district.
Fairmount Water Works: Fairmount Water Works is a wedding and event venue in the city's Fairmount neighborhood. It is a historic venue that began in 1815 as "the nation's first public water supply system." Situated on the Schuylkill River, the venue offers a "neoclassical exterior offers a serene and picturesque view of the Schuylkill River: the perfect backdrop for an event."
College of Physicians of Philadelphia: This venue is another historic Center City wedding and event venue. The College of Physicians of Philadelphia features a "grand marble rotunda and sweeping staircase leading to a magnificent ballroom," optional docent-guided tours of the museum for guests, and "on a beautiful day, your guests can enjoy hors-d'oeuvres and cocktails while strolling through our Medicinal Herb and Butterfly Garden while a sumptuous dinner awaits your guests in Mitchell Hall."
SugarHouse Casino: This unique Philadelphia venue is on Delaware Avenue in the city's Fishtown neighborhood. SugarHouse Casino features "some of the best waterfront and city views in Philly," and "high service standards and a flawless culinary team will ensure every detail gets the attention it deserves."
National Museum of American Jewish History: This Old City venue, located next to Independence National Historical Park, features "outdoor and indoor terraces that provide dazzling views of the City," making the National Museum of American Jewish History incredible for all kinds of events, from weddings to cocktail receptions and business meetings.
Kensington Quarters: Kensington Quarters is a restaurant and event venue located in its namesake Philadelphia neighborhood of Kensington. The venue features multiple seating areas on two floors and "when mother nature is kind to us, we have a large outdoor patio." The restaurant also sources "from the region's most dedicated farmers and producers to provide our customers the healthiest, best-tasting food possible."
Check out our favorite Montgomery County venues!
Still searching for the perfect venue? Click here! Still searching for amazing vendors? Click here!