It's hard to say what the most important part of planning a wedding in Philadelphia is.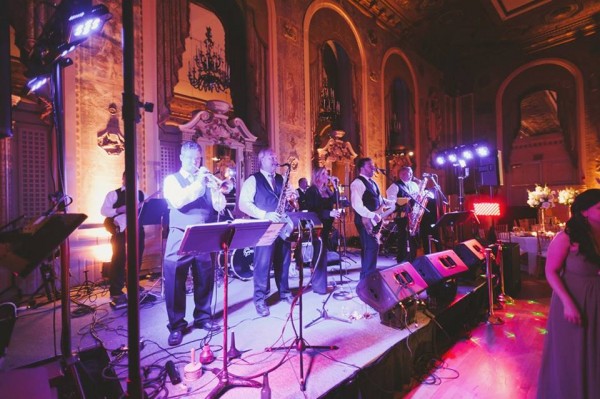 Is it the selection of the perfect venue? The booking of the perfect photographer, to capture all of the moments you never want to forget? Or is it the style of entertainment you choose to set the tone of your big day? I think it's safe to say that every bit of planning a wedding in Philadelphia is equally as essential as the others, and with every decision made comes a great deal of thought and planning. Deciding what kind of music you want to be played at your wedding is no exception to this truth, and preparation should be more than simply making a "Must Hear" and "Do Not Play" list. With that being said, let's talk about some things you should keep in mind when choosing the music for your wedding.
It's no secret – music can make or break any type of celebration, but when it comes to your big day there's no room for error! Choosing the style of music you want to be played, whether you want guests up and dancing or sitting and relaxed, or whether you're going to have a live band or a DJ, are all important factors in what sets the tone of your wedding and solidifies your theme. For example, if you're having a beach themed wedding, you might choose to go with steel drums for your cocktail reception rather than a string quartet. Or if you have a more unique, indie style then you might want your first dance song to be something along the lines of "Perfect Space" by the Avett Brothers, rather than something more traditional like "At Last" by Etta James. The style of music you prefer says a lot about your personality, and your wedding is a chance for you to showcase that personality! [HINT: Don't be afraid to make it personal – it's your big day!] Whatever your style and preference, the music your guests will be dining and dancing to all night is up to you, so after you figure out what you want to hear, now it's time to think about how you want to hear it. Ask yourself the million dollar question – #1: Band or DJ?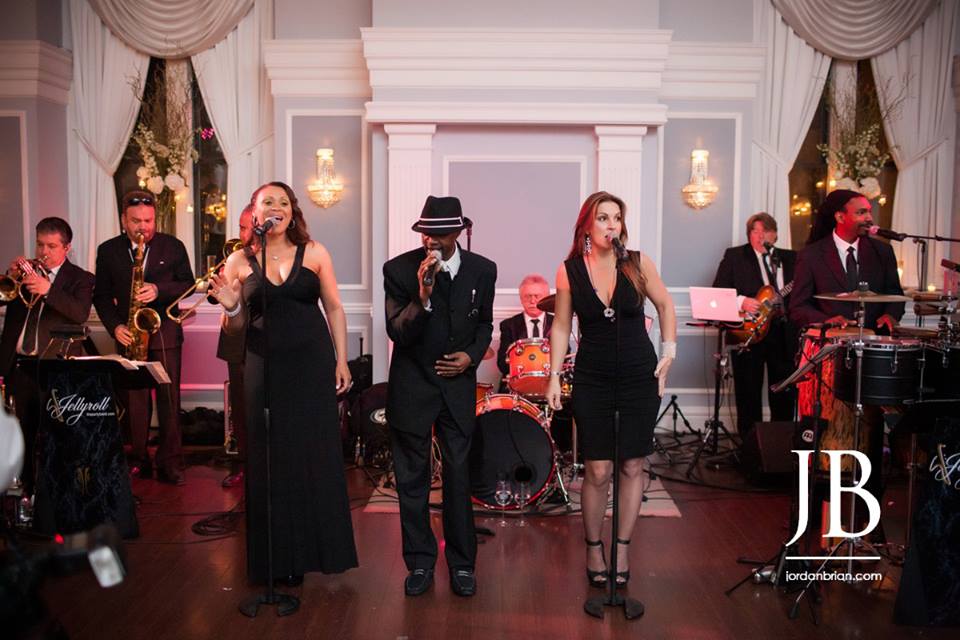 Photo credit: Jordan Brian Photography
This is a debate that could go on forever, and let me just say now, there's no right or wrong way to go. There are definitely pro's and con's of each, but again, it's about what best fits you. But arguably the most important thing to consider right off the bat is #2: who fits more into the budget? Yes, it's true that bands are generally more expensive than DJ's but hey, live music is live music, and if you choose the right band, they could make it well worth it and absolutely blow you away. Pricing for each also depends heavily on the day of the week, the time of year, the duration of the event, etc. There are quite a few different factors that go into pricing for both bands and DJ's, so I wouldn't rule one out right away. But if you simply can't decide, fear not! There are other options out there to make this decision a little less black and white. Here, at BVTLive!, we have created a couple alternatives, priced in between the two, where you can actually have both! [Who says you can't have your cake and eat it too?] We offer what we call a BVTLive! Blend, where live musicians perform at the ceremony and cocktail hour while a DJ performs at the reception; and BVTLive! Fusion, where a DJ performs simultaneously with live musicians. This way, you get the sophistication of the live element, while keeping within a modest budget.
Something else to keep in mind is to #3: consider noise and size restrictions of your venue before you book anything. It would be a shame to have your heart set on a 12 piece band, only to find out that the space you booked doesn't have enough room to accommodate them in addition to your guests. Or planning – and paying – for the DJ to play until midnight so your guests can party all night long, only to have the police shut the party down at 10 pm because of a curfew you were unaware of. [HINT: AVOID AT ALL COSTS!] There are a few different ways to get around issues like these; for example, our flagship band, Jellyroll, uses in-ear technology as opposed to stage monitor systems in order to save space. And outdoor venues are generally the ones that are most concerned with noise. You just don't want to be disappointed on your big day, so talk to your musicians and make sure you have all your ducks in a row before making that initial decision.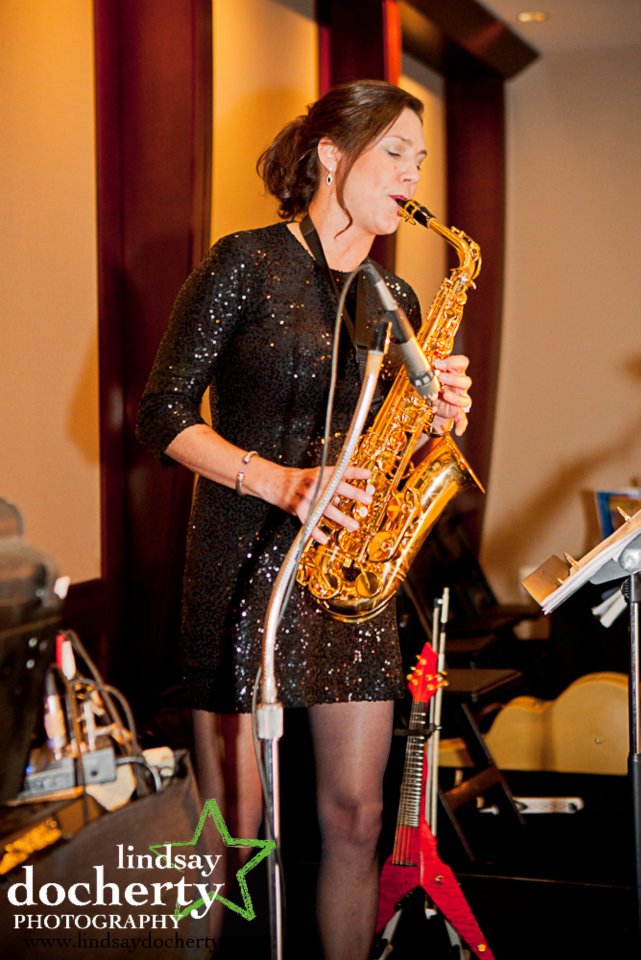 Photo credit: Lindsay Docherty Photography
A common misconception of booking a band for your wedding is that they won't be able to play all of the songs you want to hear. Now, don't get me wrong, that is entirely possible, and a risk you might have to be willing to take. However, keep in mind that they are professional musicians and even though they might specialize in one specific style, you'd be surprised by the musical depth a good band can offer. [HINT: Just ask!] More often than not, a band will learn songs specifically for your wedding if you give them enough advance notice. On the other hand, a DJ will be playing prerecorded music, so he/she might have a broader repertoire of music on hand for last minute requests.
With all of these things in mind, another crucial part of this decision making process is to #4: go to a showcase! You definitely want to see your band or DJ in action before you set anything in stone. And if you can't make it to a live showcase, be sure to check testimonials and look for live videos online. We build our websites for YOU, so take advantage of resources like these! And whoever you choose, you want to make sure that they have out-of-this-world personality. The band or DJ could play every single song you wanted to hear, but if they have poor stage presence then it could come off as boring. There's nothing wrong with taking advice from professionals, or friends who have seen the performers themselves, but I recommend checking them out yourself just to be sure you love them as much as they do!
Now, I know this whole time I've been talking about what best fits your personal preference, but don't totally forget about your guests! There is such a thing as making your wedding too personal, and you want to do your best to avoid that. You want the music throughout the night to appeal to everyone – all the way from grandma to your 16 year old cousin – and you want to encourage them to hit the dance floor, so #5: think variety! You can still stick with songs that you like while implementing an "intergenerational" playlist. [HINT: A cute way to go about this could be to print a song request line on your RSVP's to ensure that everyone is guaranteed to have that "OMG!" moment when their favorite song comes on. (A big thanks to Pinterest for this lovely idea.)] Everyone's taste in music is different, so you shouldn't try to plan every song for the entire event. Stick with what you prefer, but try to be flexible because versatility is key.
Last but certainly not least, don't be afraid to be interactive! This day is all about making memories, and you want to be able to look back and remember the time when the singer of the band serenaded grandma and grandpa at their table, or when the DJ joined you and all of your friends on the dance floor during your favorite song. Moments like these are the kind that you, your family, and friends will be talking about for the rest of your lives, so give them something to talk about!