Are you thinking about floral arrangements for your rustic wedding? A rustic themed wedding will use flowers that can create a wildflower look--such as Delphinium, Fever Few, Veronica and Bupleurum.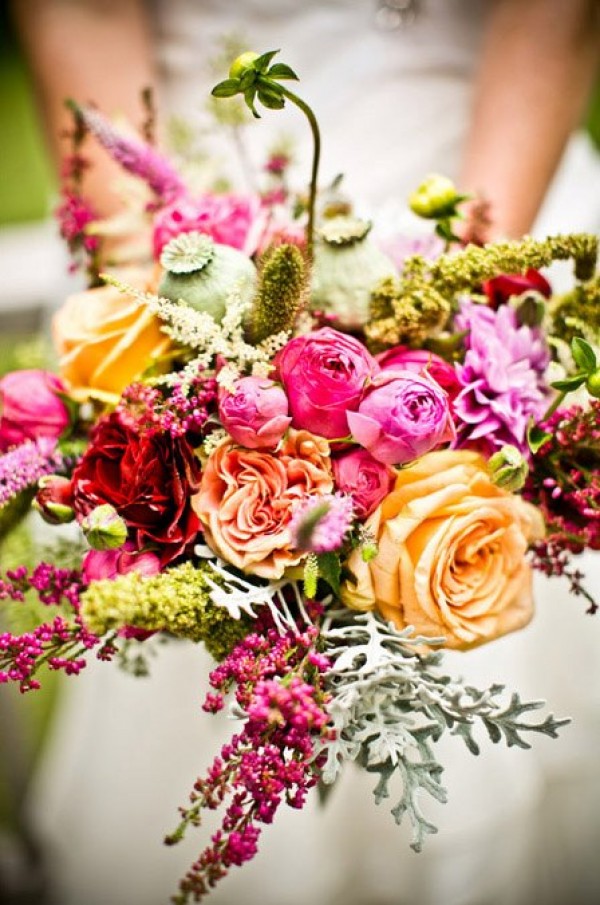 If you want to get more chic with your rustic, you will see Garden Roses, Dusty Miller, Astilbe and Lilac. Accents of berry, Brunia, Scabiosa Pods and Crespedia will add the perfect addition of texture or pop of color. The flowers usually have a more muted color scheme and the magic is in the design. Rustic is really a style or look that is all about the composition and texture that makes something look artistically appealing.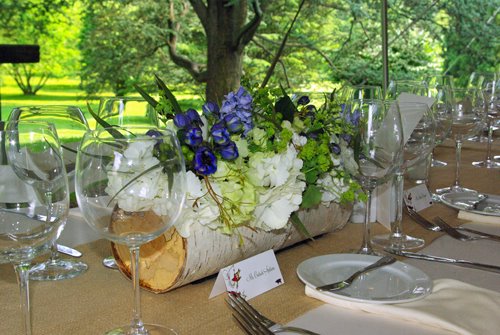 Photo credit: Fleur De Lis Florals
Nature is at the core of rustic, so bringing that into a bouquet is really fun. Maybe it's by just weaving ivy stems through the flowers. Maybe it's using curly willow or jasmine vine around the outside edge. Whatever the case, a bouquet is rustic if it is a composed design that creates a unique structure and texture. There can be many levels of it from there (casual, hand picked, chic, elegant, modern, but it's the composition and the finishing details (the wrap). The wrap can be done with burlap, rustic twine, vintage silk ribbon, gingham patterns or French lace. Accents like vintage pins can also come in handy.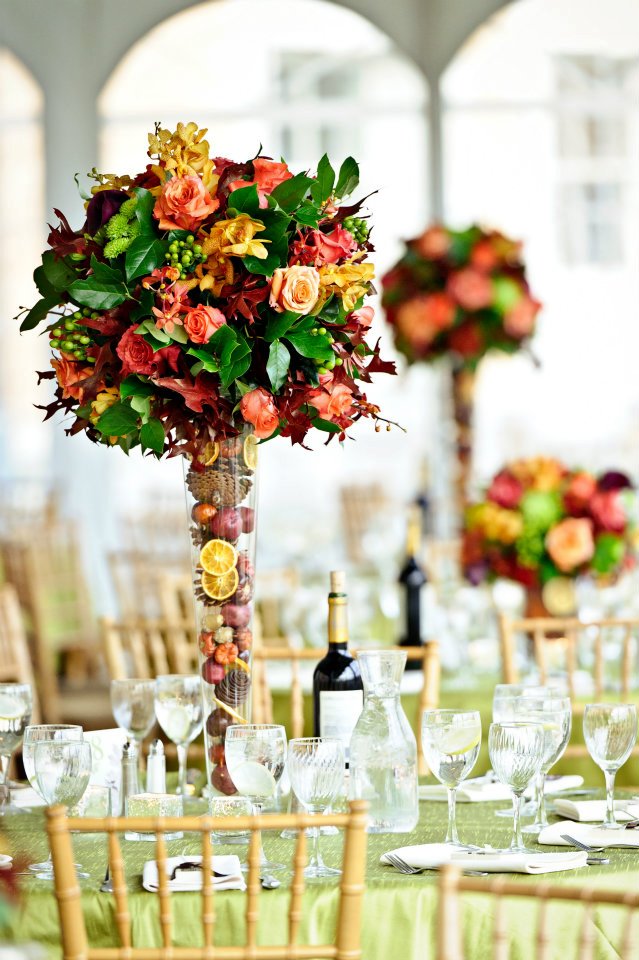 Photo credit: Fleur De Lis Florals
Unique ideas for rustic are also dictated by the environment, the venue and the time of the year. For example, I recommend some of the tall arrangements for a rustic wedding to have branches of some sort... and hanging votive candles from them is a very nice touch. Lanterns are very rustic and candlelight adds so much to the room so using as many as you can is great. Groups of varied height lanterns look gorgeous. If we use sheppard's hooks along an aisle, I always repurpose them to the outdoor cocktail/garden area to hang lanterns. The escort card display is one of those places that you can really personalize a wedding with something special. We love to hang escort cards in fun places... if they have a gazebo on site, we may hang rustic twine around that and hang the cards. Where ever we can create a clothesline look, we do so, but if you need to make that happen, we use things like weathered shutters or trellis's that we can set up anywhere.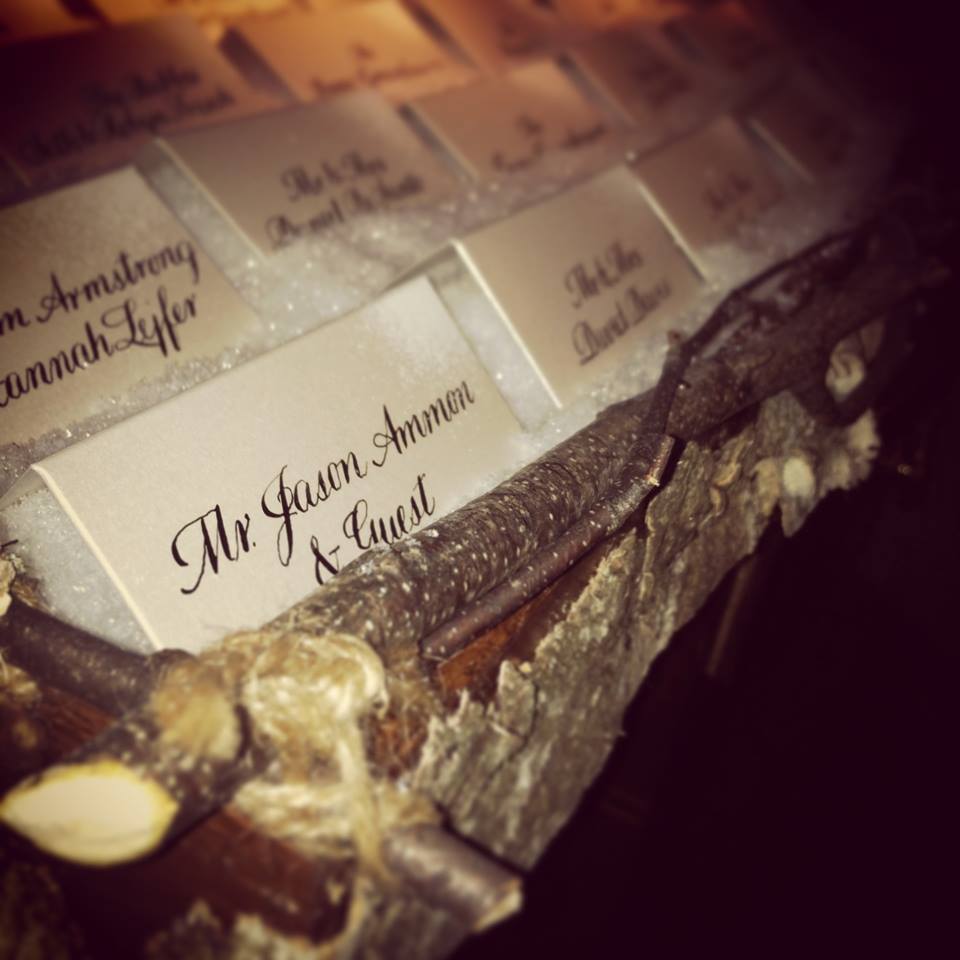 Photo credit: Fleur De Lis Florals
In terms of fabric, burlap is huge and now seen at many popular fabric stores with really cool print designs on them. It's used a lot for table runners or wraps of a bouquet and boutonniere. Textured linens, in general, are hot and they come in many colors. Rustic can be added with lighting techniques as well. You can create images on walls, ceilings or across a dance floor with a gobo and lighting that will add a huge amount of charm. Bistro lighting is used a lot in tented venues to create a rustic market feel. Some outdoor weddings have done rows of hay bails finished with cushion covers in fun prints or gingham check material.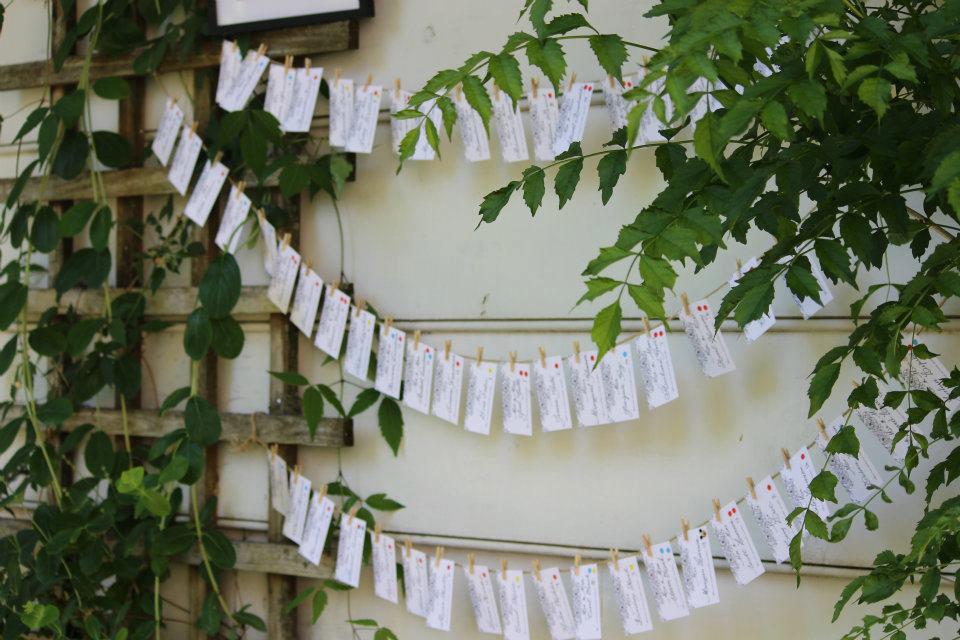 Photo credit: Fleur De Lis Florals
The ceremony is also a place to do something unique. We have a weathered garden trellis that is a nice rustic garden look and then we also have a birch structure that has the benefit of being an arch or a chuppah. That is a natural and organic base that I have used over and over again but each time dressing it up for what ever kind of rustic the Bride wants it to be. And then, the time of year will guide you as well. Spring will be rustic with wonderful spring flowers, fall will be rustic with rich colored leaves. For a rustic winter wonderland wedding, we did a fun escort card display that was finished in birch and branches and faux snow.
I think what is most important from the beginning is getting to know the Bride and connecting with her on what kind of rustic she wants to bring into her wedding day.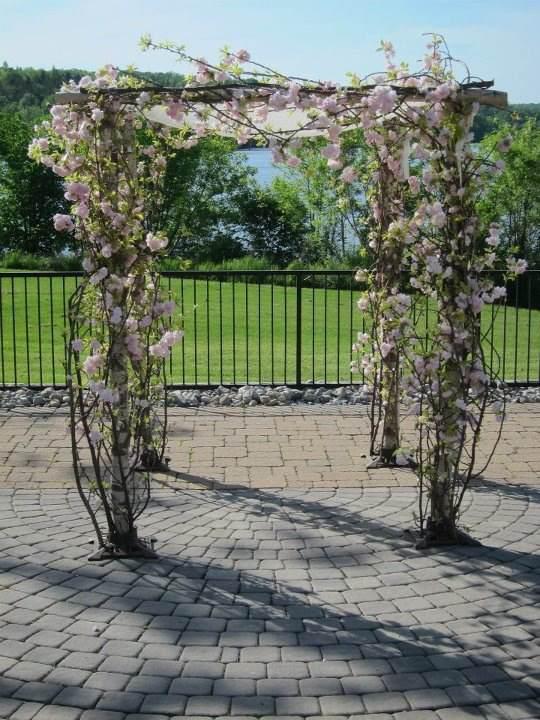 Photo credit: Fleur De Lis Florals