Congratulations, Reader. You just popped the question, got a yes, went out to dinner and had your engagement party. Life is good, right?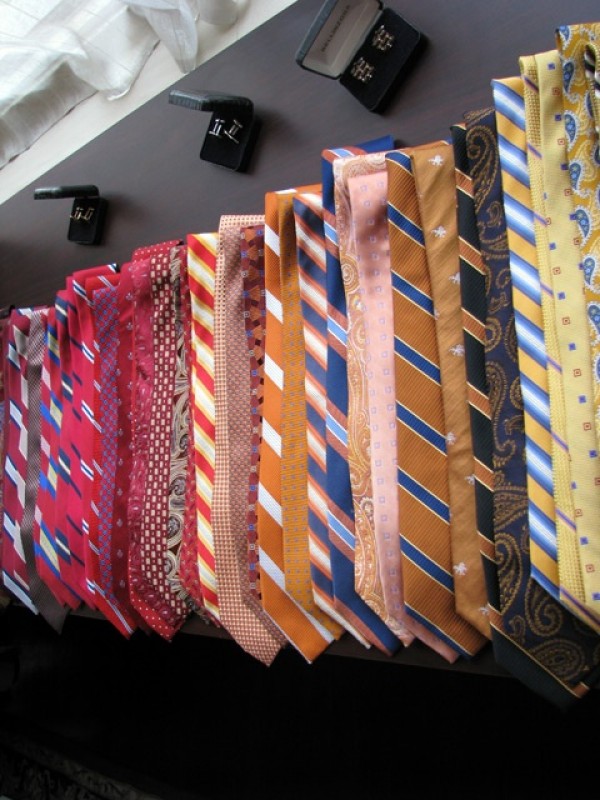 Yes, insofar as you're eventually going to settle down with your soul mate; no, insofar as you now have to plan every single detail of your wedding. What's the venue? Sit-down meal or buffet style? Cash bar or open bar (hint: the answer is "open bar")? And, for the purposes of this blog entry, what the heck are you going to wear?
The purpose of this article is to give you a starting point for considering what to wear on your big day by answering a few FAQ's. Enjoy.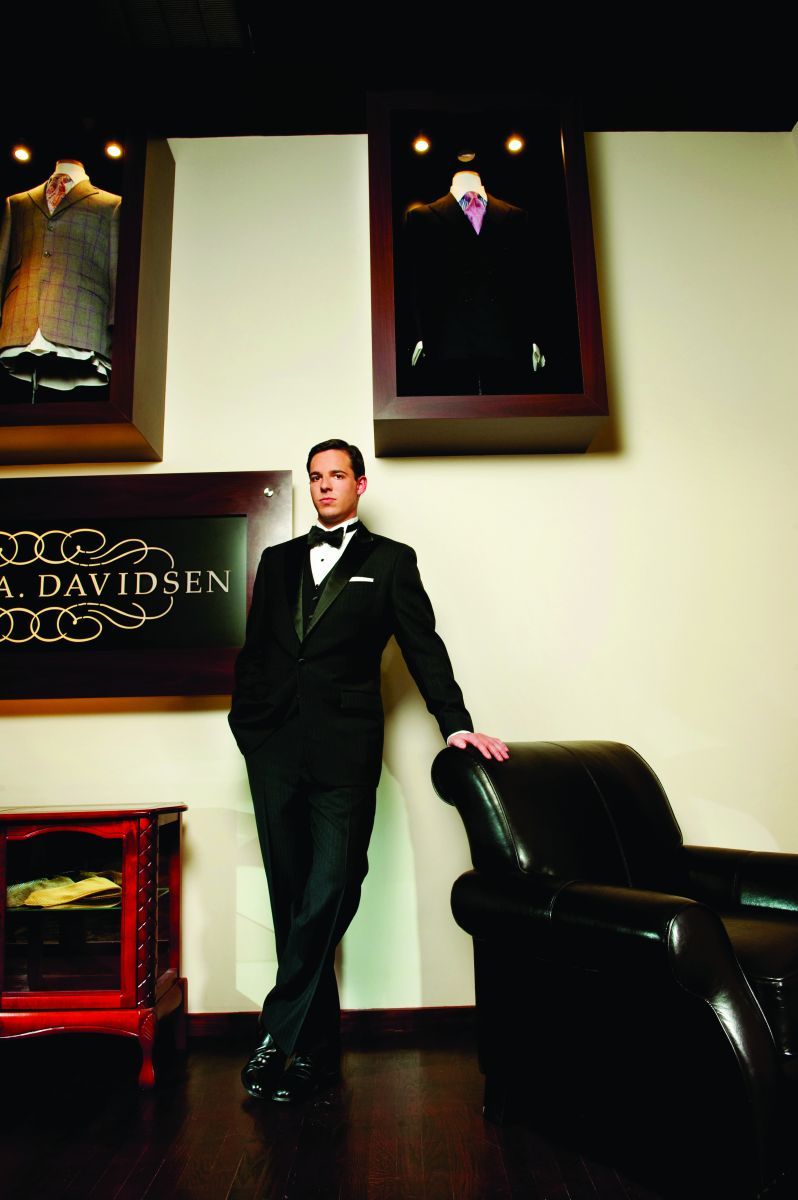 Photo credit: Henry A. Davidsen, Master Tailors and Image Consultants
What are the basic rules to coordinating tuxes, ties and shirts—oh, and socks?
A full-blown tutorial on clothing coordination is beyond the scope of this article, so we'll just cover the basics for tuxedos. For starters, if you can afford it, we suggest buying a tuxedo instead of renting. Rented tuxedos are acceptable in a pinch, but the fit will never be as good as one you've purchased. If you wear a tux even just once a year, it's actually cheaper in the long run to buy.
Traditional tuxes are black with satin facing on the lapels, pockets, and buttons. They should come one-buttoned with either peak lapels or a shawl collar and have no pocket flaps. The pants should have a single braid of satin lining on the outseams and come with plain bottoms. If you decide on a two-piece, wear a cummerbund to cover the waistband. If you wear a three-piece, the vest will take care of this.
Tuxedo shirts should always have French cuffs and traditionally have some sort of "bib" covering the front, usually pique or pleated. Studs (often onyx) are used in place of buttons on the front of the shirt. They can take either a regular shirt collar or a wing collar.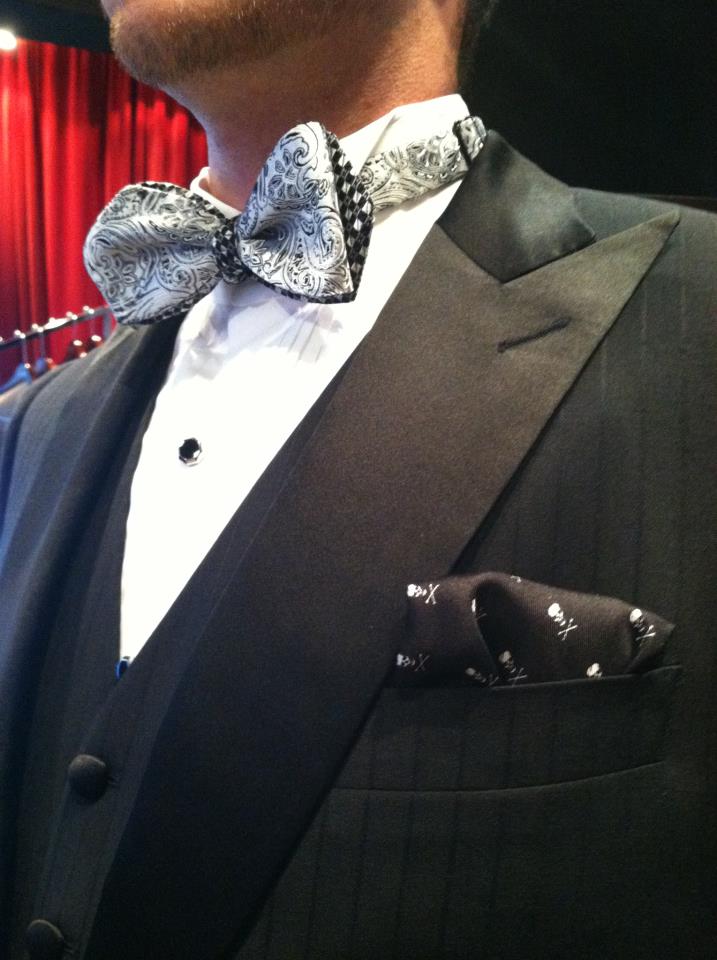 Photo credit: Henry A. Davidsen, Master Tailors and Image Consultants
Nowadays we have the option to wear either a necktie or a bow tie with a tux. We suggest going the bow tie route because it's more appropriate with formal wear. Also, when else in your life will you get the chance to wear a bow tie?
The general rule for socks is that they should match your pants. This doesn't change with tuxes.
When deciding on a tux or suit style, is there anything the groom should consider first (venue, type of wedding, etc)?
The most important thing to consider is the type of wedding you and your future spouse want to have, as this influences everything else you choose: venue, food, DJ, etc. This should also influence what you wear. The venue will have a direct effect on your outfit, as some locations will require black tie whereas others won't.
When should a groom wear a suit versus a tux?
The whole day should be an extension of your personality both as individuals and as a couple, and your choice of clothing is a huge part of this. Is your reception at the Ritz-Carlton? We better see you decked out in a tuxedo. Getting married on an estate in Kennebunkport in June? That tux would look silly, but a cotton suit would be a great option.
Nowadays we work with a lot of men who forgo tuxedos and get wedding suits made. This is a great option for guys who don't wear tuxes regularly and want something they can wear in the "real world" after the big day. It's also something to consider if you want to look less formal than a tux but not as casual as, say, a linen suit with sandals on the beach.
Photo credit: Henry A. Davidsen, Master Tailors and Image Consultants
How do you know when you need a tailor?
This is a trick question: you always need a tailor. If you're shopping off-the-rack, it is highly unlikely that the jacket, pants and shirt will fit you perfectly without any alterations, so you'll need to seek out a reputable tailor to make your clothes look as perfect as possible. In a made-to-measure or custom scenario like Henry A. Davidsen offers, you work with a tailor right off the bat to ensure that the garment fits impeccably and is styled to your specifications. This ultimately saves time, headache, and in many cases, money.