Alterations are an important piece of the fitting process whether your wedding gown is purchased as a sample, off the rack or ordered online. Here is a guide on what to expect.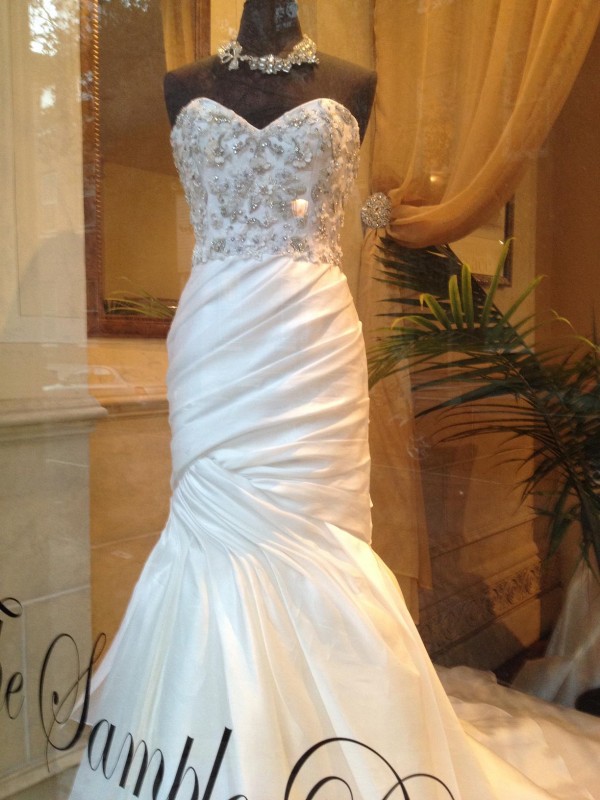 What is realistic to expect when you buy a sample gown and have it altered? Better gowns are designed to be taken apart and reassembled during the alteration process. Embellishments are stitched on and never glued so they can be removed and reattached. Most gowns can be let out about a full size and can often be taken down several sizes without changing the look of the dress. Even a new dress ordered to your size will need custom alterations to make it fit perfectly for the big day. These alterations generally cost the same as taking a sample dress down several sizes.
Who should you trust with your alterations? The Sample Rack has relationships with several custom wedding dress makers who we recommend based on your location. If you buy your dress from us, you are free to use any one you choose for alterations but our recommended professionals come with great references and we stand behind their work.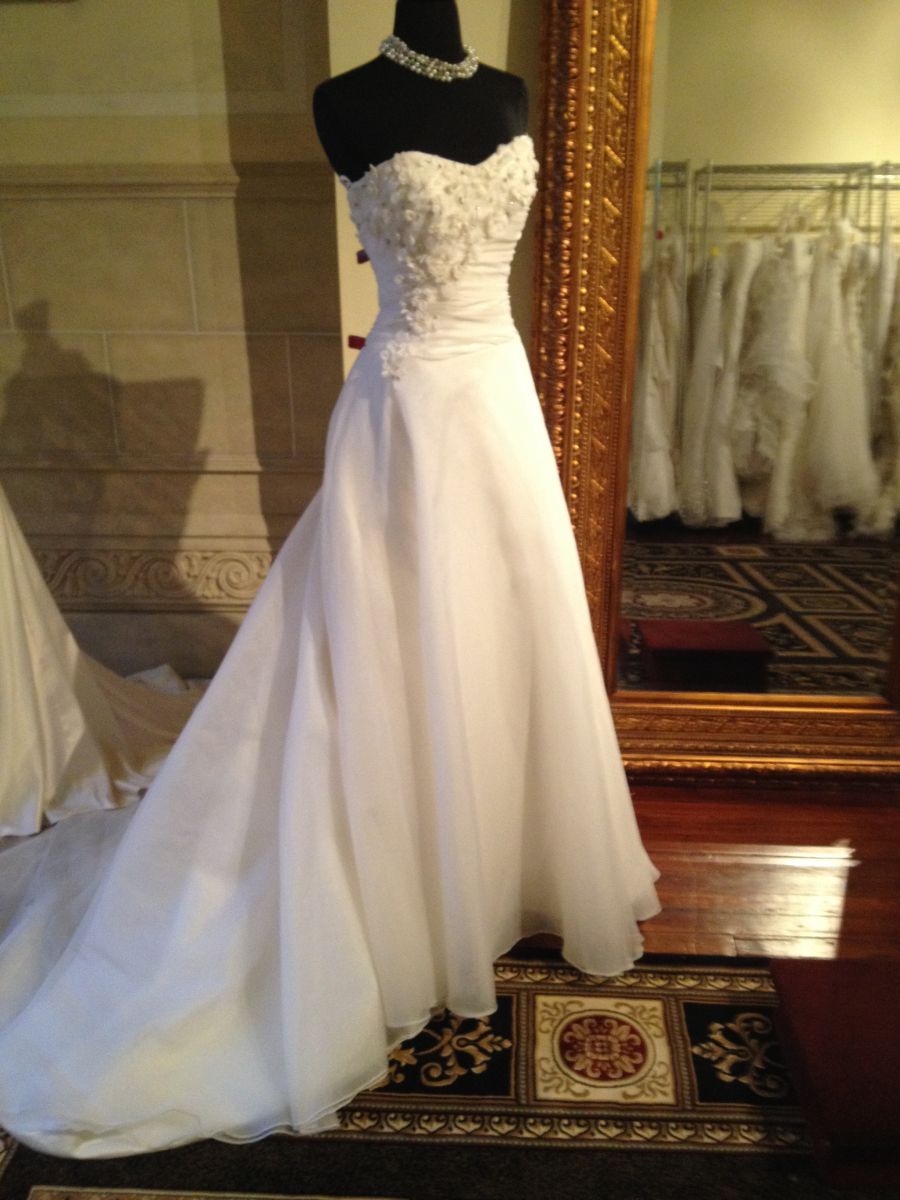 Photo credit: The Sample Rack/Alvina Valenta, size 10
A dress maker understands the complicated construction of a high end wedding gown and can also customize the gown to give you exactly the result you want. You can add a lace illusion top with a key hole back to a strapless dress for an updated look. A bolero jacket can be made to accommodate a conservative ceremony location and then removed for the reception. Often an A-line can become fit & flare by tapering the side seams. The result is a one-of-a-kind gown for a fraction of the cost of ordering new or making your dream dress from scratch.
How long do alterations take? You should contact the dress maker to schedule an appointment as soon as you have your gown and shoes. Many of the alteration steps can be done long before the final fitting which is usually a week or two before your wedding. Starting early allows you to get an estimate on the cost and also make sure you "click" with the person who is going to be working with you during what can be a very emotional time. You want to make sure you are comfortable with them and also allow them the time they need so there is no need to rush your gown. Allowing 6 or 8 weeks for the alterations is recommended but starting 6 months out can only help eliminate any down-to-the wire stress.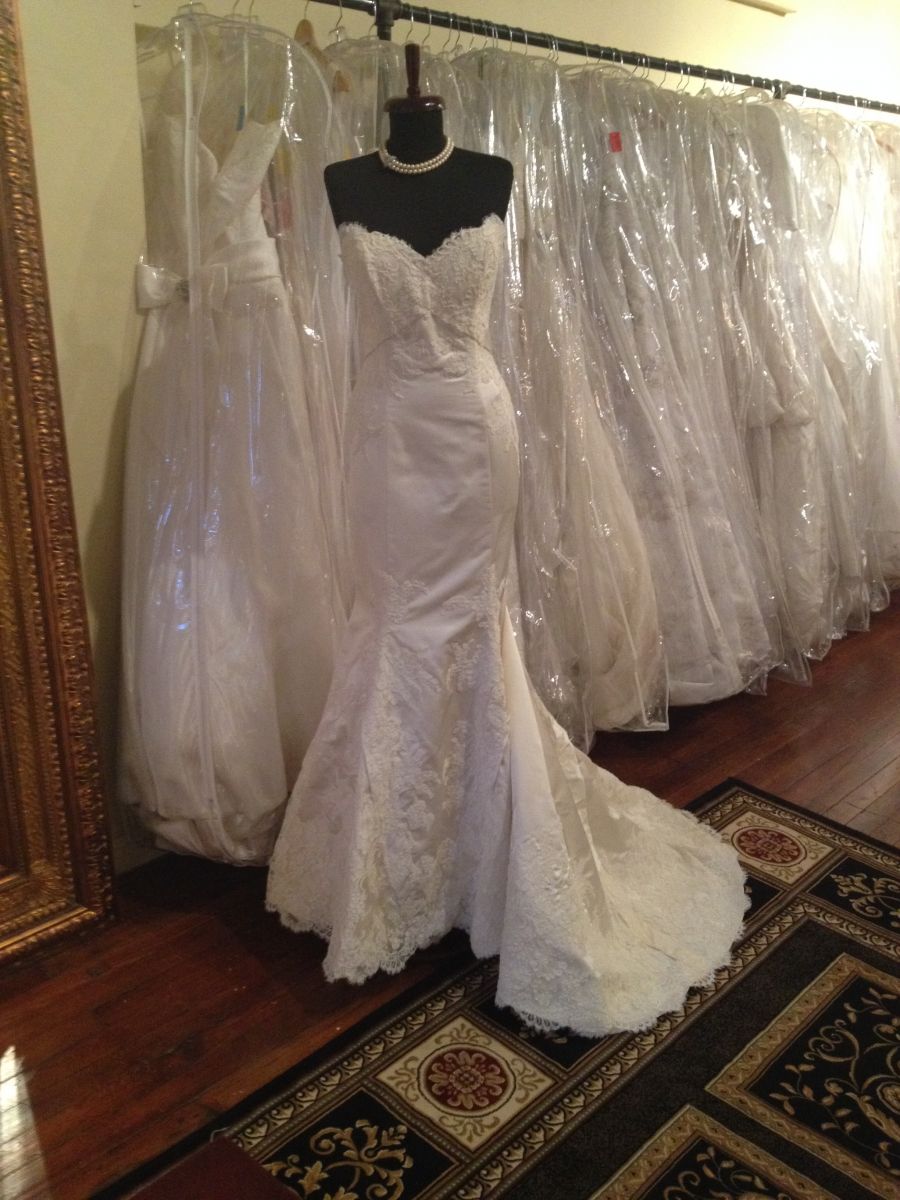 Photo credit: The Sample Rack/Marisa, size 10
How much do alterations cost? Depending on what alterations need to be done, you can spend anywhere from $200 to over $600. Adding custom details like beaded accents or a jacket or sleeves can add to the cost, partly based on the materials you choose to have the additions made. Sometimes, you can avoid the cost of a hem by choosing the right shoe heel height. It is rare for a dress to not need some adjustment in the torso and bust. A lace up back can be a forgiving option to the traditional zipper. You should always include the alteration cost when deciding on your dress budget, regardless if you are buying a sample or ordering a gown.