Having a wedding at home is a lovely and personal way to begin your new life together. However, there are aspects about hosting a backyard wedding in the Philadelphia area that you need to consider as you begin planning.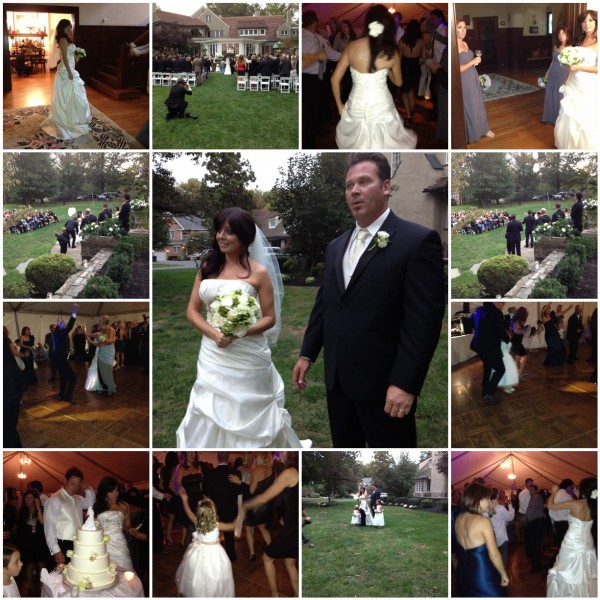 So, let me share with you some of the things that I have experienced in helping brides plan their backyard wedding.
Space: Your wedding guest list needs to be tailored to the amount of space you have available. If you are planning on tenting the yard, how much available space is there for that tent? Make sure to have the tent rental company come out to measure the space for tent size AND test for any gas lines, etc. that need to be accounted for. You don't want to hit a gas line when erecting a tent. Remember that even in a backyard, a floor in the tent is important. The ground is uneven and may be soft or muddy. There needs to be a flat and even place for tables and chairs- and a dance floor.
Weather: This is a very critical component of a backyard wedding. What will you do if it rains? Are you putting up a tent? If there is rain during the week of the wedding, the ground may be wet or muddy. What will you do with your guests if you don't have a tent and there is a rain shower during the wedding? If you are planning a fall wedding in the Philadelphia area, remember that evenings get chilly and it gets dark earlier. You will need to rent lighting for the tent and heaters for after the sun goes down. These can be rented through the tent company.
Permits and Noise: Make sure to check with your local police about obtaining a permit for a tent and to be advised of any noise ordinances. You don't want the police to "crash" your wedding because you are playing music too loud or too late. Acquire any necessary permits for tenting, parking, etc.
Parking: Where will your guests park? Is there room on your street for 50 cars? Do you have a field or a parking lot nearby that you can "borrow" for your guests? Perhaps you can hire a valet service to shuttle the cars to a local shopping center. Whatever options you choose, remember that your guests need to park somewhere and not get a ticket for attending your wedding.
Restrooms: Your home bathroom is not going to accommodate a big crowd. So, you may need to rent Port-A-Potties. There are portable restrooms that do not look like what you see at a construction site. They come with sinks and paper towels for drying hands, etc. This will save your plumbing and your carpets, as you won't have people tramping through your home all day.
Food and Alcohol: Though it may seem homey or romantic to have "homemade" food, it is not practical for a large crowd. And, if you don't hire professionals, who will set up, serve and clean up your wedding meal? Hiring a caterer is very important. They also carry the necessary insurances for food and liquor. It is not wise to just have your brother be the bartender. There are legalities about serving alcohol. And, if someone gets out of hand or gets into a car and hits someone, you could wind up losing more than the cost of an insured bartender. The caterer can also assist you with linens, tables and chairs and be your adviser about how much food and alcohol you will need for the number of guests you have.
Layout: Are you having your wedding ceremony at home? Where will you set up the chairs for that? Is there enough room for ceremony and seating for all of your guests? When you lay out your backyard for a wedding, you have to account for these details. And, figure out where the portable toilets will be.
Trash: When you have a wedding at home, you have to think about the trash. Make sure you have enough receptacles to accommodate the extra trash and check with your trash pick up provider as to how to handle the extra. You may have to have them come for a special pick up on a day other than the usual scheduled day. Make sure you know what the policies are for getting rid of the extra trash.
Planning a backyard wedding can be fun. But, it is not necessarily as inexpensive as it may seem. And, there are things that need to be considered before you begin. Consider hiring a planner! They will help you sort out all the ins and outs and make sure that you haven't forgotten anything important. Good Luck and Happy Planning!