Set trends - don't follow them.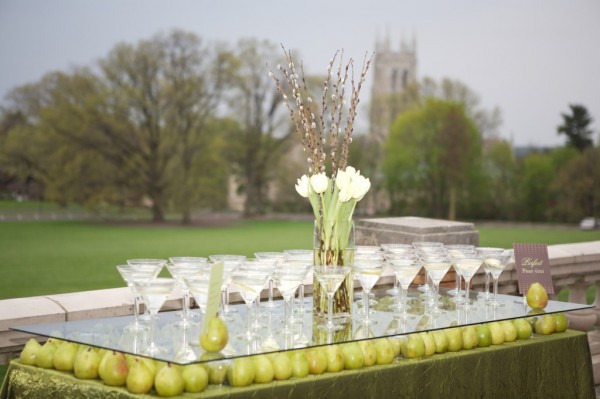 Sage advice from a famous philosopher, teacher, or perhaps your mother? Actually, it's the mindset of Feastivities Events, said Meryl Snow, vice-president of the innovative full-service catering company. Inspiration comes from looking at the world around us and brainstorming with team members, said Snow who has been in the industry for 25 years.
Forging a path of new ideas has paid dividends with its clients and recognition from trade magazines and associations. The International Catering Association awarded Feastivities "2012 Caterer of the Year." It also earned "Best Design" in 2012 for its Fruited Top and Enchanted Garden table from Event Solutions and Special Events magazines. The artistry of the pear-lined glass table bar featuring "Perfect Pear-tinis" makes a dramatic statement but with simple elegance. "I got the idea from apples laying in a box," she said.
Like pear-tinis, sipping on signature cocktails with complimentary ingredients like pomegranate juice and Limoncello in this Pompelmocello (pictured on right) is a hot new trend appearing on wedding menus, she said. "We love to fuse flavors – watermelon with basil and sea salt," for example, said Snow.
Parsley has led the way in the evolution of the garnish, another fun menu trend. Drink and entree garnishes like these hibiscus flowers or bubble sugar draw appeal and attention with its color and texture. "Garnishes play a huge part in the presentation," Snow said. "We like height like in a grissini wand, our version of the breadstick," she said for entrees. Or, the gaufrette, made of crisp potatoes (pictured below) is a favorite.
Hungry for more innovation? Feastivities created chef bars, flowing fondue and performance carts to their culinary resume. A performance station is intriguing because a chef sautes, grills or prepares menu items live in front of guests. "We overhear guests saying that the cocktail hour is the most fun," said Snow. "Having the performance station format fills that need. It's edgy and trendy with more culinary appeal." Performance stations can be either stationary or mobile throughout the room.
The key to success with performance stations is having variety of cuisine. "Three performance stations for 150 guests works nicely and alleviates lines," Snow said. Also, "not having full seating is key. This should be thought of as a glorified cocktail party with lots of food," she said. However, an important tip for couples considering performance stations: know your guests, she said. "If the majority are used to having a formal sit-down dinner, you may need to have reserved tables to make them comfortable."
Snow's picks for trends in appetizers, entrees and desserts are the mozzarella balloon (pictured below on left), lamb with Swiss chard and s'mores (pictured below on right). It's a fitting choice since August 10 was National S'mores Day! Why s'mores? Well first, "it's user friendly," said Snow. Also, just putting a new twist on a classic by dipping the graham crackers in chocolate and meringue and torching it makes it new again, she said. Conversely, one wedding menu item that has transcended time and trends is the filet, Snow said. "Filet Mignon is still the forerunner," she said.