Let's face it, pets are family. For some engaged couples, pets are so loved that they wish to include them in their wedding ceremony. In fact, incorporating your pet in your Philadelphia wedding is one of the biggest trends this year. After all, dogs and cats can make your wedding day extra special standing by your side, even bringing a calming effect. However, before you schedule a tux fitting for Fluffy, here are a few factors to keep in mind to insure a fun and safe pet friendly wedding in Philadelphia: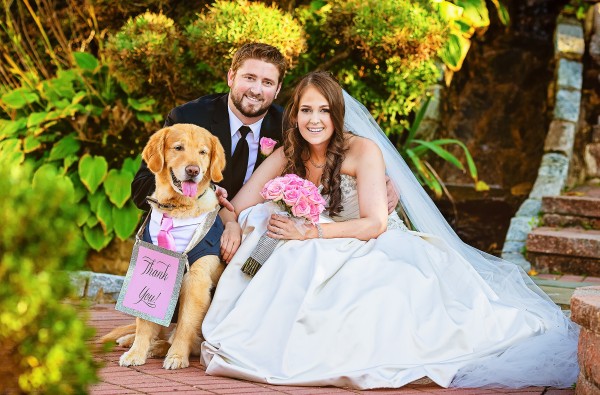 Photo credit: Unique Concepts Studio, Inc.
The Basics: The first consideration is to find out if your wedding venue permits pets. Feline or canine, it's best to communicate right away with your venue coordinator before moving forward with any plans. Also, reach out to all of your vendors such as your photographer, entertainment and officiant, for example, to make sure they do not have any allergies or qualms about animals. Finally, is there a comfortable place for your pet to rest if they need a break from all of activity, new scents, noise, food temptations and people. Find out where the appropriate area would be to take care of any, uh hem, nature calls. Next, make sure to have one person who minds your dog during all of the activity. The last thing you want is a runaway on your wedding day—especially in an area he is not familiar.
Good Citizenship: Is your pet a good citizen? It's very important to be honest with yourself. Biters, jumpers, nervous nellies, movers and shakers are best to stay home. Anything less will just add stress for your pooch, guests, coordinator—and you.
Will your pet enjoy the celebration or shy away? A dog that shutters at thunderstorms may not like crowd noise or loud dance music. However, if your pet is easygoing and social, by all means, incorporate her into the celebration! In fact, your event professionals may even have some pet friendly tips based on their experience. Be sure to ask during your consultation.
Guest Consideration: If you are inviting small children or folks with asthma or allergies, pets may pose a serious problem. Guests afflicted with allergies often ask about pets before going to someone's house so they can prepare and bring medicine. But, no one would think to ask if pets were to be present before attending a wedding.
Fun Advantages: Mention to your photographer about your pet ideas. Creativity with the camera is to your advantage for some fun and memorable photographs. Most wedding photographers in Philadelphia have tons of experience capturing pets with the bride and groom.
Dress It Up: Everyone else will look their best and so should your pet. Schedule that grooming appointment. If your favorite feline dislikes clothes, perhaps a cute new collar will do. Or, adorn Fido's collar with some baby's breath or harmless wildflowers. Signage? Make sure to give it a trial run before the big day!