Our goal is to make your wedding day a little more special one pop at a time.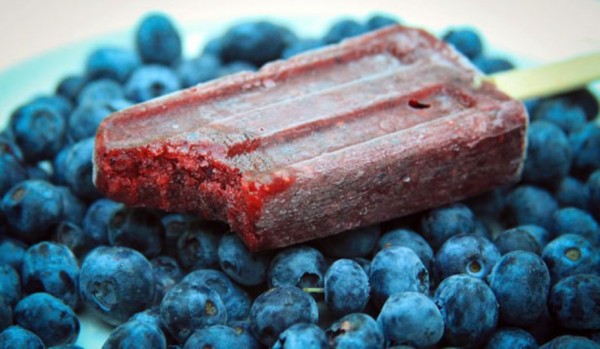 Mompops' flavors try to be very simple and kid-friendly. When my mother and I started 3 years ago, we did a lot of trial and error finding the right combinations for each of our flavors. We wanted to provide flavors that even kids can recognize but making it a healthier approach to what they are used to from all the other products out there. As years went on, we went a bit upscale and combined fruit and herbs together to come up with some sweet and savory flavors. For example, we do a pineapple basil that has a great synergy of fruit and herb, very refreshing. Chocolate lovers enjoy our chocolate sea-salt pop. The sea-salt brings out the flavor in the chocolate and makes it taste like a fudge bar. We also like to ask our customers what they would like us to make for them, or we take a classic flavor and put a spin on it. As a child, I always loved having creamsicle bars so I decided to make our own creamsicle flavor so we made a coconut orange pop, we freeze coconut milk for a short time in the molds then pour it out and fill the center with freshly squeezed orange juice. It's amazing and is becoming one of our top new flavors.
We love to work on new flavors or new techniques for our customers. We have even made a sangria pop made from Chaddsford Winery Sangria and fresh fruit slices. We can not only do custom flavors but we can do custom designs like layers or a flavor inside a flavor or a swirl. If your wedding has a theme, we can customize the pop flavors around it. Or, we can customize our flavors with your color palette. We can also personalize our label with your name, picture and a message of your choice. And, we can even put your name on the stick saying Mr. and Mrs. (insert your last name) or your favorite quote. Our goal is to make your wedding day a little more special one pop at a time.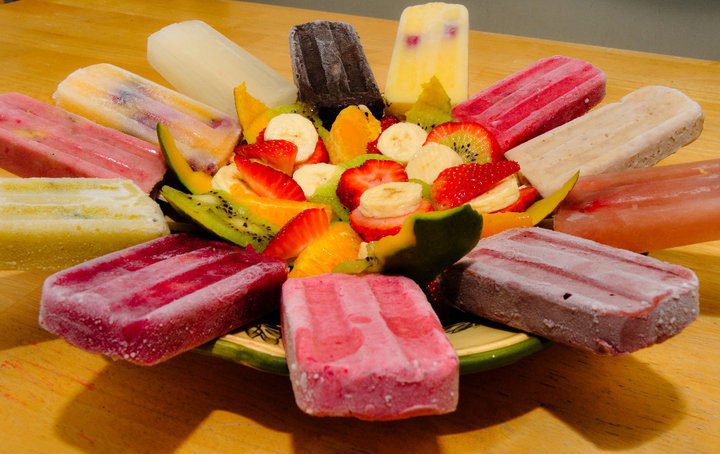 Photo credit: Mompops
When we first started our company, my mother and I always had a hard time finding a frozen dessert that was simply all natural. How hard is it to make a product that just has natural ingredients and no additives that you can't even pronounce correctly -- I guess harder then we thought. Well, we wanted to change that so everything we put into our popsicles are ingredients that are fresh and everyone, even kids can understand. We also didn't want to have a long list of ingredients for every flavor so for example, our raspberry pop is: fresh raspberries, agave nectar, water. THAT'S IT.
Since the beginning, our chocolate banana flavor has been the most popular since kids of all ages love chocolate and bananas. So combing both is just amazing. It's interesting that most young kids pick out their pop flavors not by the name but by the color. Red or pink is the most asked for color when we do any event so of course we have strawberry lemonade or raspberry cream pops to satisfy the color craving.
Photo credit: Mompops
My favorite flavor changes with the day or season. I enjoy our coconut orange pop on those hot days, but in the morning, I crave a mocha latte that has Colombian coffee and coco powder to get me started for the day. When the season changes, we make a chocolate chip pumpkin pie flavor that brings me back to my younger years when my mother would make chocolate chip pumpkin pie for the family. We try to make a flavor for every season and so my favorites always change. My mother's favorite flavor is our mint chocolate chip made with vegan chocolate chip, mint oil and coconut milk. We haven't yet made a Mompops flavor that we both didn't like.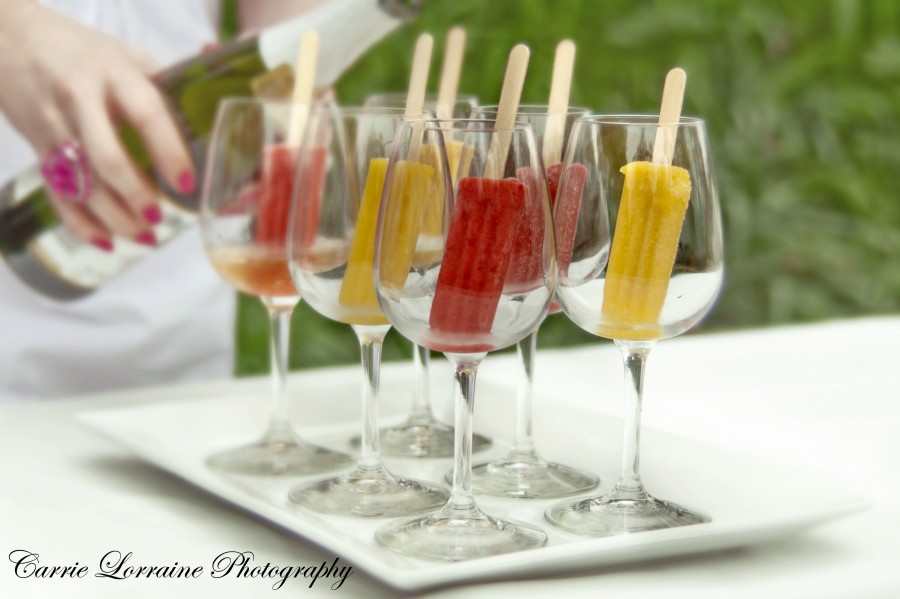 Photo credit: Carrie Lorraine Photography
Our site visit is simple. We first bring out a few of our pops for you to sample. We ask you a few questions regarding your wedding like:
What is your theme?
What colors are you going with?
Are there going to be kids at the reception or just adults?
What type of package would you like ( full package or just the pops)
Would you like our full size pops or mini pops?
Would you like to customize a label with your name picture etc.
How many people with be at the wedding our minimum for our 3 ounce pop is 100 and for minis it's 200.
We then will ask for a 50 percent deposit a month before the wedding and the rest can be paid for afterward by cash, check or credit card. We want this to be an exciting addition to your special day so we will do our best to make you happy and have your guests talking about your Philadelphia area wedding for months after.