Turn your wedding into a weekend long celebration with these Philadelphia wedding venues that have lodging on-site!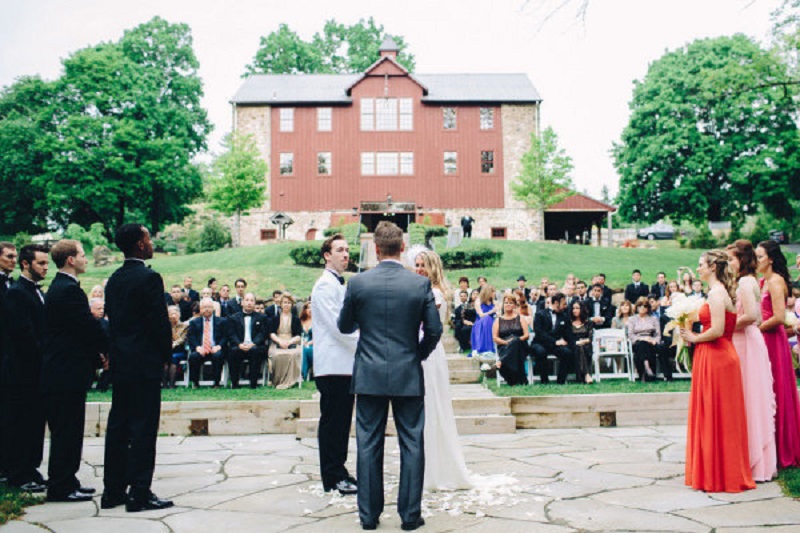 Photo Credit Claire Hudson Photography
Renovated inside a 1750's bank barn, sits The Inn at Grace Winery. This rustic venue in Glenn Mills has everything: a winery, a wine tasting room, an event space, and fifteen different luxury accommodations. According to their website, "The barn's original purpose was as a malting barn to malt barley and other grains for distilled spirits… A Great amount of detail was considered in the design, including sinks made from an original horse trough and a bar top fashioned from the original steps of Independence Hall."
Picture yourself throwing the event of a lifetime at The Inn at Grace Winery!
Photo Credit Your Endless Memories Photography
Drexelbrook Catering & Special Events Center has everything and more to complete your wedding day! The Southern-styled mansion sits on a scenic terrace in Drexel Hill, just forty minutes from Philadelphia. There are several indoor and outdoor options to host ceremonies and receptions, but importantly, there is also space on the premises to accommodate your guests overnight. Put your trust in Drexelbrook, they promise to encapsulate your wedding vision.
Photo Credit Reneen Nicole Photography
The Inn at Villanova University
Located right on the Main Line, just a couple miles away from Villanova University (Go Wildcats!) is the Inn at Villanova University. The terrific fieldstone Montrose Mansion is over a century old, but recently went through a renovation in 2017, so it is the perfect balance of historical elegance with modern features. Ceremonies and receptions can be hosted on-site, with plenty of room for the wedding party and guests available at The Inn. This historic gem, with its exquisite Tudor-style design and intricate hardwood features, is a refined space, ideal for your celebration.
Photo Credit Lake House Inn
The Lake House Inn creates packages that allow your lakeside wedding dreams to come true! This Upper Bucks County waterfront property boasts a gorgeous, lush landscape, with 10 guest rooms on location. This venue also features a draped ceiling ballroom, the perfect backdrop for dancing. After a lively reception, there are fire pits to wrap up the night before guests retreat to their rooms.
Photo Credit Photography by Kelly
This gorgeous, distinctive Inn sits on 12 countryside acres in Bucks and Montgomery Counties. The scenic, historical grounds are an exquisite choice for a wedding venue. With 52 individually decorated guestrooms and a banquet room with a capacity of 200, this is a peaceful place that has overnight room for your wedding party and guests.
Photo Credit Lindsay Docherty Photography
Concordville Inn is a romantic banquet wedding venue that is perfect for ceremonies and receptions, with the capacity to host overnight guests as well. Its elegant ballrooms can hold anywhere from 80 to 350 guests. The Gold Ballroom features high-vaulted ceilings and an ornate water fountain, with the Victoria & Alexandria ballrooms starring outdoor terraces for cocktails. Not only is the Concordville Inn beautiful, but with all-inclusive wedding packages available, it is also an exceptional value.


Photo Credit General Warren Inne
Host your wedding weekend at General Warren Inn, a historic 1745 country inn in Malvern. This intimate location has plenty of old world charm, alongside the bed and breakfast setting and fine dining. There are eight charming guest suites on-site, and a served brunch is provided the morning-after.
Photo Credit Warwick Hotel at Rittenhouse Square
Warwick Hotel at Rittenhouse Square
The Warwick Hotel at Rittenhouse Square is a clean, bright, and modern, a superb venue choice for a contemporary couple. With its high ceilings and floor-to-ceiling windows, the Grand Ballroom is a vision. As one of the three remaining "Grande Dame Hotels" in Philadelphia, the Warwick is listed on the National Register of Historic Places, leaving it as the perfect balance of heritage and innovation.
Photo Credit: Tom Crane and Ryan Lavine
The Paramour at The Wayne Hotel
Have your wedding celebration all under one roof at The Paramour at The Wayne Hotel! There are plenty of spaces inside The Wayne Hotel for ceremonies and entertaining, as well as room for your out-of-town guests to stay overnight. This Main Line venue has timeless elegance, with contemporary touches. An event manager will guide you through every detail, ensuring your experience at The Paramour goes seamlessly.
On the lookout for wedding professionals for your Philadelphia wedding? Check out our vendors here!
You may also enjoy Baltimore Wedding Venues With Lodging!