Bride-to-Be Celeste commissioned the help of Wedding Planner Wendy Hartigan of Angel of Hearts Weddings to ease the stress of planning her November 2013 wedding.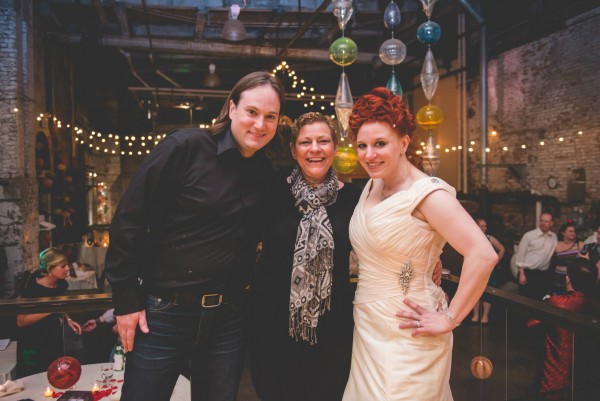 Photo credit: BG Productions/Angel of Hearts Weddings
"I could never get in contact with the vendors very easily; I worked full time... I still needed a photographer and the wedding was only a few months away! I was completely stressed out," she said.
In fact, it was the natural planning instinct that drew her to Hartigan.
"As I recall it, I posted a plea of desperation stating that I needed help. Wendy not only came to me with care and understanding, but she was so cute--she wrote me an email saying, 'I'm rolling up my sleeves...you need my help!'"
Despite another planner's proposal with a lower estimate, Celeste booked Angel of Hearts Weddings. "After reading Wendy's profile, I knew she was an amazing person who was going to be there to make sure everything went right and I believe it even more so after working with her," Celeste said.
Hartigan elevated to superhero status the day of the wedding. "We nicknamed her 'Wendy, The Wedding Ninja.' If my dress became unbustled, she was there before I even looked down. She blended into the back of the room but EVERY single time I needed her, she was instantly next to me!"
According to Celeste, Wendy set up everything and helped when the caterer showed up late. However, she found this out after the fact. "I NEVER knew it. I asked (Wendy) if everything was okay, her response was simply "Yes! It is now." and it was, of course," Celeste said.
She even kept our families friendly at the rehearsal dinner, she added.
Remember the photographer that was needed just months before the big day? "Wendy recommended a WONDERFUL photographer who I got crazy lucky enough to get on such short notice! We really attribute so much of our wonderful day to Wendy being there for us."
Hiring a planner sounds like a natural fit. However, many couples have apprehension in booking because of cost. "My husband thought it seemed unnecessary, at first, but after Wendy called my caterers to sort out some discrepancies in our pricing, she saved us a lot more money than we even paid for her services," said Celeste. "Plus, she helped me feel calm...what groom doesn't appreciate that? She's worth way more than she charges her clients!"
When asked if she would choose Angel of Hearts Weddings again, Celeste said, "I have already hired Wendy again! I messaged Wendy to let her know my brother bought a ring! When my mother and I had talked to each other about my little brother getting married, we decided that we were going to hire Wendy as a gift to the bride. She's been on board every step of the way for them. The bride almost cried when we told her. Everyone in my family fell in love with Wendy. In fact, we insisted on paying her more than quoted this time and still got a deal. We know how valuable her help truly is! Wendy is sweet, calm, well centered, experienced and knowledgeable... plus, well.... she's a ninja!"
Planners are an invaluable asset, utilizing years of experience and resources for your Philadelphia wedding.