Winter weddings are magical—and uncommon. That is what makes them special. The possibility of a light dusting of snow, crystal icicles reflecting off of blue skies makes for a dreamy landscape. However, with winter's beauty also come its hindrances. So, with that in mind, here are some Philadelphia winter wedding essentials to make your event run smoothly.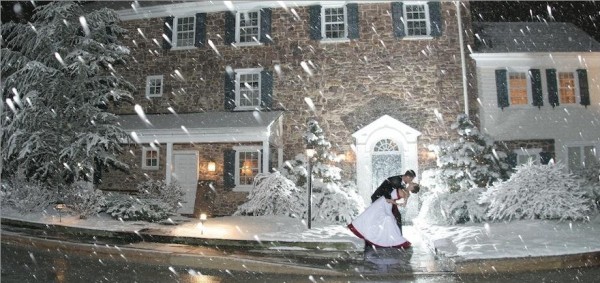 Photo credit: The Manor House at Commonwealth
Wedding Insurance: Winter in the Mid-Atlantic is either hit or miss from year to year from mild balmy weather to a series of record snow days, making planning somewhat unpredictable. Insurance is a safety net, crucial for winter weddings prone to the possibility of adverse weather conditions like ice storms and blizzards. Insurance protects your investment in case your wedding is cancelled, your wedding vendors are stuck in a snowstorm, or venue power loss or downed wires, for example.
Valet Parking: Offering your guests the option of valet parking is always a nice gesture. However, this amenity is especially appreciated in a windy, sub-freezing harsh weather day.
Salt: Not the culinary kind, of course but the Ice Melt kind that makes it a breeze to walk up driveways, sidewalks and stairs without slipping. In the event of a freeze, communicate with the venue coordinator to make sure they have the perimeter salted for safety reasons.
Coat Check: Cute signage is a fun way to point guests in the right direction to where they may store their coat, hat or umbrella.
Basket of Pashminas/Scarves: Even though you booked an indoor venue, drafts can and do make guests chilly. Warm them up with a basket offering new wraps and Pashminas.
Fireplace: Nothing brings ambiance quite like the glow of a warm inviting fire. Some wedding venues even have two or three roaring fireplaces for when guests mingle from room to room.
Hot Chocolate Signature Drinks: Greet your guests with a tray of hot chocolate or Hot Toddies to warm up on a brisk winter night. Convey these special ideas to your wedding caterer.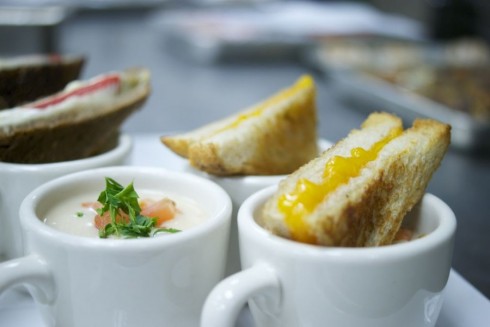 Photo credit: Robert Ryan Catering
Soup or Comfort Food: Integrate into your menu fresh hot soup, a twist on comfort food like mac 'n cheese bites for an appetizer or a mashed potato station. Even better, consider these soup minis with a grilled cheese garnish from Robert Ryan Catering!
On-site Accommodations: Allowing the choice to stay overnight at the venue, if they have guest rooms, is one of the smartest ideas around, especially when streets may be icy for the ride home.
Surely, there are more ideas to spark your unique winter wedding in Philadelphia but hopefully, this list will inspire your planning.