This week we are highlighting some of our favorite Bucks County wedding and event venues!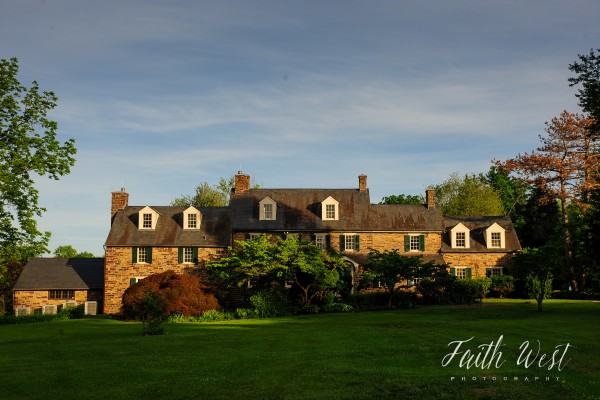 Photo Credit: Pearl S. Buck Estate/Faith West Photography
Holly Hedge Estate: This bed and breakfast is a rustic wedding and event venue in New Hope. Holly Hedge Estate provides visitors with "country graciousness, impeccable service, and a relaxed ambiance... Nestled amid a lush English garden, rolling hillside, historic stone barn, a spring-fed pond and winding paths, the imposing stone manor house boasts 15 generous bedrooms, each with private baths."
Spring Mill Manor: Spring Mill Manor is an Ivyland wedding and event venue. Located on a golf course, Spring Mill Manor features a "two-story lobby will welcome your guests with its twin staircases, rich marble floors and oversized chandelier" and immaculate grounds, including a pond, and a gazebo.
Aldie Mansion: A historic Doylestown mansion turned wedding and event venue, Aldie Mansion is a beautiful place for any event. Modeled after the Mercer family's ancestral Scottish estate, this venue features an atrium, a boardroom, a library, a Great Hall, and grounds that include "splashing fountains, terraces, rolling lawns and rare specimen trees create a thousand lovely photo backdrops."
Northampton Valley Country Club: Northampton Valley Country Club is a Richboro wedding and event venue. This country club features "beautifully manicured grounds provide a variety of places for outdoor wedding portraits and a perfect surrounding for your romantic outdoor ceremony or cocktail hour." Inside, the ballrooms are "adorned in shades of cream, green and gold... floor to ceiling windows fill the space with natural light... handmade chandeliers, and outdoor patios with panoramic views of the gardens and golf course."
Sand Castle Winery: Sand Castle Winery is a Newtown wedding and event venue on the Delaware River. Guests will find a spectacular site that includes "the tree-lined drive... the stately castle... the vast and charismatic tasting room and enjoy the evening looking out over the vineyard to the passing river below."
The Lake House Inn: A Perkasie waterside inn located on Lake Nockamixon, The Lake House Inn "is an exquisitely renovated 19th-century structure featuring contemporary spa-like decor. It houses 10 luxuriously appointed guest rooms, cocktail area, billiard lounge, and stone wine cellar." this venue also features overnight guests rooms, making it perfect for the feel of a destination wedding without the travel.
B & T Catering at Southampton: Southampton Camp is a wedding and event venue in Southampton. The venue is "nestled in the woods of Bucks County," and "offers everything from a romantic lakeside setting to a casual sports arena." B & T Catering at Southampton "provides premier banquet menus customized to your tastes and lifestyles" with the freshest food.
Pearl S. Buck Estate: A Perkasie estate that was once home to the Nobel- and Pulitzer-prize winning writer Pearl Sydenstricker Buck after whom it is now named, this venue features "60 acres of rolling hills with stone buildings and exquisite gardens." The Pearl S. Buck Estate also features a stone terrace, a barn, and a pavilion for a variety of event spaces.
Bucks County Riverboat Company: Bucks County Riverboat Company is operated our of Keller's Landing on the Delaware River, The riverboat, called the River Otter, "is our 52' coast guard certified pontoon boat fully equipped to provide a memorable excursion on the wild and scenic Delaware River." and provide a variety of amenities at the same time, from catered meals to a service bar and cocktails.
James A. Michener Art Museum: The James A. Michener Art Museum is a Doylestown museum and event venue that is "housed in a beautifully restored historic site that in 1884 began as the Bucks County prison. The Michener Art Museum has been transformed into a welcoming center of culture and beauty, providing a dramatic and elegant setting in which to entertain." and also features a "contemporary" newer pavilion with glass walls; guests to an event at this venue also have access to the museum's art galleries.
Still searching for amazing venues? Click here! Searching for amazing vendors? Click here!