Hotel staff are experts in making out-of-town guests feel surrounded by the many comforts of home despite being miles away. They are true masters in the art of pampering. Not only do they have incredible in house catering, and accommodations but many have gyms, spas and salons catering to your every need.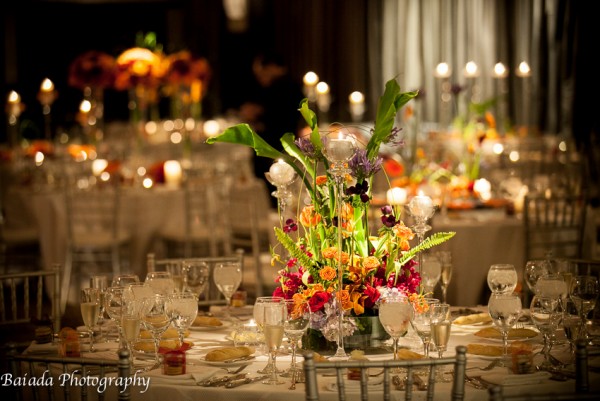 Photo credit: Sofitel/Baiada Photography
Imagine applying that same care and special amenities to your Philadelphia wedding. Here are six Philadelphia hotel wedding venues in Center City we are excited about:
Sofitel: The Sofitel Philadelphia is a modern Four-Diamond luxury hotel in between Philadelphia's French Quarter and the prestigious Rittenhouse Square. The Sofitel experience offers a charming blend of French elegance and contemporary American style.

Recently awarded Philadelphia's best hotel and one of the leading hotels in the world, your wedding guests will experience first-class service with unique flare in this contemporary French hotel. Sofitel offers the height of modern comfort and convenience, and provides an ideal setting for your Philadelphia wedding or event. It's conveniently located just minutes from the Philadelphia Convention Center and historical Center City attractions, ideal for out-of-towners and history enthusiasts.
Le Meridien: Aesthetically, Le Meridien Philadelphia offers an architecturally striking design with historical features, modern amenities and décor, a location in the heart of Center City. It's convenient to the shopping district, world-renowned museums and incredible restaurants, and features unparalleled culinary creations from its Executive Chef Dan Tyrell and impeccable service at every turn. Striving to source local, sustainable and organic ingredients whenever possible, they pride themselves in preparing nearly everything in-house, made fresh daily.
Le Meridien has the experience and the expertise to ensure your Philadelphia wedding or event is hosted effortlessly and stylishly.
DoubleTree Hotel Philadelphia: Located on the Avenue of the Arts with two elegantly appointed ballrooms to choose from, Doubletree Hotel Philadelphia is a beautiful facility with unsurpassed service. Fans of their indulgent warm chocolate chip cookies will be interested to know that it is one of the last locations on the East Coast that still makes its signature treats from scratch every morning.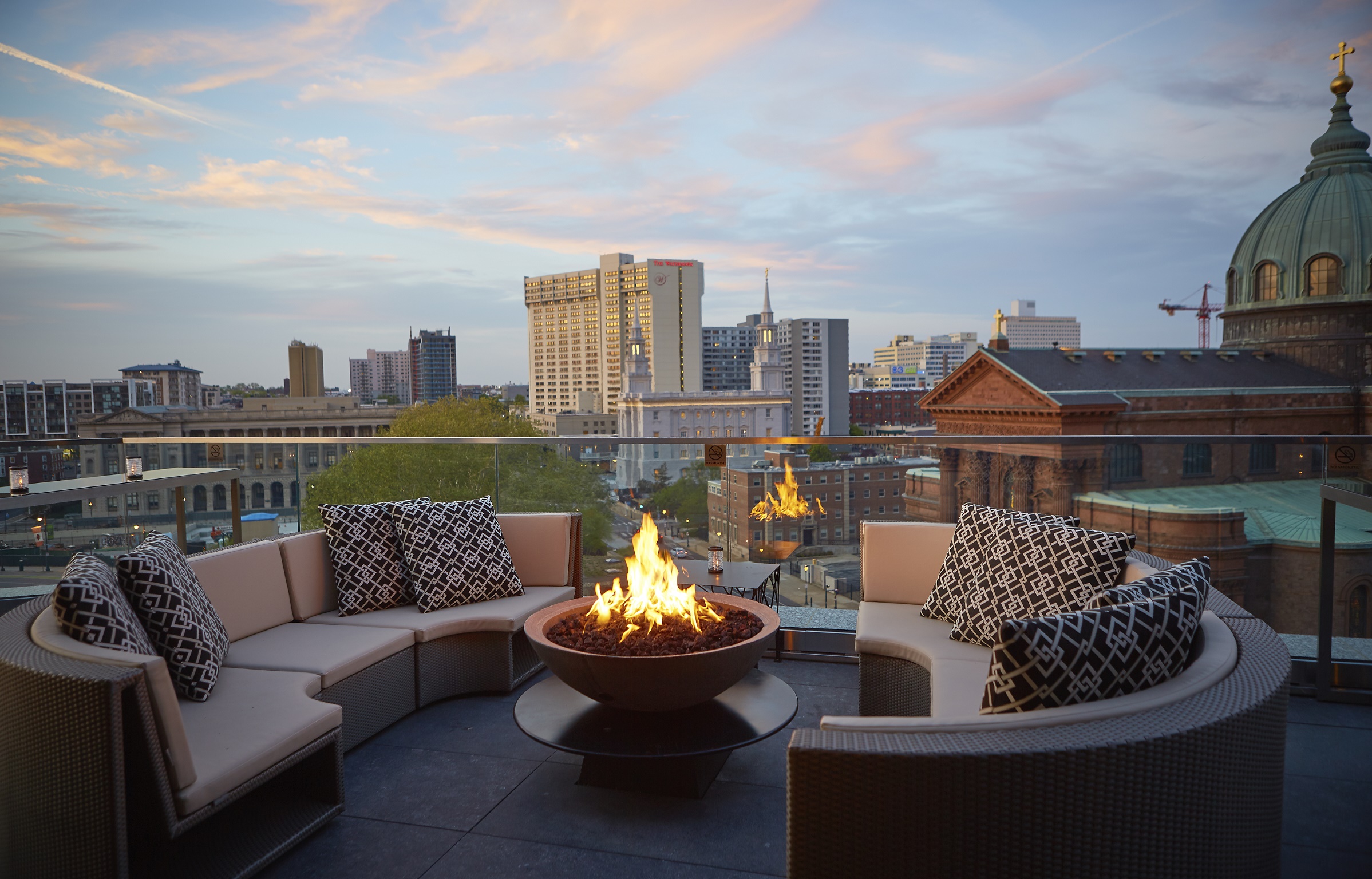 Photo credit: The Logan
The Logan: Hosting your wedding in signature style is easy at Philadelphia's The Logan – an independent, cosmopolitan locale infused with a stylish perspective and rich with options curated to create your ideal wedding or celebration. From timeless, elegant ballrooms and secluded courtyard, to an exclusive rooftop venue, you'll find the perfect setting to say "I Do" and delight in the moment with family and friends.
With its transformation now complete, The Logan is a brilliant beacon of modern luxury, with sleek new spaces, providing graceful backdrops for weddings both lavish and intimate. Here your wedding is as original as the venue – with the interplay of lush landscapes and polished service ensuring your day is pure perfection. Let an incomparable Philadelphia wedding be yours – immersed in art and beauty.
Hotel Monaco: Imagine your Philadelphia wedding in a beautiful, historic building, situated across the way from the Liberty Bell and Independence Hall. Hotel Monaco, a boutique hotel, boasts an exquisite design that merges old and new, highlighting its classic architecture and modern, contemporary finishes, all with exceptional service and in-house catering by Red Owl Tavern. You will fall in love with Stratus Lounge, its fun yet luxurious rooftop destination for sipping, dancing and socializing. Oh, and the fact that Hotel Monaco not only rolls out the red carpet for its guests but also a yoga mat (in every room)—and is pet friendly—generates even more to love!
The Ritz Carlton Philadelphia: Located on The Avenue of the Arts next to City Hall, The Ritz Carlton is an iconic city landmark known for its grand Pantheon-esque marble columns and soaring ceilings. Recently, the luxury hotel debuted from its $25 million redesign, making updates to its guest rooms, lobby, event space, meeting rooms, club lounge and added a new restaurant.
Arden and Mellon balconies offer a distinctive space within The Ritz Carlton Philadelphia where you can exchange vows alongside a gleaming bronze-railed mezzanine with striking views of The Rotunda. The Grand Ballroom and Petite Ballroom wedding venues are sophisticated choices for a traditional ceremony and reception, while The Exchange offers stately charm with historic views of City Hall and South Broad Street. It's no mistake that the muted colors of the hotel's interior and suites reflect the color of money and precious metals (green, copper, nickel—and blue) since it was originally a bank building, The Girard Trust Company, that opened in 1908.