Here's a list of five dynamite podcasts that will aid you in the stressful months of preparation, planning, crying, and, most importantly, celebrating your impending nuptials.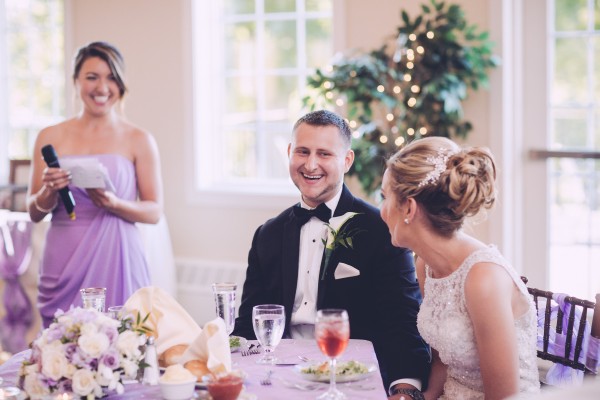 Photo Credit: Chris Marx Events
There are so many voices involved in planning your Philadelphia wedding. Your mother-in-law wants you to wear her wedding dress from the nineteen-eighties. Your uncle wants to drink his signature Budweiser at the reception and demands it to be on the tap list, or he's not attending. Your best friend from college has strict dietary restrictions. Your cousin wants to bring his new girlfriend as his date, even though his invitation didn't include room for a plus-one.
Enter the voice of authority. Here's a list of five dynamite podcasts that will aid you in the stressful months of preparation, planning, crying, and, most importantly, celebrating your impending nuptials.
Available on Apple Podcasts, Spotify, Soundcloud, Audible
This podcast is voiced by Australian comedian, author, and wedding expert extraordinaire Aleshia McCormack. With careful consideration and mindful planning, McCormack pulled off a flawless, inexpensive wedding of her own. However, her frustration with the wedding industry and society's idea of a 'perfect' wedding inspired McCormack to start producing this podcast.
Now with an active Facebook group, two books, and 350+ podcasts later, "Bridechilla" has expanded into being an informative and welcoming community for those betrothed, while alleviating the stress and pressures of planning the perfect party. With episodes such as "The Wedding Virus" and "Invitation Etiquette," there is the perfect balance of knowledge and entertainment.
"Engaged"
Available on Apple PodCasts, Soundcloud
In this podcast, engaged couples share their experiences in this self-described "authentic wedding planning podcast." Guests are interviewed by host Kali Edwards, and they provide their insight from the lessons they have learned from the planning of their wedding. Provided are a lot of real problems that engaged couples face; such as approaching the role of being the groom, understanding the overwhelming world of wedding flowers, and handling last-minute curveballs that threaten the wedding day. While this podcast hasn't been updated since 2016, there is still plenty of practical advice left to reflect on.
Available on Apple PodCasts, Spotify, NPR
Okay, "Modern Love" isn't a wedding-focused podcast, but it still deserves an honorary mention because it still centers on relationships. Featuring the popular New York Times column series "Modern Love," this podcast features different notable speakers each week as they read essays that cover a range of different kinds of L-O-V-E. Discussing estranged relations, parental love, old love, puppy love, crushes, breakups; this podcast has it all and then some. Some episodes are extremely relatable, like "Broad City" comedian Abbi Jacobson reading the essay 'Boy, What a Fantastic Baker,' while other content is more thought-provoking, such as actor Colin Farrell's reading of 'A Heart Outrun.'
It is to be noted that this is a tear-inducing kind of podcast, one that challenges the listener's perception about love and relationships, and maybe should not be listened to in public- you will cry on the train.
Available on Apple PodCasts, Audible
This podcast details the complexity of relationships and compatibility, as you listen in on real-life couple's therapy sessions. Lead by Belgian psychotherapist Esther Perel, she examines couples and their struggles (with their names changed for doctor/patient confidentiality of course). "Where Should We Begin?" opens up those difficult, but sometimes necessary, dialogues that are encouraged before and during a marriage. Episodes such as "I Want to Feel Wanted," and "Motherless Women" is riveting, compelling material. This podcast is a facility for healing when facing the not-so-pretty facets of marriage.
Available on Apple PodCasts, Spotify, Soundcloud
The two hosts of "From Ring to Veil" share extensive backgrounds in the wedding industry and are combining their knowledge into this podcast, with the intention of making wedding planning fun. What's notable about this show is that many of their guests are niche experts in their respective fields, and most of the episodes are fairly short and sweet, averaging around 15-20 minutes. For those looking to insert as much of their personalities into their wedding planning as possible, this is the podcast for you to listen to. With episodes like "How to Geek Up Your Wedding" and "Including Pets in Your Wedding," this is targeted towards eclectic couples.
Check out 10 Unique Wedding Venues in the Philadelphia Suburbs!
Still searching for the perfect Philadelphia wedding or event venue? Click here! Searching for event professionals? Click here!