Learn the latest in line dances and how to communicate your preferences with your DJ to include them or ban them from your Philadelphia area wedding.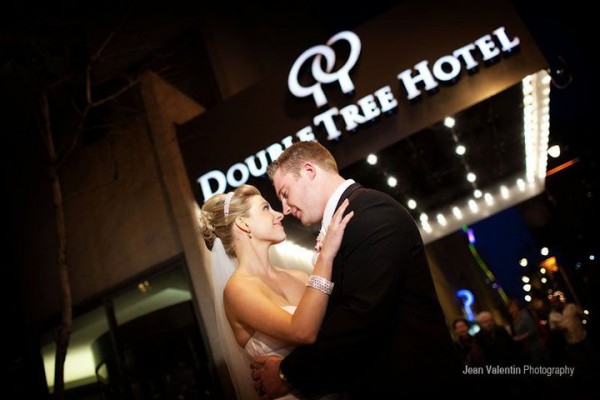 1. What are the advantages of a line dance at a wedding reception?
The main advantage of line dances is to invite and encourage those who might be a little inhibited to dance, or be one of the first to come out to the dance floor, especially if some guests are not dancing or haven't been dancing. They may be much more inclined to come out and join dozens of other people, as a group, or grab a friend or family member, "C'mon out and join us….for the "Cupid Shuffle," for example.
2. What line dances are there today and are they still doing the "Macarena?"
The most popular line dances today are (in no particular order): "The Cupid Shuffle," the "Cha-Cha Slide," the "Electric Boogie" (mostly known as the "Electric Slide," and we still play this quite a bit, though not as frequently as the other "slide" dances), "The Wobble." Other line dances we are still playing but are not quite as popular are "Gangnam Style," the "Harlem Shake" (seemed like this one was a 1-2 month fad or trend on the internet), and "Teach Me How To Dougie." And then there are the tried and true "Y.M.C.A.," the "Chicken Dance" and the "Hokey Pokey." I can probably count on one hand the number of times we will play the "Macarena" at a Philadelphia area wedding reception, unless, of course, it is requested by the bride and groom as a 'must play.'
One of the biggest advantages of working with Signature DJs is the fact that we provide the opportunity to sit down, meet and plan the wedding reception with our brides and grooms. With all of the technology, e-mails, Facebook, texting, Skype, Face Time and such, a face-to-face in person meeting is still paramount in our planning process. It gives us, as DJs, a sense of what the bride and groom are looking for, elaborate on their "must play" and "do no play" lists, and specifically these line dances. I would say at least 15-20% of our couples request that none of these dances, or "group involvement" or "anything choreographed" (as one bride put it) be played under any circumstance.
To sum things up, in a 5-hour Philadelphia area wedding reception, we usually see about 2-2 ½ hours of actual dance time, which translates to 30-40+ songs. So it's great if you want a certain song, artist or genre played, and it's great if you don't. We don't necessarily need to play the "Electric Slide," then the "New" Electric Slide, and ½ hour later play the "Cupid Shuffle," only to follow that up with the "Chicken Dance" and the "Hokey Pokey" less than an hour later.