Have you ever wondered what role volume and acoustics play at wedding venues in the Philadelphia area? The dynamics of acoustics present challenges from venue to venue, particularly in a courtyard-type setting such as the Atrium at the Curtis Center. With volume typically being the number one concern of wedding clients, the use of "In-Ear" monitors has enabled the Vincent James Band to virtually eliminate the volume problem at even the toughest acoustically challenging wedding venues in the Philadelphia area.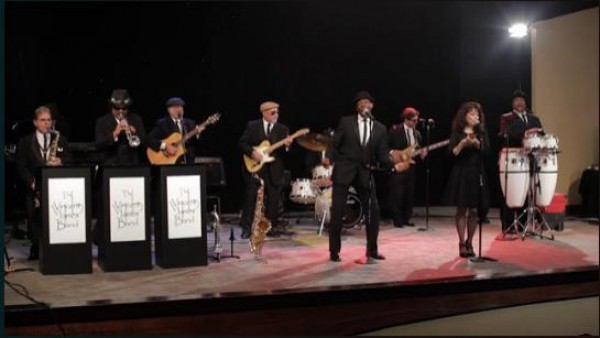 What can be a costly but effective solution, all ten (10) Vincent James Band musicians wear "In-Ear" monitors, which via a special mixing board, allows our sound engineer to provide each member with an individual "mix" favoring their own vocals and instruments. The sound engineer then mixes the room sound to an acceptable level from the guests' perspective.
Due to the compact nature of the system, it also eliminates the need for as many as 4 - 6 large floor monitors, which are essentially just more speakers adding more volume. Non-specific floor monitor mixes also make it more difficult for the musicians to hear themselves, so they tend to play louder, adding yet more to the overall stage volume.
In our field of weddings and events, vocalists are the only members of other bands that use in-ear monitors; however, instrumentalists present the greater challenge in creating a proper balance relative to volume. VJB is perhaps the only non-touring or national act utilizing this technology for all of the performers on stage.
The Vincent James Band has been one of the busiest bands in the Delaware Valley for the past 25 years, and for the second time, has recently been awarded "The Best of Weddings" for 2015 by The Knot, a national website specializing in all-things-wedding.
Volume and acoustics are just one way that the Vincent James Band will make a difference at your wedding in the Philadelphia area.