Hosting your wedding within a museum isn't just for history enthusiasts. Museums have beautiful spaces, exhibiting incredible architectural details and can accommodate events large and small.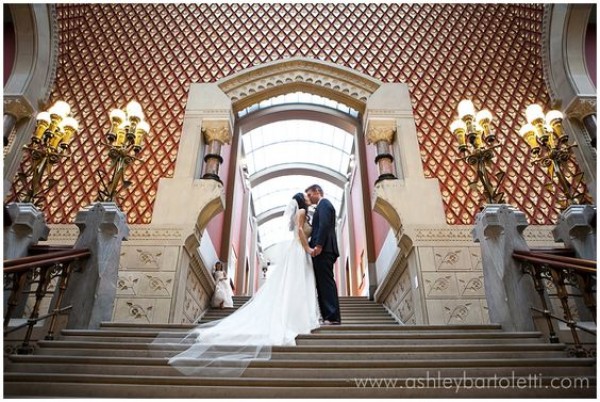 Photo credit: Pennsylvania Academy of the Fine Arts/Ashley Bartoletti Photography
Since these landmarks house fine art, sculpture and artifacts of a bygone era, little décor is needed. In fact, these pieces add to the event, providing talking points among guests.
And no two events are alike for museums with rotating exhibits. Additionally, docents are often available for personal tours, allowing memorable activity and unlimited returns for years to come. If you are looking for a unique space that transcends fads and creates a wedding experience, a Philadelphia museum venue is it! Here are some of our favorites: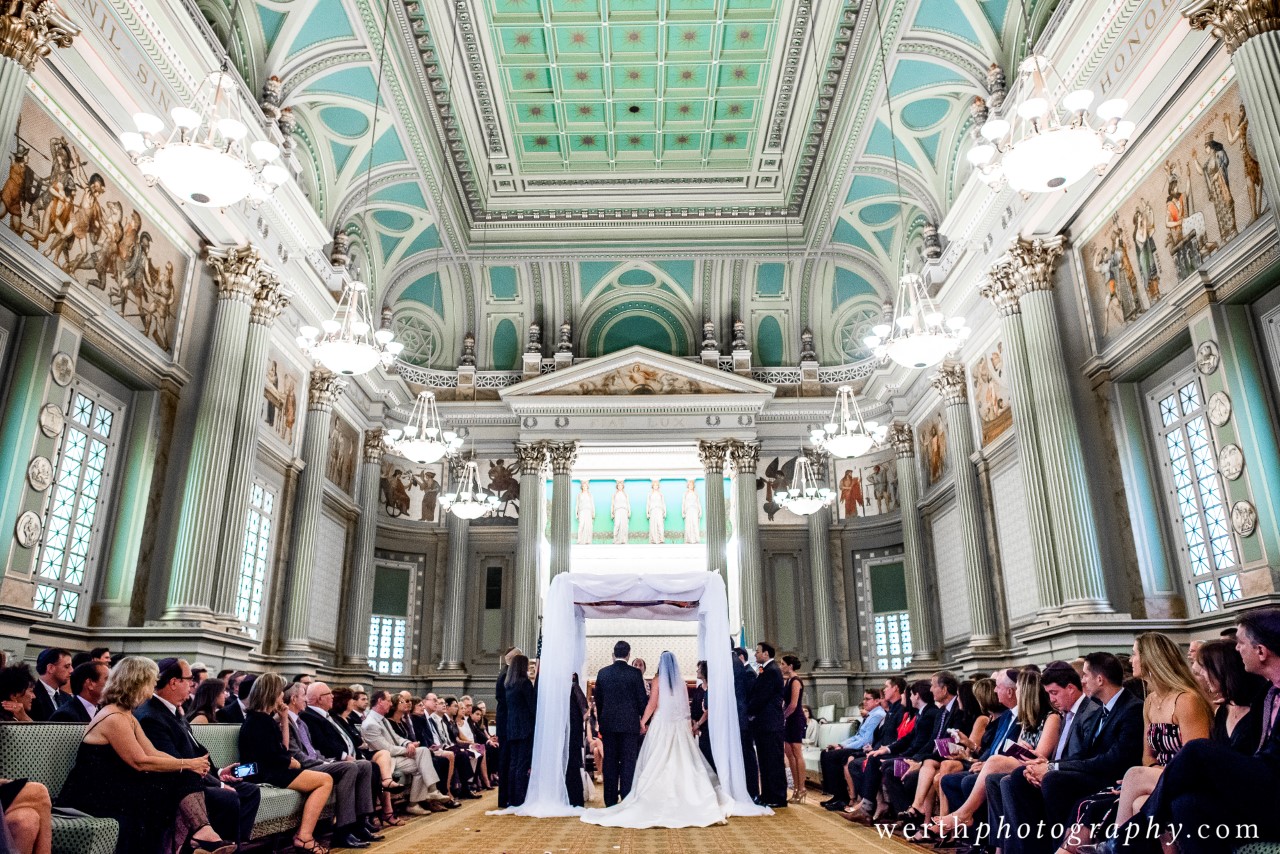 Photo credit: ONE North Broad St./Werth Photography
Within the majestic Masonic Temple is ONE, located at one of Philadelphia's most iconic, historic addresses – One North Broad Street. Honestly, each room is more breathtaking than the next! In fact, this stunning world-renowned architectural wonder pre-dates City Hall. ONE features a magnificent newly-renovated Grand Ballroom, stunning marble foyers, sweeping grand staircases and exquisite meeting rooms reflecting ancient architecture themes. A library and museum there holds articles belonging to George Washington and other national and international dignitaries, as well as decorative masterpieces and precious artifacts with captivating historical significance.
ONE offers a rich and engaging setting to host weddings, intimate dinners, successful meetings, grand receptions and galas alike while capturing the intrigue of every guest. This National Historic Landmark is central to the City of Brotherly Love… just one more reason why it's the perfect Philadelphia wedding venue for the perfect event.
The Grand Ballroom seats 250 for a sit-down dinner, and when combined with the Grand Foyer, can host 450 guests for receptions. The second-floor marble Foyer can host an additional 200 guests for a reception "under the stars." Additional foyers, reception spaces and exquisite meeting rooms, dining and conference rooms create the perfect setting for more intimate events.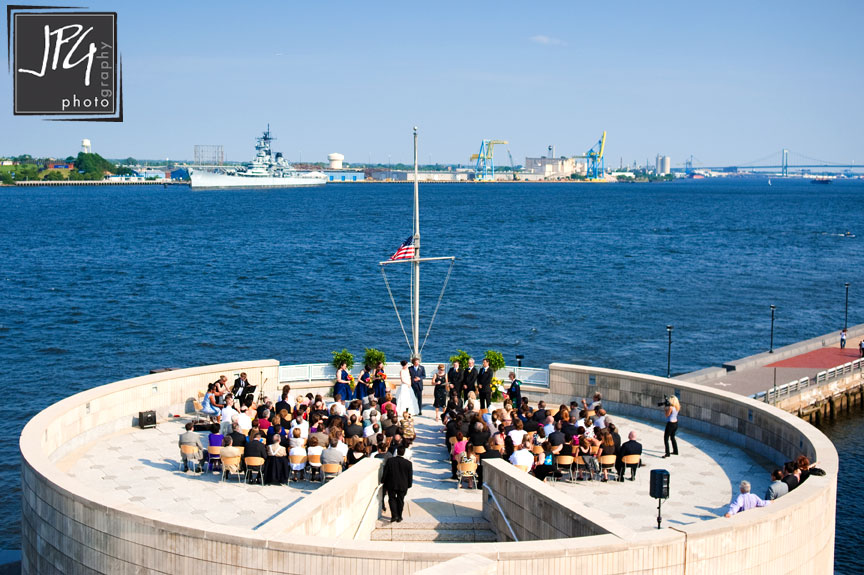 Photo credit: Independence Seaport Museum/Alison Conklin Photography
Host an unforgettable event at Independence Seaport Museum, a historic Philadelphia wedding venue on the waterfront!
Located on the top floor of the Museum, the ballroom and terraces provide a one-of-a-kind experience. With illuminating views of the historic Delaware River waterfront, the ballroom is a premier Philadelphia event venue for weddings, fundraisers, galas or corporate events.
The Museum's first floor galleries include two special exhibits representing its commitment to maritime history. The open floor plan is perfect for a cocktail reception or an intimate dinner.
Second floor galleries feature small craft boats native to the Philadelphia region. Soaring ceilings, exposed light and elegant craftsmanship make this gallery an ideal location for a sophisticated gathering.
The oldest steel warship in the world, Cruiser Olympia, offers a stylish and classic atmosphere for an unparalleled waterfront experience.
For large scale events, the entire facility at Independence Seaport Museum can be utilized. With numerous breakout spaces, scenic views and unique galleries, Independence Seaport Museum can provide endless possibilities for those looking to host creative and memorable affairs.
Additionally, tenting the terrace is made easy with existing framework.
Photo credit: Pennsylvania Academy of the Fine Arts/Ashley Bartoletti Photography
Pennsylvania Academy of the Fine Arts
The Pennsylvania Academy of the Fine Arts (PAFA), located of Philadelphia's celebrated Museum Mile intersecting the Avenue of the Arts is actually two distinct venues in one. The elegant Victorian architecture of the Historic Landmark Building and the spacious, contemporary Samuel M.V. Hamilton Building offer the perfect backdrop to dine and dance in the galleries, surrounded by one of the best collections of American art in the world. Create a truly remarkable event and give your guests the best of both worlds in this historic Philadelphia wedding venue.

Located directly across from the Pennsylvania Convention Center, and in close proximity to Reading Terminal Market and an array of hotels, PAFA is in the heart of it all for you and your guests.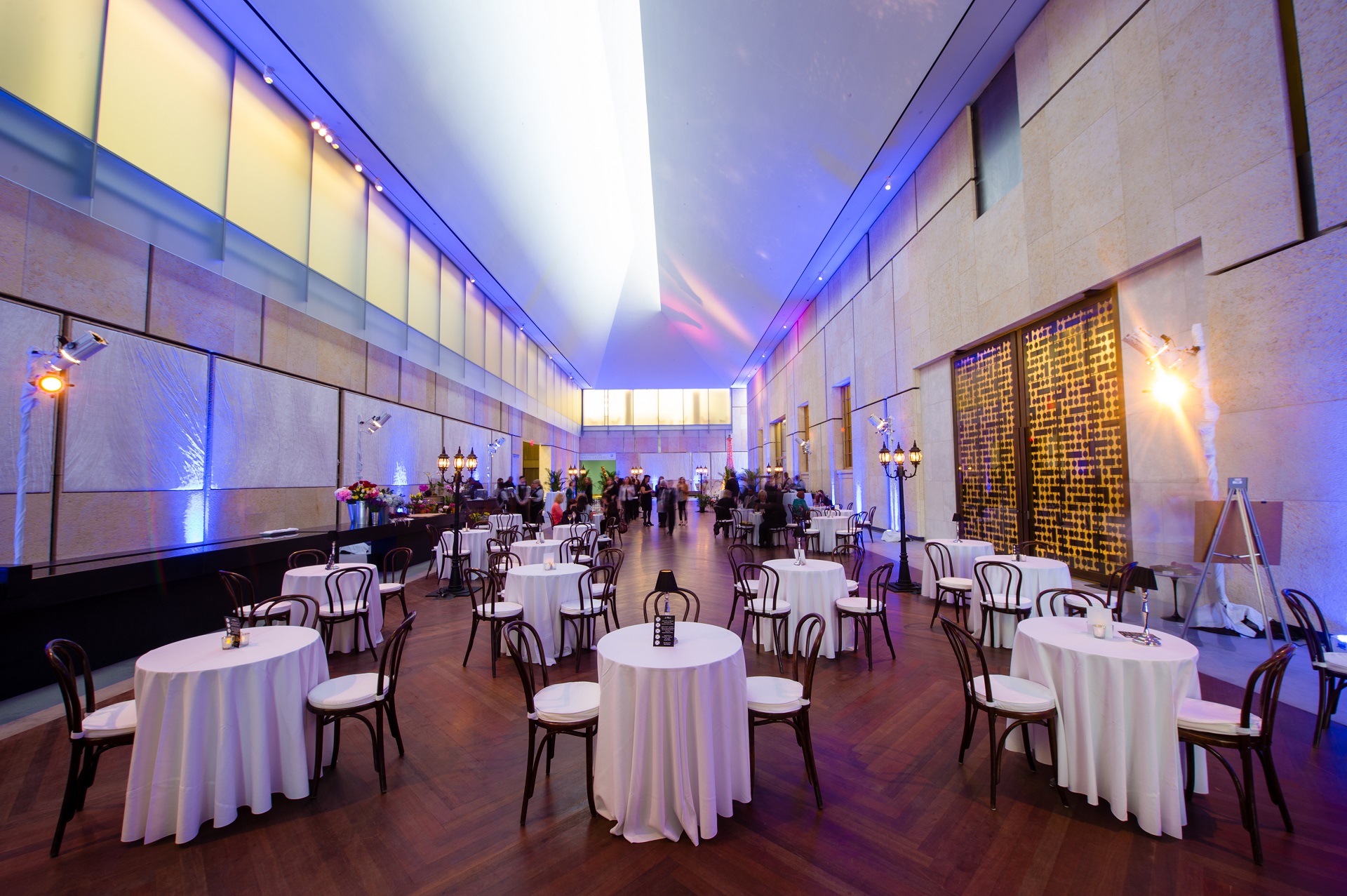 Photo credit: The Barnes Foundation
The Barnes Foundation's Philadelphia campus is an elegant structure that features a stunning glass canopy, which filters natural light into the galleries by day, and softly illuminates the building at night. With over 15,000 square feet of indoor and outdoor space to choose from, the Philadelphia campus offers a variety of spaces to suit your entertaining needs.
The luminescent Annenberg Court is a living room on a grand scale, flowing out onto a terrace to create a beautiful indoor-outdoor space with a refined back-porch atmosphere. The Court is covered by a cantilevered glass light box that extends over the terrace, letting in natural light by day and radiating dramatic illusion by night. In the evening, a lusterware-tiled fireplace illuminates the terrace, framed by the seasonal beauty of the surrounding Benjamin Franklin Parkway landscape, making The Barnes the perfect Philadelphia wedding venue day or night.
Philadelphia Museum of Art/Rodin Museum/Marie Labbancz Photography
Your guests will be thrilled to visit Philadelphia's premier cultural and historic gem, Philadelphia Museum of Art. Home to a world renowned, peerless collection, the Philadelphia Museum of Art has hosted inspired events since 1876, when the Centennial Exhibition was held in Fairmount Park, sparking the founding of the city's leading art museum and school.
The Museum moved to its present neoclassical main building in 1928 and expanded to include the Perelman Building, and Rodin Museum. The iconic grandeur of the Main Building is perfect for large galas and weddings while the intimate beauty of the Rodin is a romantic setting for a smaller celebration.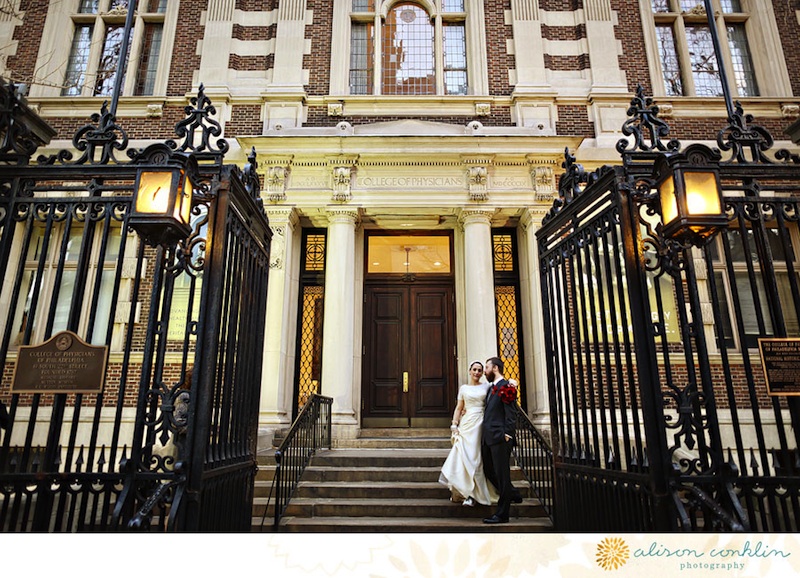 Photo credit: College of Physicians/Alison Conklin Photography
College of Physicians of Philadelphia
The College of Physicians of Philadelphia is a National Historic Landmark Beaux Arts building, with a grand marble rotunda and sweeping staircase leading to a magnificent ballroom. Whether you choose to host only your reception, or include your ceremony, its grand spaces are ready to welcome your guests with your unique style. Here, you are afforded to treat your guests to a docent guided tour of the Museum, if you choose. On a beautiful day, your guests can enjoy hors d'oeuvres and cocktails while strolling through our Medicinal Herb and Butterfly Garden while a sumptuous dinner awaits in Mitchell Hall.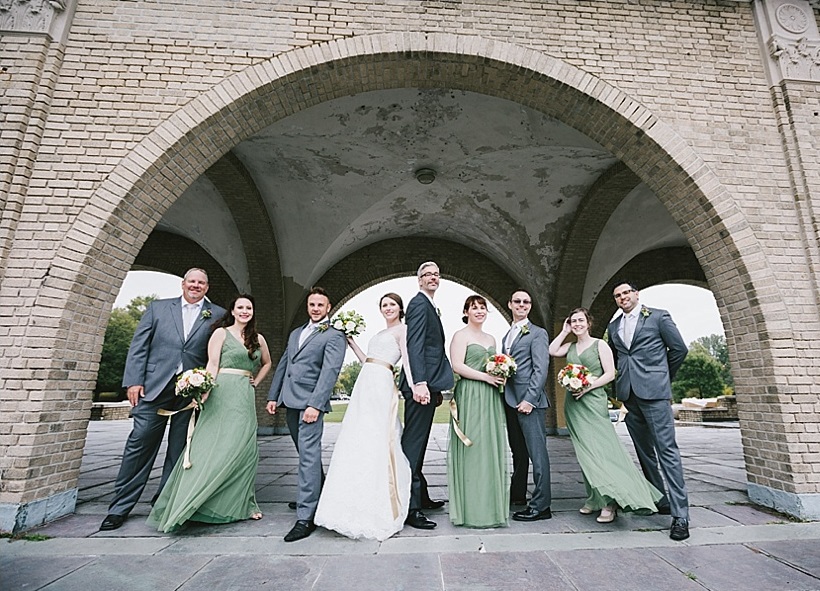 Photo credit: American Swedish Historical Museum/Georgi Anastasov Photography
American Swedish Historical Museum
Modeled after a 17th century manor house and tucked away in verdant FDR Park, American Swedish Historical Museum is truly one of Philadelphia's hidden gems. Imagine your wedding in its two-story Grand Hall with an elegant staircase and beautifully painted, vaulted ceiling. Or, if you prefer an outdoor ceremony, you may exchange vows under a leafy tree with the lush park as your backdrop, frame your ceremony in architectural charm under one of the arcades' graceful arches, or go big-front-and-center in front of the museum's ornate doors and beautiful stately façade.
Rental of the Swedish Historical Museum includes use of all the museum's public spaces during your event. Your guests will enjoy browsing fantastic galleries, which feature original period paintings, furniture, and textiles. There is even a seasonal tent, complete with lighting, fans and heaters, and clear, retractable sides, so that you and your loved ones can dine and dance the night away while enjoying the beauty of the outdoors.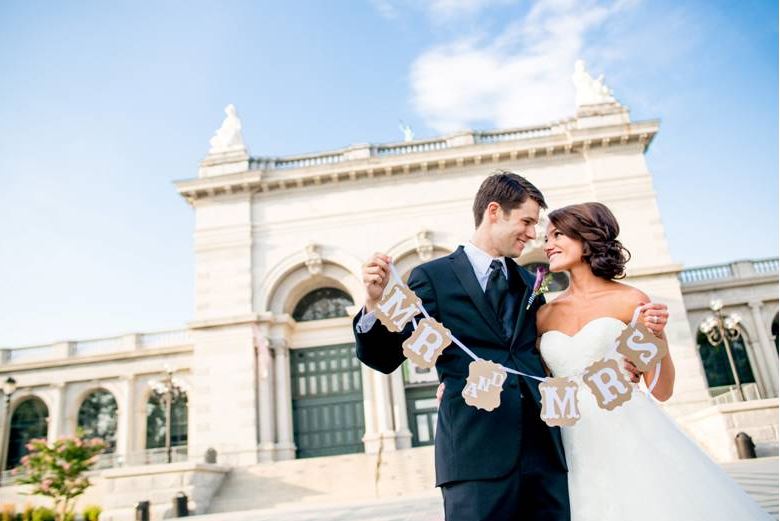 Photo credit: Please Touch Museum/Werth Photography
Fairmount Park's Please Touch Museum at Memorial Hall is not only rich in history, it's also fun. The fully operating antique Dentzel Carousel makes for fun unique party shots, and it can also be utilized as an attraction for guests to ride. This architecturally magnificent Philadelphia wedding venue also offers an unparalleled backdrop for photography. Whimsical shots in Alice's Hall of Doors and Mirrors in "Wonderland" are a photographer favorite, rounded out by classic formal photos amidst the Beaux-Arts architecture of the building itself – simply beautiful.
With 60 foot ceilings and a majestic dome above, Hamilton Hall's Beaux Art architecture offers a dramatic space for all types of events. Guests may dance under the stars on original marble floors from the building's construction in 1876. From elaborate weddings and bar and bat mitzvahs to unique corporate galas and philanthropic events, Please Touch Museum® at Memorial Hall is sure to impress with additional foyer space, galleries, the Carousel House and meeting rooms within this unique Philadelphia wedding venue.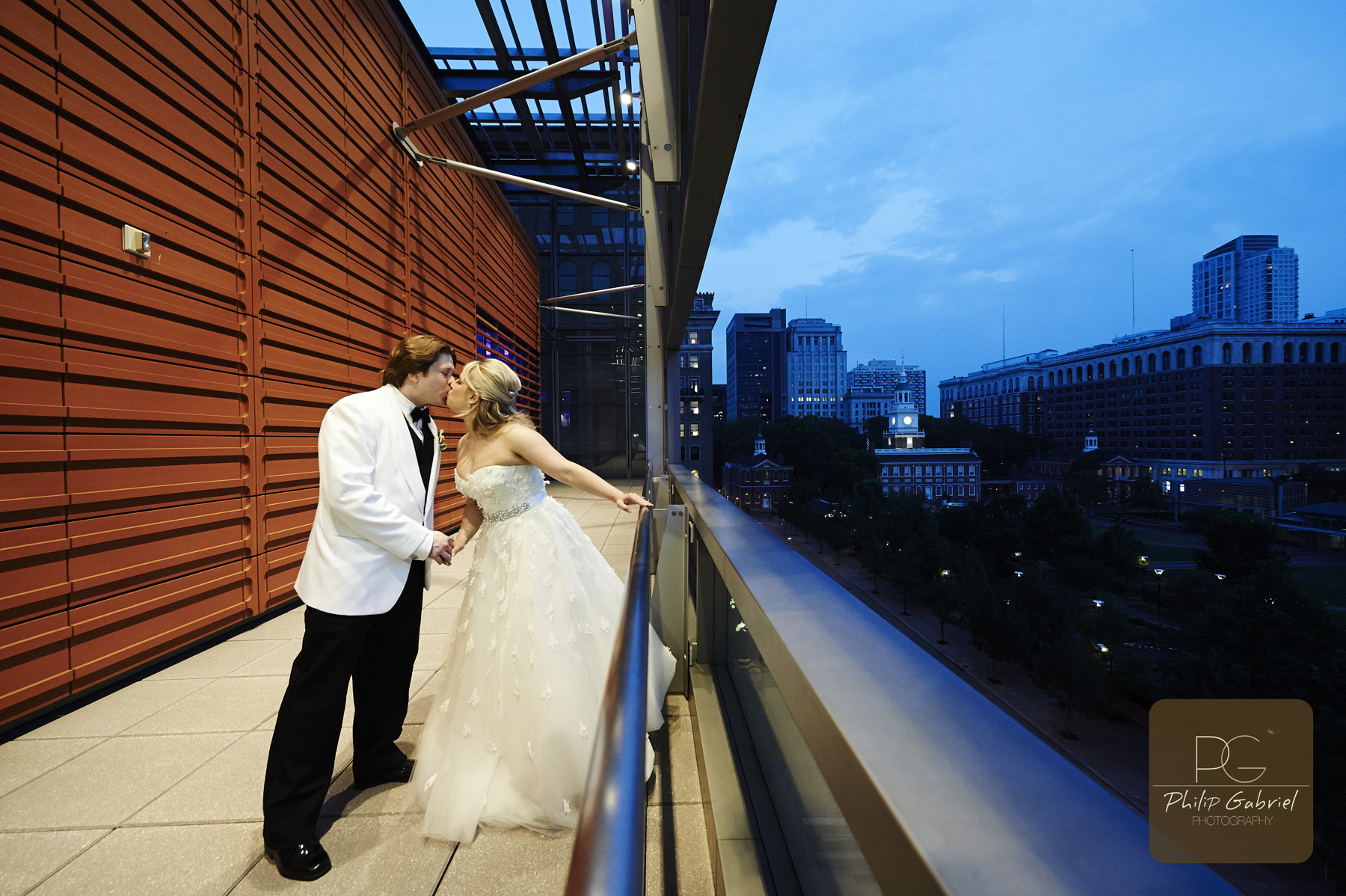 Photo credit: National Museum of American Jewish History/Philip Gabriel Photography
National Museum of American Jewish History
This exciting event space is located on the most historic square mile in the country.
Its building is an architectural landmark featuring terraces offering stunning views of Independence Mall. Whether you are planning an intimate cocktail reception, a business meeting or an elegant gala or wedding, the National Museum of American Jewish History can accommodate from 20 to 500 guests.

The 20,000-square foot premier Philadelphia event venue includes outdoor and indoor terraces that provide dazzling and illuminating City views.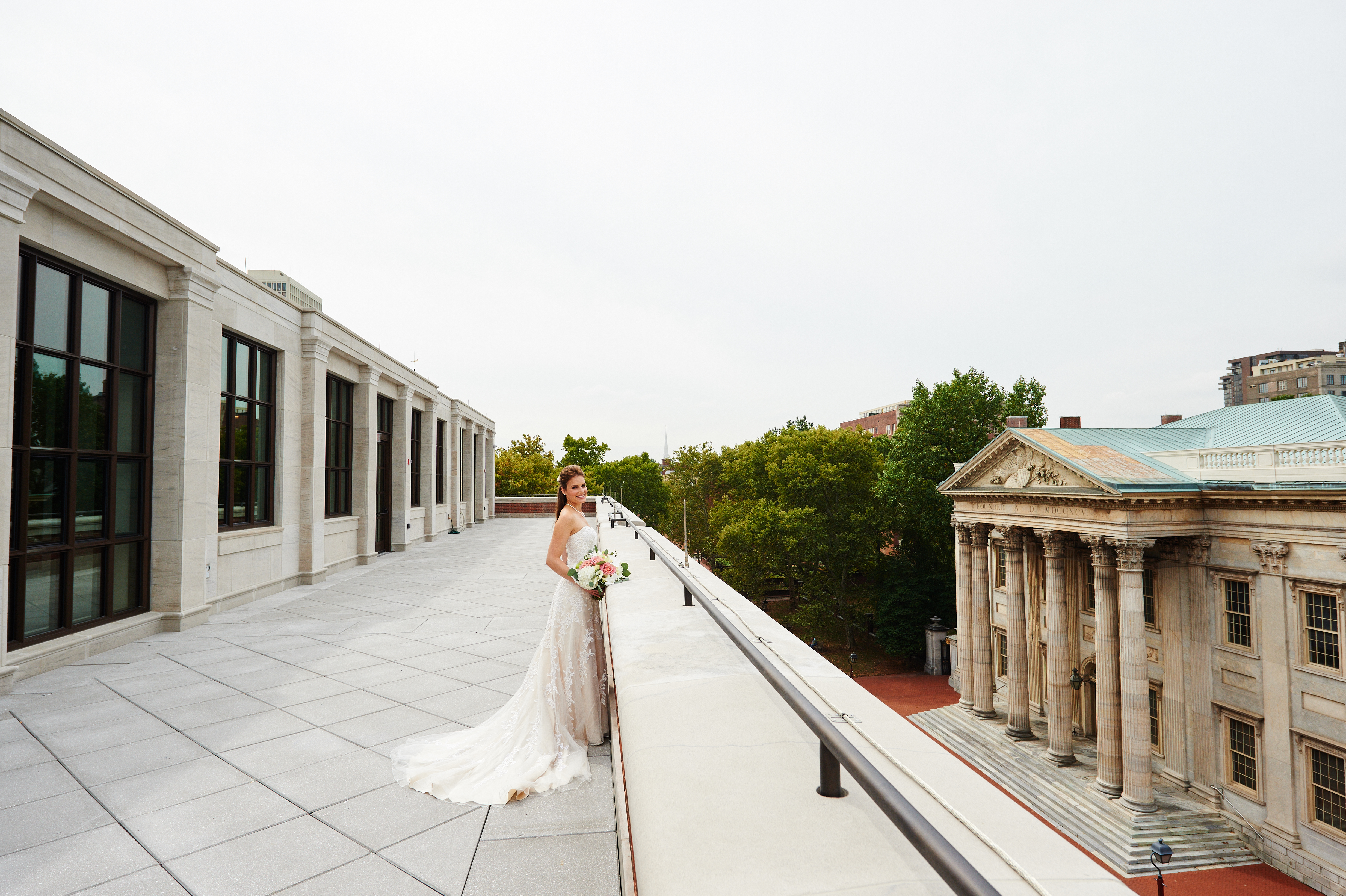 Photo credit: Museum of the American Revolution/Philip Gabriel Photography
Museum of the American Revolution
Brand new to the City, The Museum of the American Revolution will take visitors on a journey through the incredible, unlikely story of our nation's founding. Through exhibition galleries, theaters and a distinguished collection of original artifacts, the remarkable history of the American Revolution will come to life within this 118,000-square foot state-of-the-art facility.
The Museum also serves as a one-of-a-kind Philadelphia wedding venue offering numerous distinctive spaces:
The Lobby's gracious architecture provides an attractive space for guests attending special events and programs both during and after hours. The ceiling features a graceful vault, creating the unique feel of historic masonry construction that is heightened using stone cladding on the walls and floor.
The Grand Staircase is the most distinctive architectural feature of the ground floor and provides a dramatic pathway to the Museum's exhibition galleries.
Located on the third floor, the Liberty Hall is a beautifully proportioned, handsomely finished, naturally lit, versatile space that can accommodate a formal dinner for 180, a scholarly panel discussion, a board meeting, a festive reception and more. The Hall offers striking views in multiple directions, including the façade of the First Bank of the United States, Independence National Historical Park, and historic buildings on Chestnut Street. An open-air terrace provides a dramatic overlook of the Museum's plaza.
The Main Theater will house the Museum's signature film – a thought-provoking, stirring and inspiring overview of the American Revolution and its continued relevance. It is ideally suited for after-hour use. The Theater has an expansive, sloped-floor that accommodates 190 people. It is outfitted with three synchronized digital projectors, a surround-sound audio system, and theatrical lighting.
The Special Exhibition Gallery will showcase short-term exhibitions. When not in use for this purpose, the space will be available for facility rentals. The 5,000-square foot space has the flexibility to be subdivided to host concurrent event programming.
A state-of-the-art boardroom available for business meetings. You can also transform it into a lounge setting.
Photo credit: National Constitution Center
Situated just steps away from Independence Hall and the Liberty Bell, National Constitution Center offers the perfect setting for any occasion. Enjoy inspiring views of Independence Hall, state-of-the-art conference and meeting rooms, and dazzling event spaces.
The Grand Hall Overlook - The National Constitution Center's premier space, with its 60–foot–high ceiling and sweeping windows offers a breathtaking, birds–eye view of Philadelphia's historic landmarks—making it an unparalleled location for wedding receptions, dinners, and corporate events.
John C. Bogle Chairman's Room is an elegant, intimate venue for meetings and social engagements with added privacy and comes fully equipped with advanced audio-visual capabilities. It is available for day or evening functions. The adjacent glass-enclosed, all-weather terrace adds breakout or reception space with a spectacular view of Historic Philadelphia.
The National Constitution Center, where Historic meets Hip, can accommodate events from 30 to 3,000 guests. The Center will provide your guests with an experience that will leave them in awe.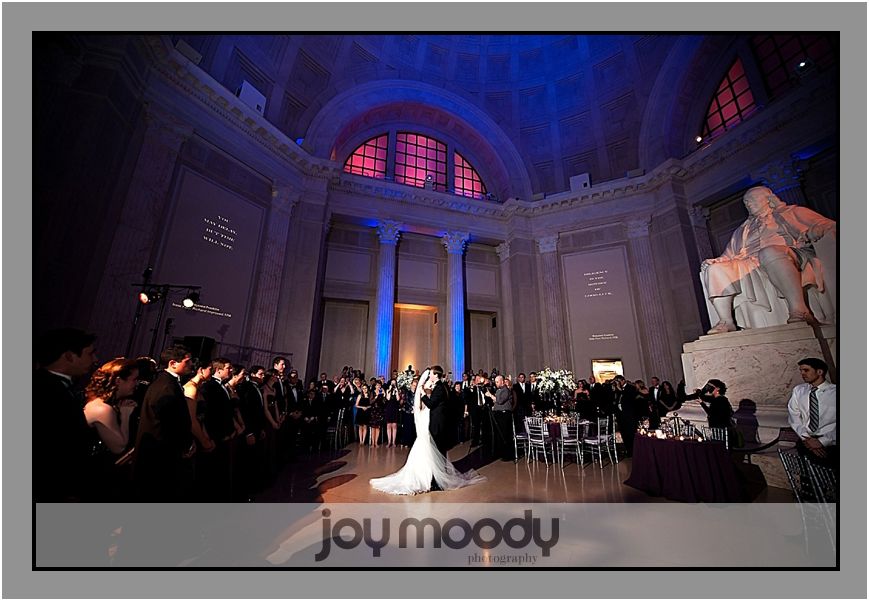 Photo credit: Franklin Institute/Joy Moody Photography
Franklin Institute Science Museum
The Franklin Institute offers a variety of choices to make your event truly special. Upon entering the building, you and your guests are met with an elegant, grand 20-foot high Benjamin Franklin Memorial beneath an 80-foot domed ceiling. It is quite an entrance, making for an extraordinary setting for any event. Enjoy cocktails and dinner under the stars in the Fels Planetarium for an event that is literally out of this world!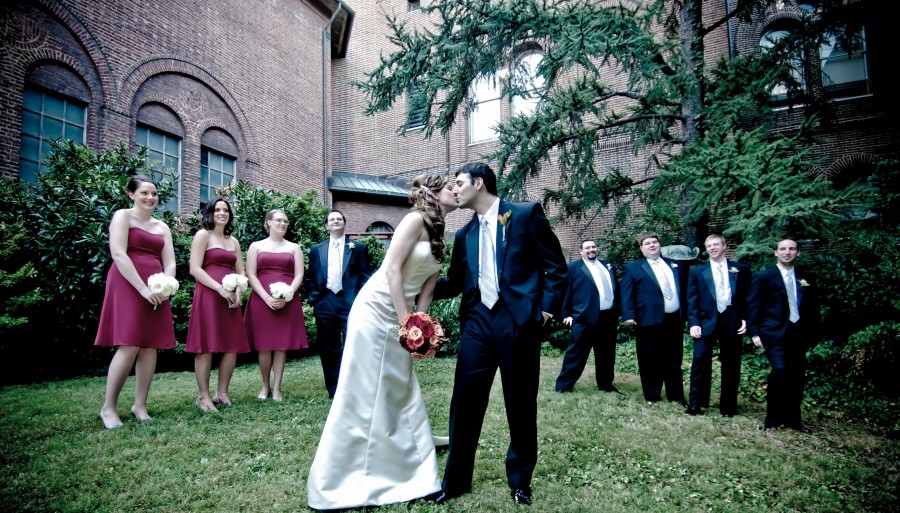 Photo credit: Penn Museum
This beautiful historic building located on the University of Pennsylvania's campus was designed in the 1890s, and is one of Philadelphia's premier unique venues. Penn Museum is a 300,000 square-foot gem with exterior details including glass mosaics by the Tiffany Glass Company, sculptures by Alexander Stirling Calder, and marble medallions by John Ross of New York City. The Museum houses one-of-a-kind artifacts acquired from over 400 archaeological and anthropological expeditions, where you and your guests are invited to discover the world in just one night. This stunning Philadelphia wedding venue and priceless collections make the Penn Museum an unparalleled event experience!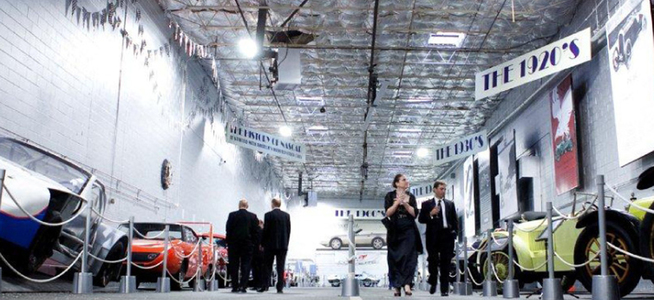 Photo credit: Simeone Automotive Museum
The Simeone Automotive Museum sets itself apart from the rest. It is just that--an extraordinary collection of unique, classic race cars, which include Bugatti's, Porsche's, Alpha Romeo's and many more. All of which were donated by Dr. Simeone, a world-renowned neurosurgeon, when he retired several years ago.

With over 100,000 feet of space throughout the museum and three different options for hosting small and large events, the museum can accommodate groups from 20 to 2000 for receptions, product launches, fundraisers, or special events of any kind.

There are also complimentary docents who can be on hand to answer questions regarding the history of this fabulous classic race car collection.
Check out our top historic venues in Delaware County!
Still searching for your perfect venue? Click here! Searching for amazing vendors? Click here!