Are you an engaged couple looking for a wedding venue for your 2015 ceremony and reception in South Jersey?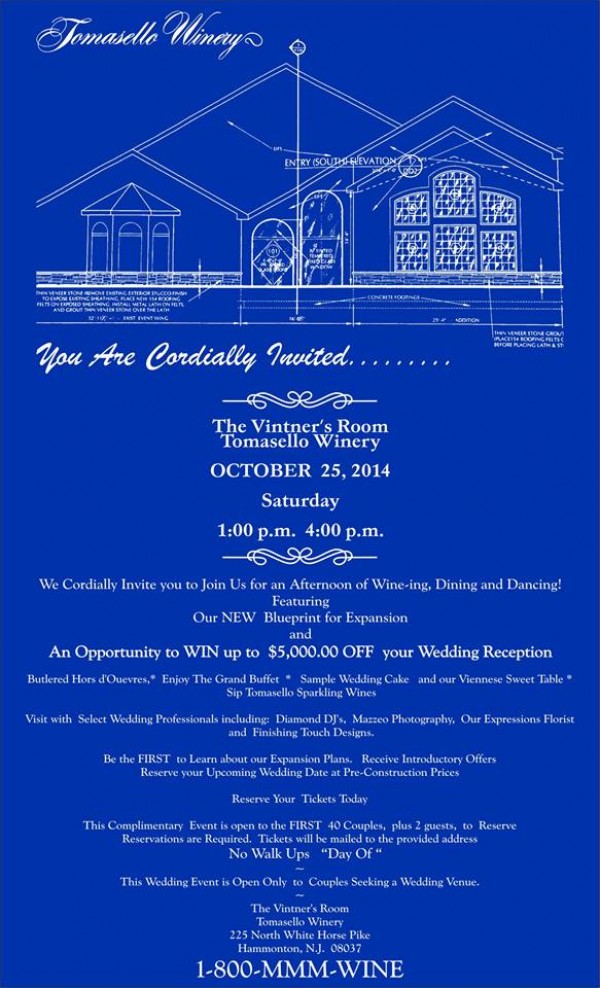 Tomasello Winery's Vintner's Room is undergoing an expansive renovation and to celebrate, the winery is hosting a Pre-Construction Bridal Event from 1-4 p.m. Saturday, October 25 featuring "Wine-ing, Dining, Dancing."
Enjoy butlered hors d'oeuvres, wedding cake samples, and the Grand Buffet while sipping Tomasello Sparkling Wines. Be among the first to learn the expansion plans, receive introductory offers, reserve your own wedding date at pre-construction rates, and a chance to win $5000 off of your wedding reception. In addition, select wedding vendors will be on site to discuss your South Jersey wedding.
The event is open to couples interested in a wedding venue and two special guests. Reservations are required, space is limited. Call Tomasello Winery at 800-MMM-Wine to reserve tickets today.