Check out our top picks for places to take fall engagement photos in Bucks County.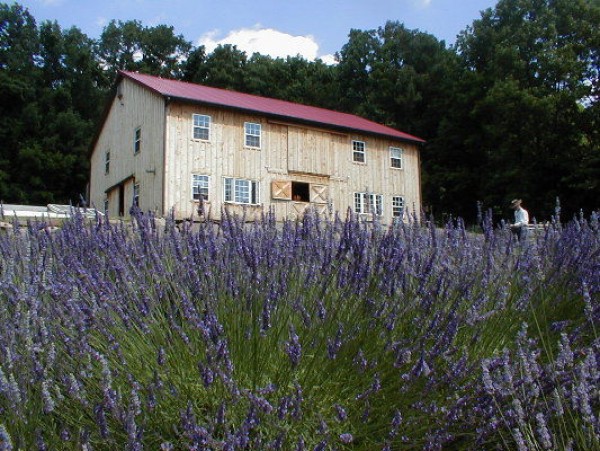 Recently engaged? Congratulations! Treasure the memories of the time before you become Mr. and Mrs. with an engagement photo shoot during one of the most beautiful times of year in Bucks County—autumn. Home to 622 square miles of land, Bucks County's rustic farms, wineries, historic sites and quaint main streets provide the perfect backdrop for a photo shoot.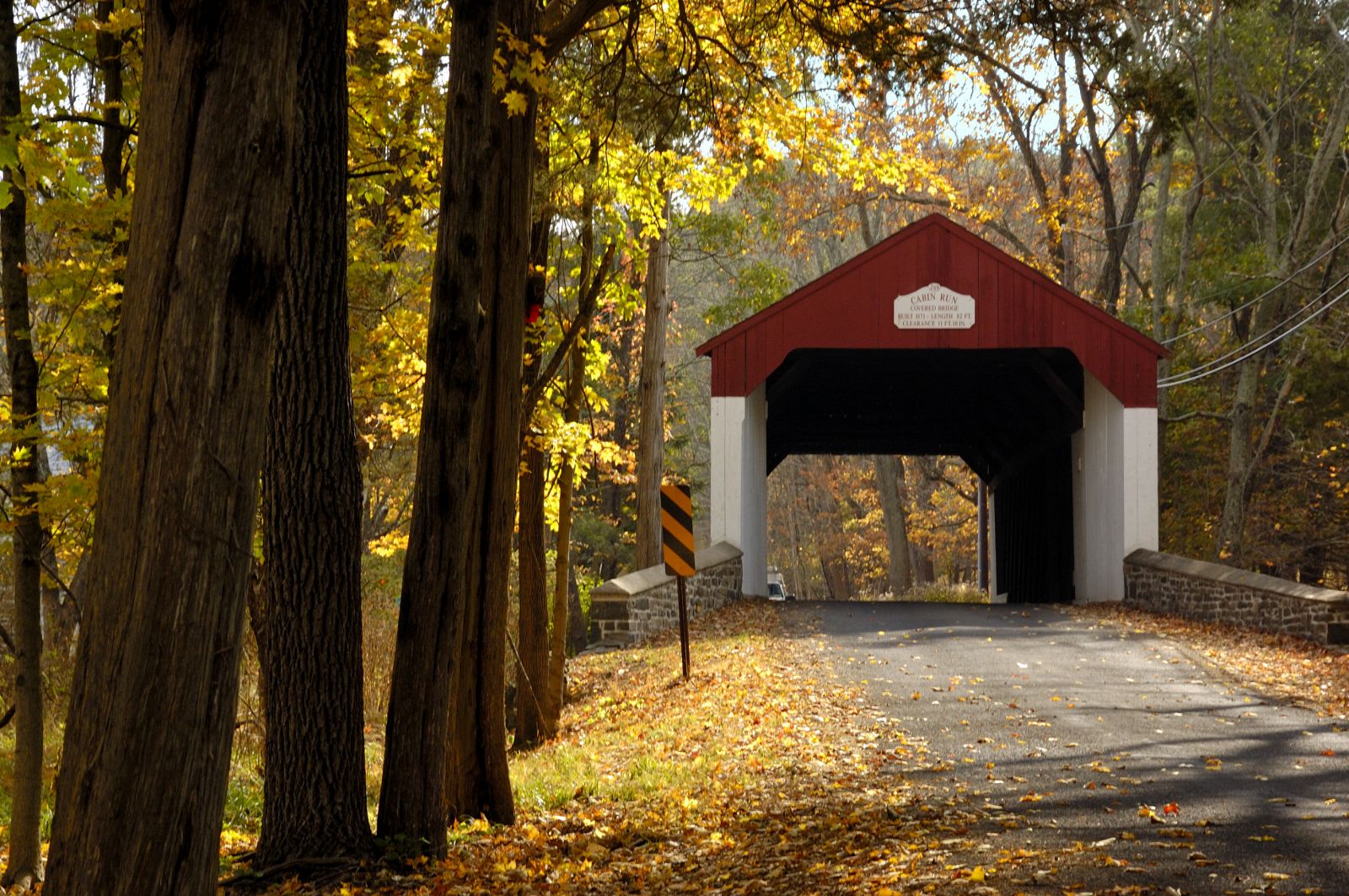 Cabin Run Covered Bridge Photo credit: Reflections by Ruth
Pennsbur Manor once home to William Penn, is set on the peaceful Delaware River with 43 acres of land that tells a historic tale in its buildings and grounds. Surrounded by trees with golden browns, reds and oranges, the estate is an ideal backdrop for a fall photo shoot. Interested brides-to-be can pay a nominal fee of $50 to have access to the outdoor grounds.
Nine wineries comprise the Bucks County Wine Trail. Take romantic shots among the bursting vines; make a day of it and taste internationally acclaimed wines, along the way. Use your imagination at New Hope Wineryand create a custom label of your name and wedding date to use as a prop for your pictures in front of the big, red barn. Act out your childhood princess fantasies and take pictures with your Prince Charming in front of Sand Castle Winery. The creative possibilities are endless!
Planning a rustic country wedding? There's no better place to take engagement photos than at a working farm like Shady Brook Farm! Leaves cover the ground, joined by cornstalks, hay bales, pumpkins, scarecrows and other fun and festive fall décor! For even more rustic charm, take your photos at Ash Mill Farm, using their sheep pasture as a backdrop. Peace Valley Laverndar Farm creates a setting for calm, peaceful pictures amongst the gorgeous flowers and worn barns. With the smell of lavender and fall in the air you can feel relaxed as you and your loved one pose alone in the midst of acres of purple.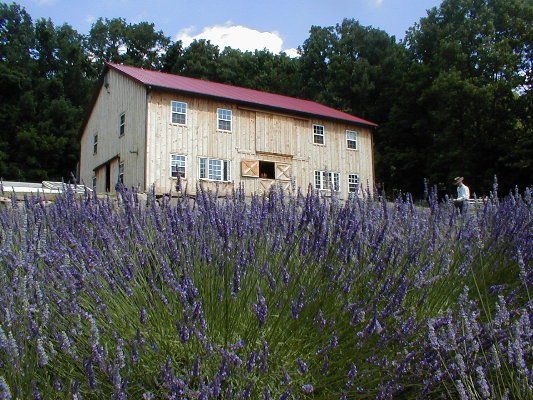 Photo credit: Peace Valley Lavender Farm
Take a walk down the main streets of New Hope, Doylestown or Newtown and capture a romantic moment in these bustling countryside towns. Find shops or restaurants whose name could add a fun caption to your pictures. Head into the Newtown Book and Record Exchange and find an old record whose title describes your love or venture into one of the many antique shops and grab hidden treasures that you can add as props for your photos.
What could be more romantic than taking engagement pictures at one of the 12 kissing bridges of Bucks County? Now known as covered bridge, all these picturesque bridges need is a happy couple to complete the perfect fall scene!
Peddler's Village truly comes alive in the autumn—scarecrows line the village's cobblestone pathways, shops are decorated for the season and fall flowers are in full bloom. With so many picture-perfect spots throughout the 42-acre property, enjoy the charm of this 18th-century-style village as your photographer captures you two only noticing each other through it all. Hint: Peddler's Village is home to a restored 1922 grand carousel, ideal for romantic photos.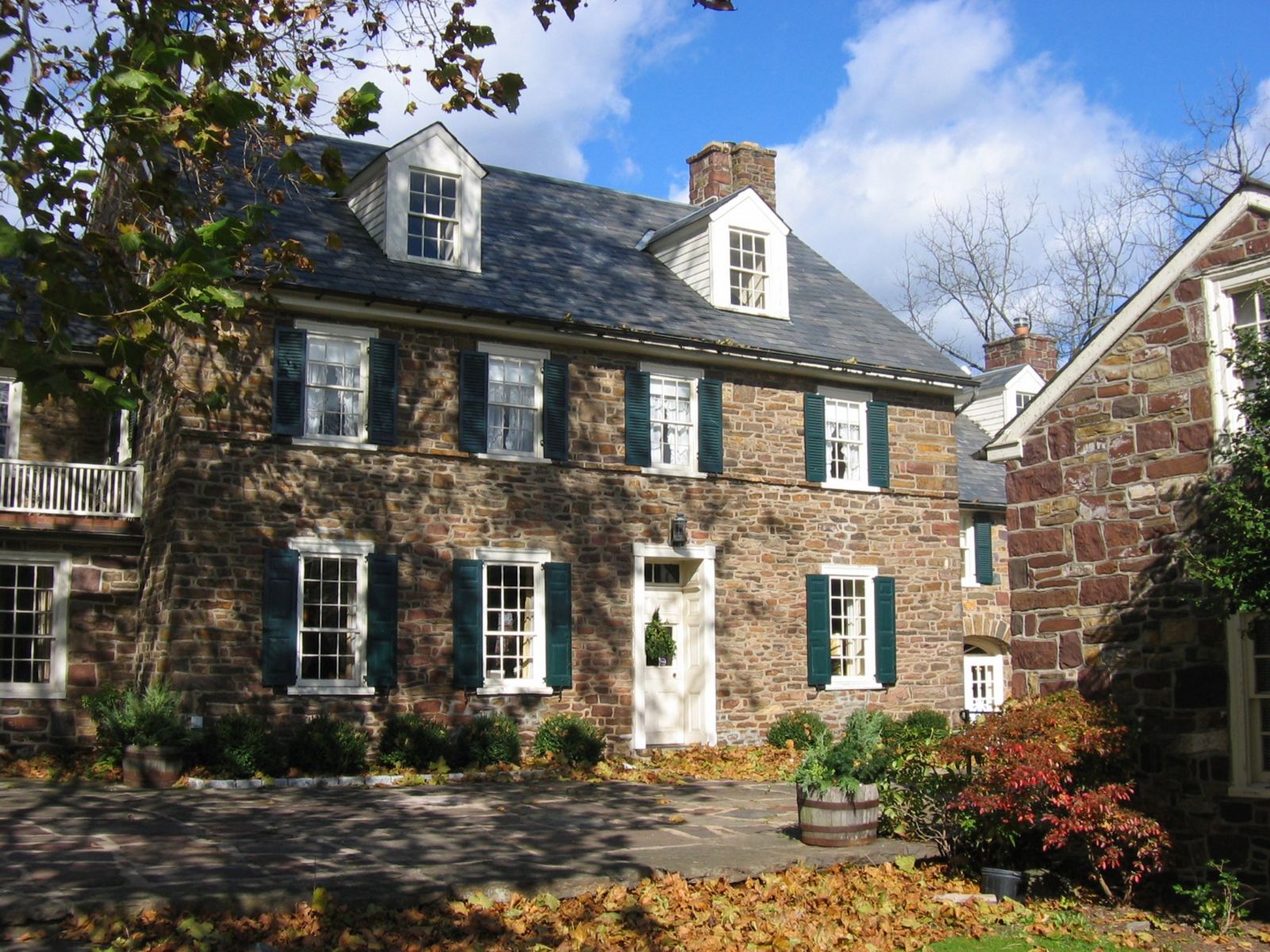 Photo credit: Pearl S. Buck International
Set on Green Hills Farm, the landscape of the Pearl S. Buck House offers many options for engagement photos. Get lost in one of the perennial gardens on the 68-acre property, snuggle up on the flagstone terrace or post in front of the farm house. The Pearl S. Buck House requests an honorarium for couples interested in engagement photos on the historic property.
Visit Fonthill Castle and Moravian Pottery & Tile Works for romantic photos surrounded by the shades of fall colors among Henry Mercer's concrete castles. Find just the right spot along Fonthill's breathtaking tree-lined drive and explore unique architecture and hidden gems at the Tile Works.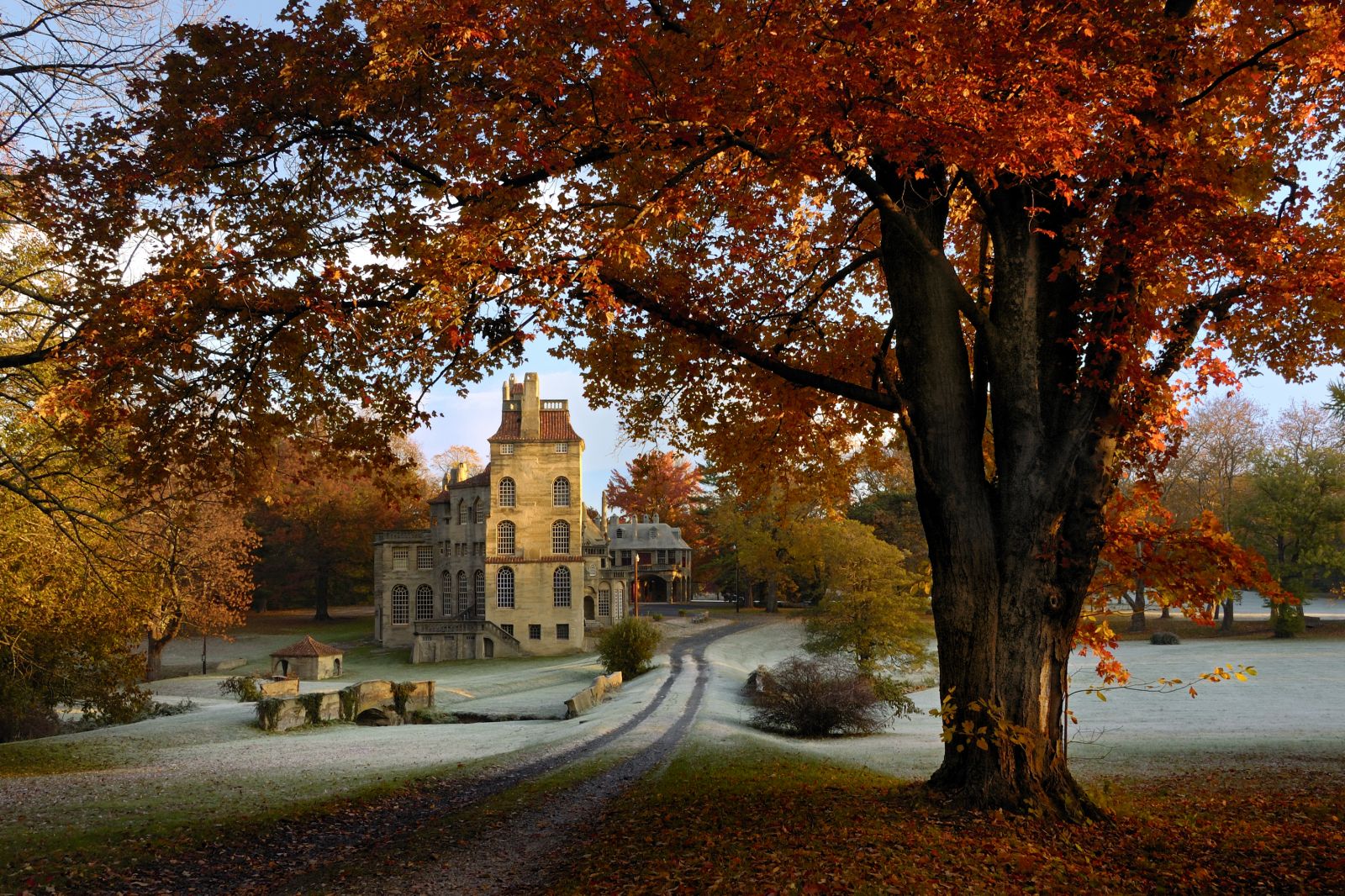 Photo credit: Reflections by Ruth
Love the great outdoors? Bucks County boasts more than 7,000 acres of parkland. Stand together in the gazebo at Core Creek Park or visit the Schofield Ford Covered Bridge immersed in fall leaves in Tyler State Park.
Bucks County is home to two beautiful shrines that both have a stunning setting for photos. Our Lady of Czestochowa features unique stained glass windows and a massive outdoor staircase to make your love appear larger-than-life. Celebrate your engagement at The National Shrine of St. Katherine Drexel and stand under the archway leading to the shrine or next to the pond with the reflection of the two of you in the background.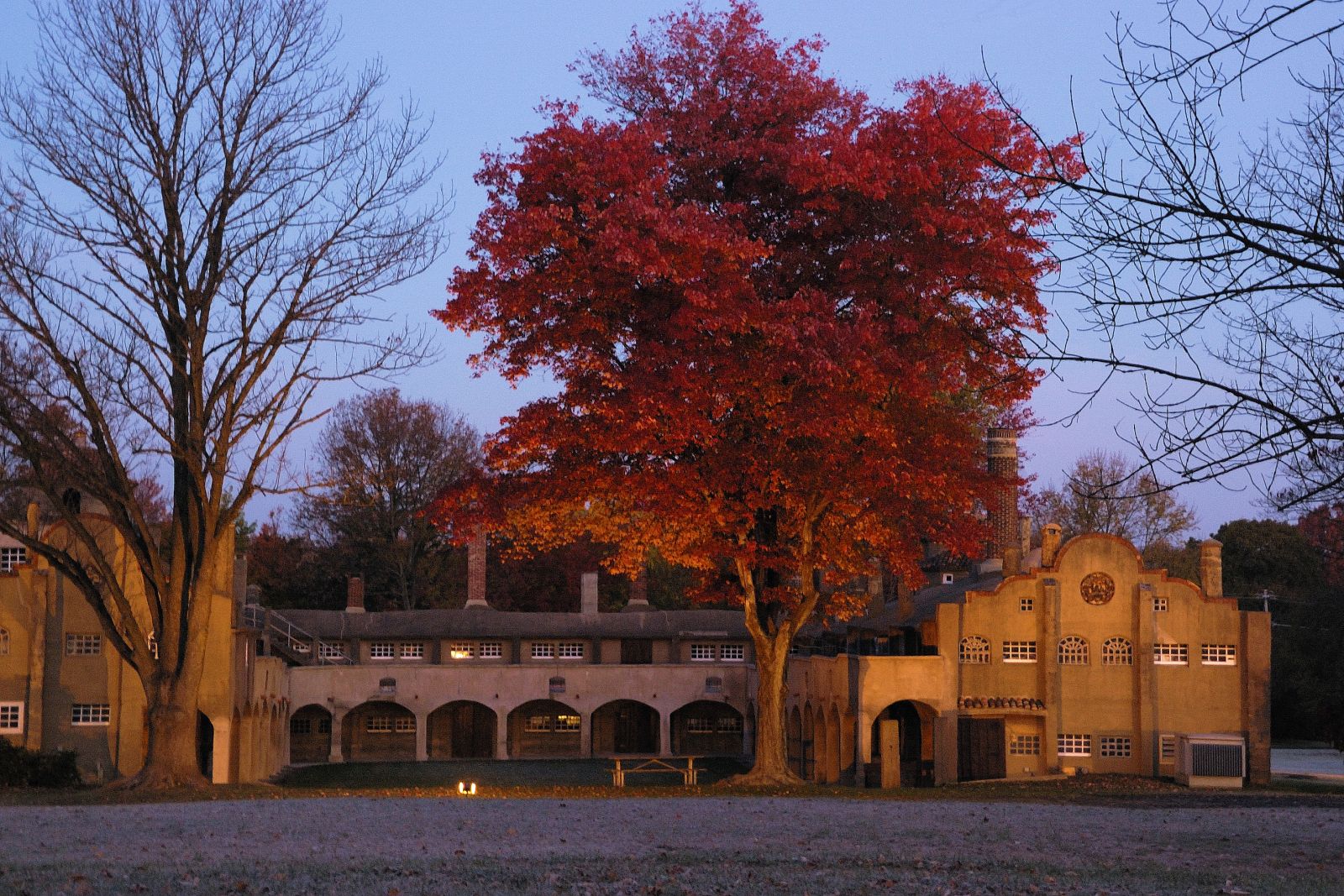 Photo credit: Reflections by Ruth
Let Visit Bucks County Help
Need more ideas for engagement photo spots or other wedding planning needs? Visit Bucks County's meetings and events sales manager, Rachel Wolkiewicz offers a range of complimentary services to those planning a wedding including finding Bucks County wedding venues, coordinating hotel room blocks and suggesting transportation, caterers, entertainment and more. Email rachelw@visitbuckscounty.com to begin planning!
Visit Bucks County is the official tourism promotion agency for Bucks County, PA. The tourism office promotes all there is to see and do to potential visitors and residents. In addition to consumer travel, Visit Bucks County targets sports tournaments, motorcoach groups, meetings, special events and weddings.