Ideal for a rustic wedding in Philadelphia, tree slices incorporate the element of nature into your décor and are actually quite versatile. Here are several ways tree slabs can be utilized at your wedding.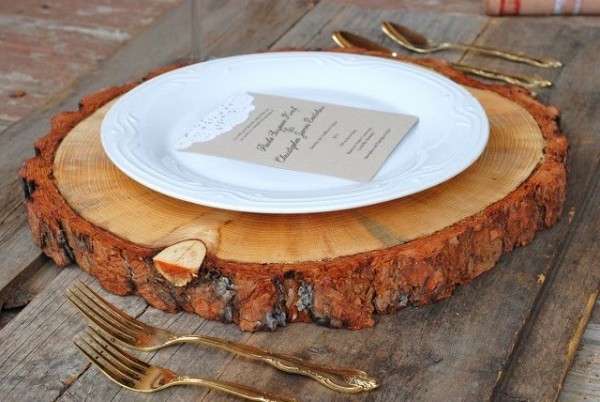 Photo credit: Krisztina Williams
Serving Trays: Imagine the surprise when your guests first see tree slices used as platters for butlered hors d'oeuvres at cocktail hour.
Cake Stand: A large tree stump or tree slab is a base that brings attention to that beautiful tiered wedding cake.
Station Set-up: Tree stumps in varying heights create a captivating display at your food station at the reception. In fact, large tree slices can be used as charger plates for a sit-down dinner.
Ring Bearer Pillow: Soft satin pillows can make wedding rings slide off without a vigilant ring bearer. However, rings can rest easy down the aisle on a sturdy slab of wood.
Place Card Holders: These guest place cards will not only direct friends and family to their seats but are interesting enough to be a conversation piece. Guests will enjoy their souvenir to take home as well.
Decorative Table Numbers: Fancy stamping or decorative skills on a tree slice can bring table numbers grand appeal for a rustic wedding in Philadelphia.
Guest Book: Have each guest sign one large slab to display at home where you can admire inspirational words without having to open a page.
Signage: Interested in directing your guests to what menu items are at your buffet or signature drink station. Wood slices make truly unique signs when most signage consists of chalkboards.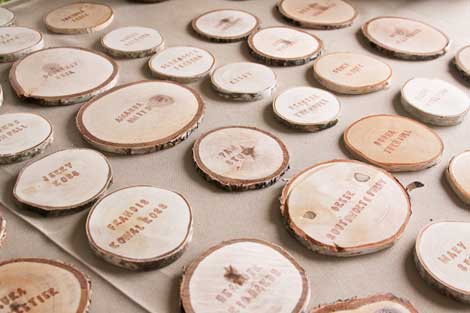 Photo credit: Poptastic Bride/One Eleven Images
Centerpieces: Place your floral arrangement or candles on that beautiful tree slab to carry that rustic look throughout your event.
Party Gifts: Mini wood slices can be engraved with words like love or your initials and the date for a meaningful ornament.