Imagine the unexpected: More than a ceremony and reception, but an experience for your Philadelphia area wedding.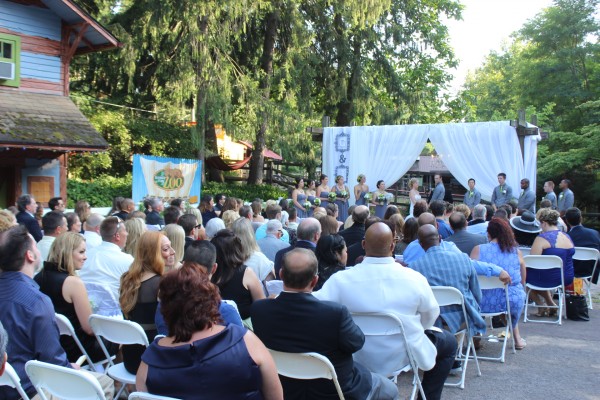 Photo Credit: Elmwood Park Zoo
Elmwood Park Zoo offers exactly that for you and your guests, from animal encounters and feedings to unique backdrops that take nature to a whole new level. Guests are even offered the opportunity to engage in a giraffe feeding or a bison feeding. From first-hand experience, let's just say giraffes are fans of lettuce.
There are many different options for your ceremony. The rustic Red Barn is popular a ceremony site, but they can be held just about anywhere that speaks to you. Some ideas include the Duck Pond, Bison Exhibit Archway, and the space in front of Olivia's Eagle Canyon Deck near the zoo's central entrance, which most love.
Receptions may be held at Canopy Gardens Hall, an indoor space with seating for up to 150 guests and a lodge-like rustic yet elegant atmosphere. The space, with floor-to-ceiling windows, even has a dance floor! The Calle Mae Picnic Pavilion, an outdoor covered area, can accommodate 160 guests seated. All while providing the zoo experience. It's adjacent to the giraffe and zebra exhibit.
Couples are even able to commemorate their milestone with an engraved brick with their names and date on it, all included in the package.
Searching for your perfect Philadelphia event venue? Click here! Ready to start looking for vendors? Click here!