What better way to celebrate the beginning of your own history as a couple than at one of Chester County's most historic landmarks?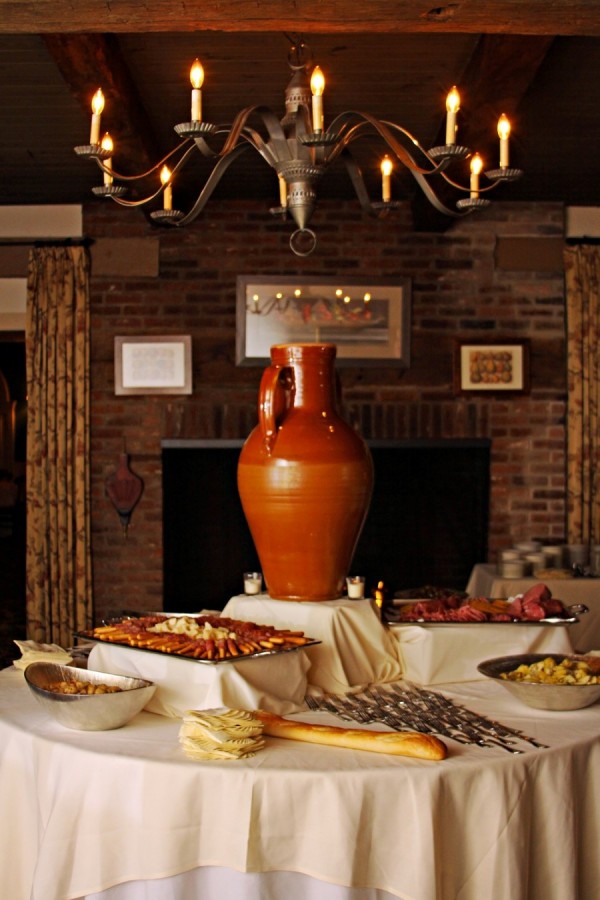 Photo credit: Vickers Restaurant
Vickers Restaurant, a historic Chester County wedding venue that's been operating for 42 years, is housed in the 1800's farm house of famed potter John Vickers. It was also once a stop on the Underground Railroad. Holding your rehearsal dinner or wedding at Vickers is such a nice introduction to your guests to a bit of history and charm of Chester County elegance.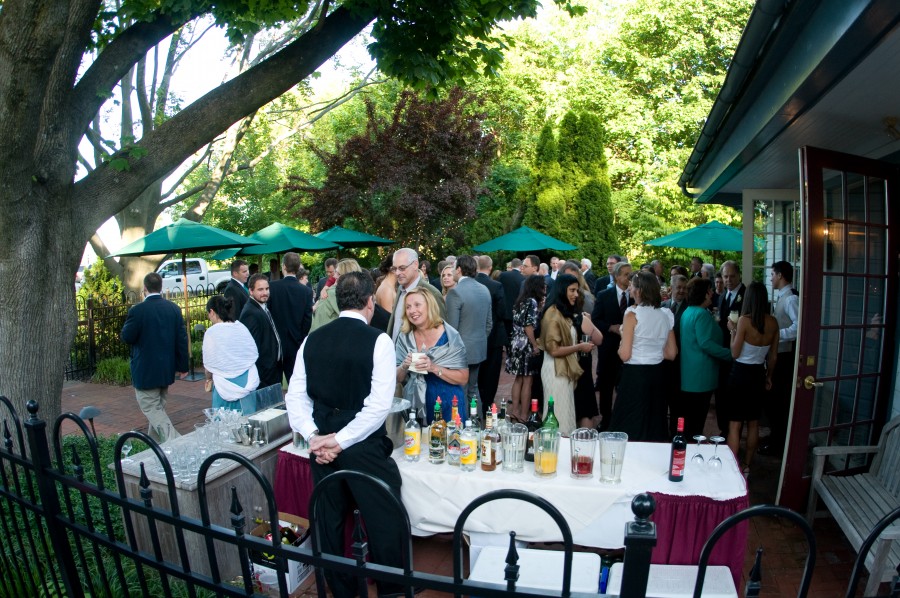 Photo credit: Spark Photography
CUISINE
Vickers serves traditional Continental cuisine with French influence. Vickers' delectable fare is a gathering of all styles and dishes from Europe. You will find Italian dishes like pasta and risotto, German desserts like Alsatian apple tarts, Spanish influenced fish entrees and of course, classic French dishes like Escargot and Filet Mignon with Sauce Béarnaise.
Our roots are in French cooking which means that our methods of preparation are classic and true to form. While we update the classics, you will find us still making Béarnaise sauce by hand every day and preparing demi glace from scratch with veal bones that are simmered for 48 hours. Vickers finds that by still making everything from scratch--breads, pastries, sauces, stocks, soups, you name it-- results in the finest flavors. Our priority is always to impress, to give the finest ingredients, most attentive service and of course to entertain. We cherish dining and think that every meal should be a special occasion.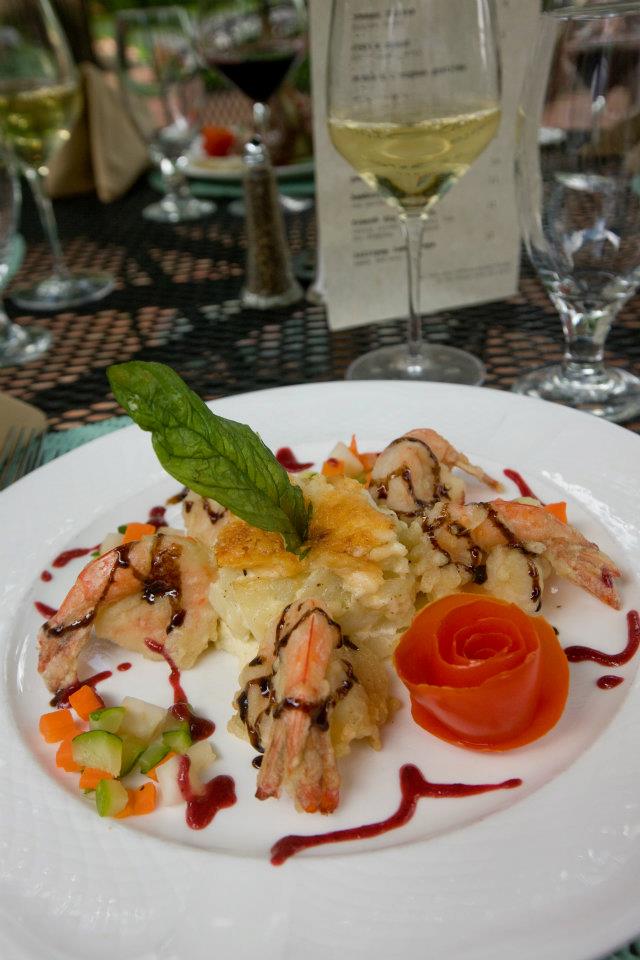 Photo credit: Vickers Restaurant

While it's nearly impossible to pick one favorite we do have a few that are close to our heart. For appetizers, our Lobster Crisp—which is a lobster tail tempura battered and served with a tarragon chili gastrique—is very popular and of course our Caesar Salad. We make the dressing from scratch with whole garlic cloves, anchovies, excellent olive oil Parmesan cheese and yes, an egg yolk! It's simply mouthwatering. For fish, our maple glazed salmon is really unique. It is a six step process just to prepare the fish for cooking and takes 24 hours. It's a gravlox preparation and then seared to perfection. The flavor profile of orange, anise and maple give the dish a fantastic umami quality that is so hard to replicate. If you are a meat lover, it is a toss-up between Steak Diane that is Filet Mignon sautéed with shallots, butter, brandy and Dijon cream or the Bison finished with a morel mushroom and Cabernet reduction. Both are fantastic!

Our hors d'oeuvres are one-of-a-kind and are all made in house by our pastry chef. Items like black forbidden coconut rice with pickled winter vegetables or smoked salmon canapés with chive crème fraiche are elegant and refined while other hors d'oeuvres like Philly cheese steak eggrolls made with shaved sirloin steak and macaroni gratin bites smothered in Gruyere cheese are fun and modern.

DECOR
I love the Hunt Room in the fall and winter. It is decorated with reclaimed wood from the 1800s found in the original barn that once housed John Vickers' kilns. You can still see the remnants of the stone bar outside and they are absolutely beautiful for portraits and pictures. The hearth is perfect to create a warm and welcoming atmosphere for your rehearsal dinner and it is right by our piano. On Friday and Saturday nights, we have live piano that is such a wonderfully romantic backdrop for rehearsal dinners. For larger rehearsal dinners or welcome dinners (if you have a lot of guests from out of town), the Plantation Room is fantastic! With its own bar, and adjacent outdoor patio, it is a wonderful space to celebrate. Three grand brass chandeliers illuminate Vickers' elegant ballroom that is outlined with custom mill-work, adding a finished elegance to the space. Ten 6-foot windows scale the walls and are ornamented with plantation shutters to preserve the historic feel of the neighboring house while adding quiet grandeur.
French doors open onto our outdoor patio surrounded by lush landscape. This is the perfect space for an outdoor cocktail hour in warm months. For Chester County winter weddings, our Hunt Room can be used for cocktails and hors d'oeuvres.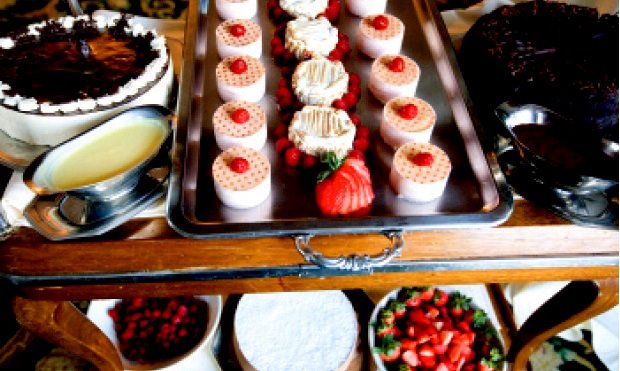 Photo credit: Vickers Restaurant
DESIGN

What really sets Vickers apart is our planning, execution and expertise. You can rely on us for attentive service, outstanding cuisine and precise event planning. As the Event Director, I sit with every couple and listen to their ideas and visions and try to bring my experience to the table. I come from the magazine world in New York (I used to work for a high profile fashion magazine) and produced events for well-known clients like Chanel, Estee Lauder, Macy's and so on. So I've been around the block. You never know who or what you might find in the hidden treasures of Chester County. I love to bring that big city high end knock-your-socks-off feel to every single event! Whether you are looking for a traditional and formal wedding, an organic rustic theme or even something modern and elegant we can make it happen at Vickers.