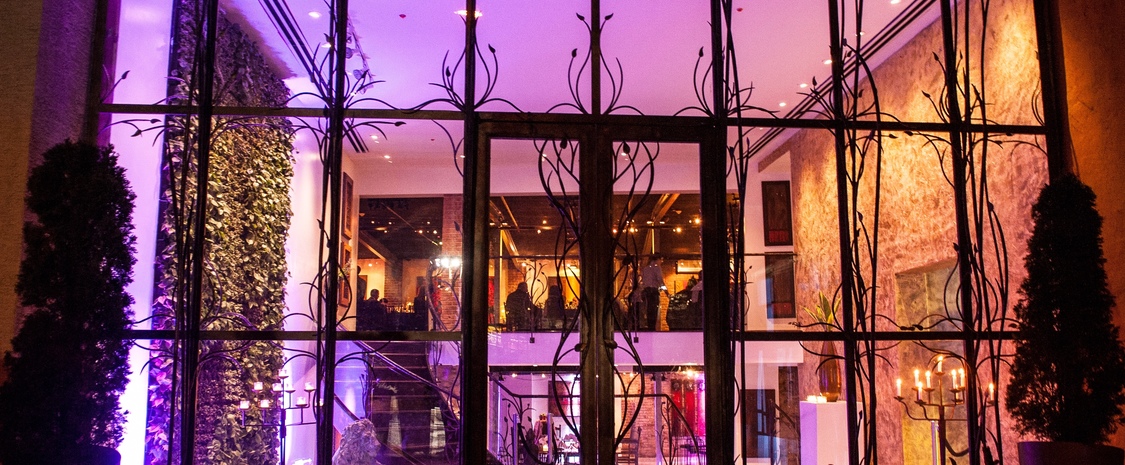 Artesano Gallery
Philadelphia, Pennsylvania
Artesano Gallery
Minimum Fridays: 100 adult guests or more
Minimum Saturdays: 150 adult guests or more
Artesano Gallery is the newest and trendiest grand venue in town. Recently renovated and able to accommodate up to 300 guests for a seated dinner with a spacious dance floor. Artesano Gallery is located in Manayunk, one of the oldest towns in Philadelphia.
Our historic early 1900's sprawling warehouse offers a unique, spacious 21,000 square foot loft style space with convenient parking right across the street. As you enter through our 17-foot glass facade you will immediately be surrounded by architectural hand-forged iron works, white marble tiled floors (both indoor and out), a magnificent green wall and a grand staircase. This is just the beginning...
At Artesano Gallery, you are able to host your ceremony, seamlessly move into your cocktail hour and transition to your reception – all under one roof. Our In-house catering services are led by our internationally-trained Executive Chef Kelly Cook. You will experience custom designed menus with innovative cuisine and traditional flavors. Our sales staff and event planners are here to assist you and ease the experience of planning your dream wedding, coolest mitzvah or unique corporate event. It is the premier Philadelphia event space. Share the Artesano Experience!
Contact Artesano today for more information.
Recent awards:
2017, 2018, 2019 PartySpace Philadelphia Best Venue.
2019 Wedding Wire's Couples Choice Award.
Reviews
We can NOT say enough about this beautiful wedding venue! We can honestly say all those things you worry about happening did not thanks the amazing staff at Artesano. From going to so many weddings, my husband and I feel like you just will not get the same experience anywhere else. Multiple guests have said it was the best wedding they have ever been to. This is due to the INSANE staffing ratios (1 server to 10 guests), the unbelievable chef, and people constantly checking with the bride and groom to make sure everything was ok. I can't explain how beautiful this place is and how well it was run. This is going off of 154 guest count, fyi, which was perfect. It is truly unique from the decor to the food. This was the best day for us and hope it is yours too! Special thank you to Talia, the coordinator for being so involved in everything coming together. Thank you to everyone at Artesano!
If you want a unique venue with excellent food that will leave your guests talking, you have to check out Manayunk's hidden gem, Artesano Iron Works! The minute I walked in I knew it was our place and that we had to book. Ivan and Geo made the planning process easy and are just wonderful. Ivan had us laughing at every visit and what can I say, the man has style, which you will see in every little detail throughout Artesano. And Geo will be your life saver that answers any email within minutes and really listens to what you want. He fixed my dress before the ceremony with ease, helped me stay calm and did it all with a smile. Geo rocks! The iron pieces throughout the facility are gorgeous and each room has it's own style. The ceremony space was recently updated with a marble floor, the outside patio gives you a city feel, the cocktail space inside is beautiful with the lighting they provide and upstairs is the icing on the cake! You would never guess from the outside that all this space is available and it is all yours for the night. Unlike a hotel, you are the only party and the staff is truly dedicated to you and your guests. The event managers for the night were amazing and were excellent at keeping us on track with where we needed to be and unlike other couples I've talked to, we ate at our wedding! Which brings me to the food...Chef Kelly and her team are awesome. Most wedding food is average, Artesano's food is restaurant worthy and so good! The tasting was unbelievable. Come with an appetite because you get to sample most of your appetizers and a full plate with a portion of each entree you pick, even the vegetarian option was delicious! In your package Artesano includes parking for your guests across the street, the chairs/tables/linens (we used chargers so there was an upgrade fee), candles and large green foliage throughout the dining/dancing area with accent furniture/decor, lighting, taxes and of course all the food and non- alcoholic beverages. You bring your own alcohol which is nice so you can pick and choose which brands you want and where we purchased everything we were able to return what we didn't use. For dessert you can pick mini desserts or a cake from Bredenbeck's in Chestnut Hill, however the included cake for your package is only for a certain number of people so make sure you clarify this with Artesano. Several of our guests have said it's the best wedding they've been to and after all the hard work you put into your big day, that's all you want to hear. Thank you, Artesano for making our wedding the best day ever, we are so happy we found you!
Our wedding was an absolute fairytale! Artesano was breaktaking. From the food, to the lighting and the beautiful ceremony space we couldn' have asked for more. Our family & friends loved the location. The food was delicious and the overall look was unremarkable. We couldn't be happier with our decision to have our ceremony and reception at Artesano. The staff was super welcoming, flexible and responsive to our many questions and requests. Dawn was easy to always get in touch with throughout the planning process; she absolutely made our wedding possible. I was never meant to feel bad when I emailed at all hours of the day. Ivan was also constantly available when we needed things, and always had a warm smile on his face. My husband & I are still receiving calls, texts and emails about how much people enjoyed our wedding because of the venue. If given another opportunity we would without reservation choose Artesano again, and again for our wedding location.
Show More Reviews
Address
109 Green Lane, Philadelphia, 19127
Is your facility handicapped accessible
Yes
Is kosher catering available
No
Is outside kosher catering permitted?
No
Is the facility indoor only, outdoor only, or both?
Indoor Only
Does your facility have guest rooms
No
Does your facility have air conditioning
Yes
Maximum capacity with dancing
300
Maximum capacity without dancing
300
Facility restrictions
Must use in house catering. Minimum guest count: Fridays 100 adults Minimum guest count: Saturdays 150 adults
Rental fees
For details on wedding packages please call 215-483-3298
Rental fees
The rental varies depending the time and day of the year