As with most engaged couples planning their wedding, transportation is an important piece of the big picture. Transporting the bridal party from the hotel to the ceremony or reception or as a courtesy for out-of-town guests is a key detail. There are many choices for transportation so we turned to Barbara Russell of Premier Trolleys, LLC to find out five benefits trolleys offer when considering your options. Here is what she had to say: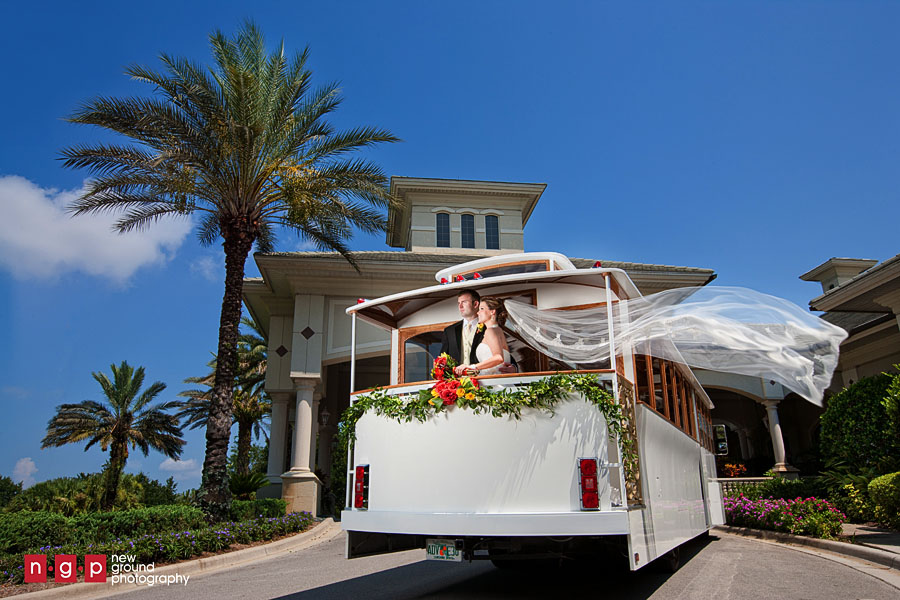 Photo credit: Premier Trolleys, LLC/New Ground Photography
1. Unique: It is not every day you see a stunning white trolley traveling down the road with a wedding party en route to the reception venue. Many bystanders waive or honk with excitement for the happy couple. Out-of-town guests thoroughly enjoy riding in the trolley due to the large windows which allows for ample sightseeing of the wedding destination. We can guarantee your guests' experience will be one of a kind, as each of our trolleys has been custom designed and built by the owner of Premier Trolleys, LLC
2. Photo Opportunities: Not only does the trolley serve as elegant transportation for your bridal party and guests but it can also create a beautiful setting for your wedding photos. Photographers enjoy shooting couples inside the trolley due to the large amount of natural light. The interior wood working provides a beautiful natural background for intimate photos with your groom or a touching photo with your bridesmaids, rain or shine. The politician's platform located at the back of the trolley creates a stunning photo as the bride and groom ride away together, waiving to their guests, for the first time as husband and wife.
3. Accessibility & Comfort: Our three small entrance steps and upholstered wrap around limo style seating for 30 passengers allows brides, bridesmaids and guests in elegant dresses to board easily and ride comfortably. Conversation and celebration come naturally aboard the trolley, facing one another in one of our spacious trolleys allows all to enjoy each other's company.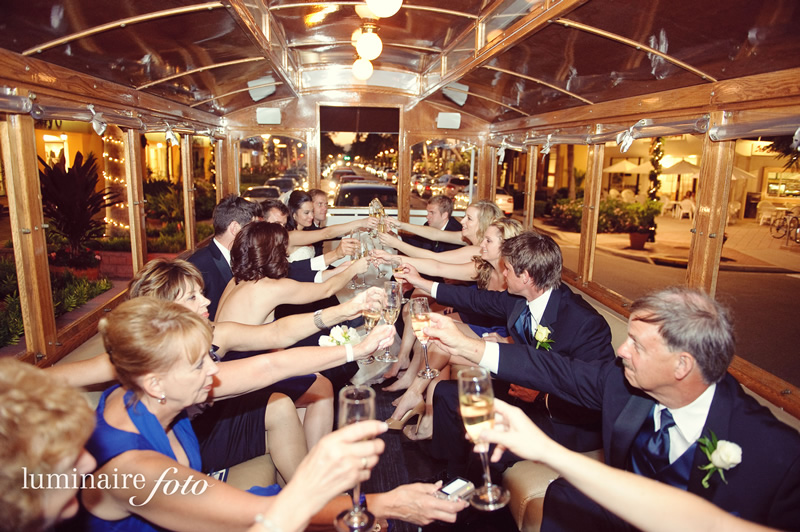 Photo credit: Premier Trolleys, LLC/luminaire foto
4. Customizable: We embrace the fact that each bride and groom has a vision for their wedding day. We offer the ability to ascetically customize the trolley, inside and out. Many couples choose to place our "Just Married" sign on the rear of the trolley, others have a custom flower garland made to hang from the politician's platform. A few different items couples have used are; bows on the outside of the trolley, banners hanging from the sides, coolers with custom water bottles as well as glow sticks and necklaces. Our staff is happy to assist with any customization ideas the couple may have.
5. Unparalleled Service: We are proud to say our focus at Premier Trolleys, LLC is to provide the highest quality trolley services possible. From your first inquiry about our company to the day of your South Florida wedding, we strive to exceed your customer service and transportation expectations. You will work one on one with our charter specialist, creating the timeline and itinerary leading up to the wedding. Our drivers understand the wedding day is most important day for the bride and groom; therefore, they are flexible and will do everything possible to ensure all runs smoothly. As a vendor, we are thrilled to work with wedding planners, venue coordinators as well as family members and the wedding couple themselves. Contact us today to learn more about our company and services!