If you are looking for ways to move away from traditional wedding cake, there are new ideas in wedding desserts that pop with flavor and set your South Florida wedding apart from the rest. Just reach out to your wedding caterer or South Florida area bakery to discuss your ideas. Here are six of our favorites: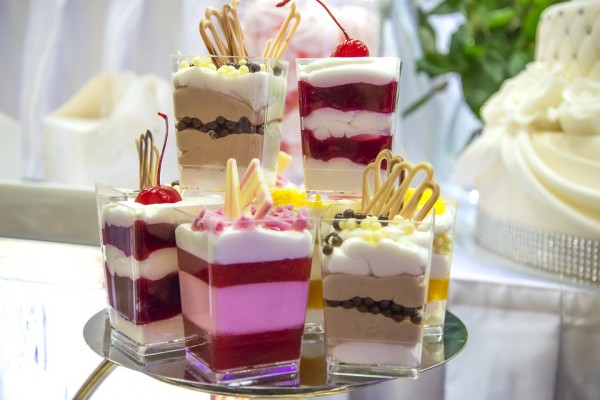 (c) Pixabay
Cheesecake Lollipops: Good for any event, white or dark chocolate dipped rounds of creamy dreamy cheesecake on a stick is perfect for a bite or two (or several…)
Hand Crafted Ice cream Sandwiches: Nestled between a unique ice cream flavor like pumpkin, or cookie butter, imagine a rich shortbread ice cream sandwich for a twist on a dessert staple. Or even a traditional chocolate chip cookie and vanilla ice cream sandwich dipped in a sprinkle of crushed peppermint candy canes for an indulgent winter wedding in South Florida.
Banana Foster Action Station: Watch your guests gather around in anticipation. If the caramelization of bananas and that sweet buttery rum aroma isn't enough to grab guests' attention… like moths to a flame then the entertainment of a brief live action dessert sauté will draw them in. Pair it with fresh vanilla bean ice cream.
Mason Jar Pies or Cakes: Perfect for wedding party favors, the layers of rich red velvet cake layered between rich homemade cream cheese frosting (kind of like a mini trifle) are sealed for freshness and enjoyment later. Not only do they look decadent but may not last the car ride home. Pie in a mason jar practically screams rustic wedding favor.
Individual Pies: Because sharing is…well…a touchy subject for some of us when it comes to sweets! The pie bar is a nice idea but consider individual pies and no one gets hurt.
Hot Donut Station: Fresh warm donuts right off the press. They practically melt in your mouth. Donuts, cro-nuts, these luscious treats will draw a crowd. A perfect fall or winter wedding idea for when you crave comfort food!
Hopefully, these selections will bring you closer to a unique dessert idea for your South Florida wedding.
Check out our last blog, All About Sample Gowns for Your South Florida Wedding!
Searching for the perfect South Florida wedding or event venue? Click here! Searching for perfect vendors? Click here!