South Florida Wedding Registry The wedding registry can be one of the most fun parts of your wedding planning in South Florida. Seriously, how often do you get to pick out a bunch of items you really want and actually receive them as gifts?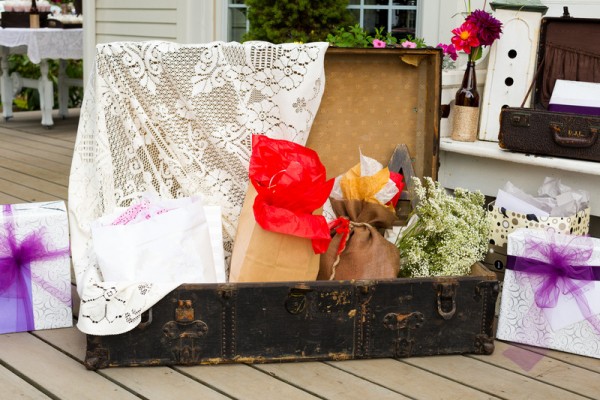 Photo credit: (c) CanStock Photo
But before you start scanning away, here are some important tips to make your wedding gift experience a positive one for both you and your guests!
1. Start early. No procrastination allowed! Once you're engaged, there really is no such thing as registering for gifts too early. Having a registry readily available will make life easier for guests attending pre-wedding events, such as your engagement party or bridal shower. It also prevents you from getting unwanted gifts not on your registry.
2. Go together. There are not that many wedding planning adventures that both of you will find equally intriguing. But shopping for the registry is one of these fun moments you can share. Input on the items that will be present for your new life together is a welcome opportunity to get to know each other further. Keurig or Mr. Coffee? Turkish towels catch your fancy? What are your thoughts on satin sheets? Imagine the interesting conversations that follow just from expressing your tastes.

3. Provide options. Try not to limit your registry to just one store: two or three is better, but it's important, too, not to go too crazy and overwhelm guests with too many options. When choosing where to register, keep in mind that not everyone is going to be comfortable purchasing your gift online (your great-aunt, for example), so make sure you have at least one brick and mortar store. Similarly, at least one of your store choices should allow online purchases as a convenience to guests. Offering these kinds of options will increase your chances of receiving the gifts you've chosen and decrease the chances of people ditching the registry in favor whatever they think you'd like (which may or may not end well). And that brings up a good point--be sure to check the store's return policy, just in case!
4. Variety is key. Even though you've picked out all the gifts on your list, guests like to feel some sort of connection to the gift they're giving you, whether it's because they love that particular kitchen tool or they think that blue bowl on your registry is really beautiful. Because of this, it's nice to give them a wide selection of items to choose from. Generally, it's a good idea to register at least one and a half times the number of gifts as you have guests. In addition, make sure that your selections have a broad price range. It's definitely not cool to fill your registry exclusively with $150 items. While it's tempting to focus on registering things you normally wouldn't be able to casually buy for yourself, it's important to remember that not everyone will likely be able to afford that kind of gift. Feel free to include the more expensive stuff, but have at least a quarter of your gifts be under $50.

5. Pick your gifts in person. Choosing items for your registry online may seem like a great idea—it's convenient, fast; you can do it in your pajamas—but, if possible, it's a good idea to head to the store to make your selections. Pictures can be misleading and there's a lot of information you can't get from them like their exact color or size. For example, that serving bowl you've been eyeing actually weighs a ton or the glasses you now ordered 12 of have a weird etching you didn't see in the website picture. If it's not possible to visit the store when setting up your registry, that's okay, but if you do have the chance, take it!