They came, they saw, they booked. But finding and securing that beautiful South Florida wedding venue is not always that simple. One of the biggest factors in your wedding is location. Where will you host your South Florida ceremony and reception? With all of the responsibilities on the wedding planning to do list, where do you begin?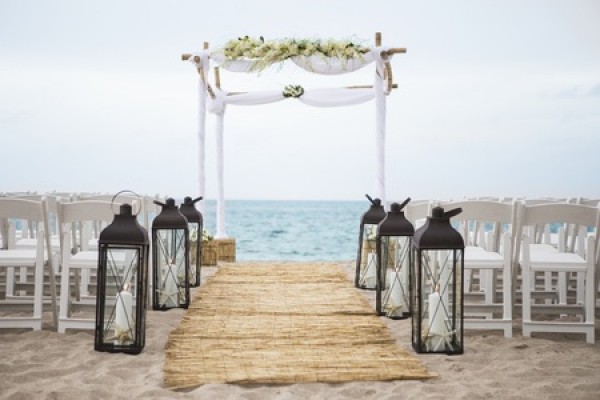 Photo credit: B Ocean Fort Lauderdale
The first step is the venue and once that is achieved, coordinating the rest of the wedding vendors (entertainment, florist, photographer) begins to fall in place. Here are 8 easy tips to book your venue:
Budget. It all begins here. The budget—the great starting point for all events. You will refer to your budget time and time again. Have in mind your total wedding budget and how much to devote to your venue. That alone will narrow down some location choices.
Pick a Type. Are you an outdoorsy couple daydreaming about nature or do you prefer a pristine ballroom? What is your vision? If that is a tough question, try the process of elimination. What are definite no's?
Capacity. Will your guests all fit comfortably at your rustic barn venue? How about that tent rental for those surrounded primarily by nature—how many does it accommodate? Capacity also dictates the venue in many cases. Some historic venues, galleries and museums have various rooms that guests can mingle in, in addition to the main ballroom which is a plus.
Catering. Another important question is: does your venue have an exclusive caterer? You will want to know because some venues do not allow outside caterers whereas some will. If you have a favorite catering company, this will be a factor.
Schedule a Site Tour. Seeing a location in person really brings it to life. Some pictures simply do not do justice to some venues. A visit also shows its character and you can imagine possibilities better than in photographs.
Ask your caterer how familiar they are with the site, as well as its kitchen—or lack of a kitchen. Yes, many caterers bring their own kitchen to parks and rustic wedding venues.
Meet with the Venue's Event Coordinator. The coordinator is your primary contact for all things venue related. She will have the room specs that will come in handy for your caterer, florist and musicians. These measurements will help determine where your entertainment fits best, signature drink location and how many rounds versus rectangle tables fit in the main room.
Read the Contract. Review this document carefully. If you are not sure what to look for, ask your wedding planner. If you don't have one, check with a parent possibly, or friend in the legal or wedding industry.
Downpayment. Often, there is a percentage of the total rental fee to hold your date. This downpayment information should be indicated on the contract. Just ask the venue coordinator for details.