Let's face it, not every couple embraces traditional wedding cake. Some may not even like sweets-gasp! So, if you find yourselves in this group, there are alternatives to the traditional wedding cake that you may want to consider for your South Florida wedding reception. Here are just a few ideas: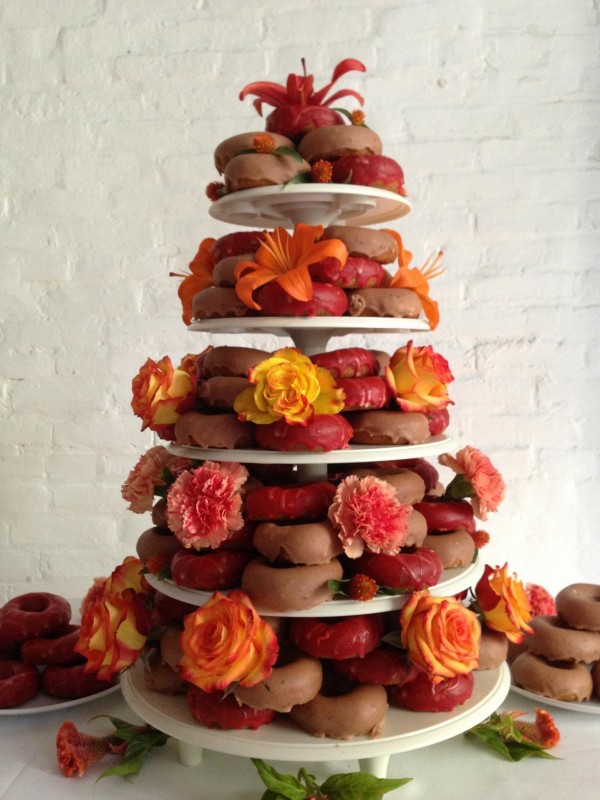 Photo credit: Federal Donuts
Naked Wedding Cake: No need to be modest. The term 'naked' just means without frosting. It is stripped down to its essence—spongy cake. Most naked cakes are vanilla but can be made in any flavor. Dusted with powdered sugar or topped with raspberries, strawberries or blueberries, you won't be able to look away at this distinctive beauty.
Cheese Round Tower: This may be the most usual of our selections; however, a cheese pairing with wine, fruit, honey and chocolate is a wonderful addition to your wedding reception. May local wineries offer this idea as an event and cheese plates are popping up on appetizer and tapas menus at numerous restaurants. Simply decorate the tiers with fresh flowers and add a cake topper. You will be amazed how a cheese tower can resemble a wedding cake.
Tiered Donut Tray: Breakfast lovers and those seeking comfort food will like this unique twist on a wedding cake. Three or four-tiered stands are widely available allowing donuts to be stacked and displayed among intermittent fresh flower décor.
Cheesecakes: This is "in between" territory for some—not too sweet, not quite savory for your South Florida wedding. Why this idea is ideal is because it can be topped with just about any fruit, chocolate sauce or whipped cream and can be baked in just about any flavor from chocolate chip to amaretto to pumpkin with a gingersnap crust. Decorating is also simple.
Flourless Chocolate Cake: Pure decadence and all chocolate, butter and eggs, a flourless chocolate cake is my personal favorite. Can we count this as a protein? Complemented by a dollop of fresh whipped cream, or large glass of frosty cold milk, a flourless chocolate cake will set your South Florida wedding reception apart.
Pies: Of course, a vast array of pie is sure to please. Mini pies are a cute way to draw interest to that dessert table!