You just may be enamored with the idea of cruising into an award-wining parking lot wedding venue in South Florida once you see its picturesque location. How about flirting with thoughts of entertaining on a Miami yacht charter cruise or at the extravagant Cruz Building? Here are seven unique Miami-Dade County wedding venues to create an incomparable South Florida wedding.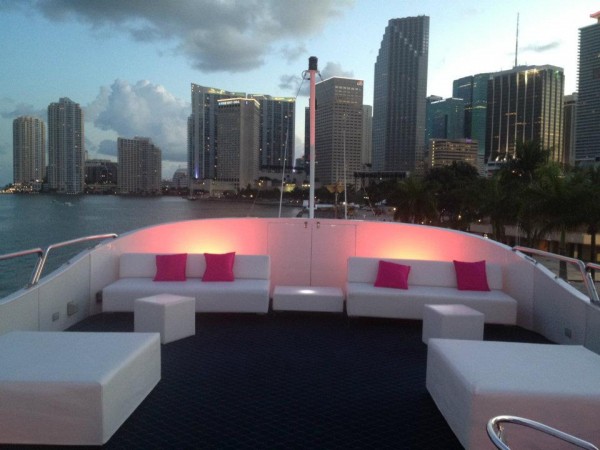 This waterfront estate is an ideal South Florida garden wedding venue with panoramic views of Biscayne Bay, the Miami skyline, and Key Biscayne. The Kampong is one of five tropical gardens and five preserves of the National Tropical Botanical Garden. It has a distinctive ambiance that will leave your wedding memories unmatched. Private events help support the mission to study, protect, and preserve tropical plants and ecosystems.
4013 S. Douglas Road, Coconut Grove, FL. (305) 442-7169.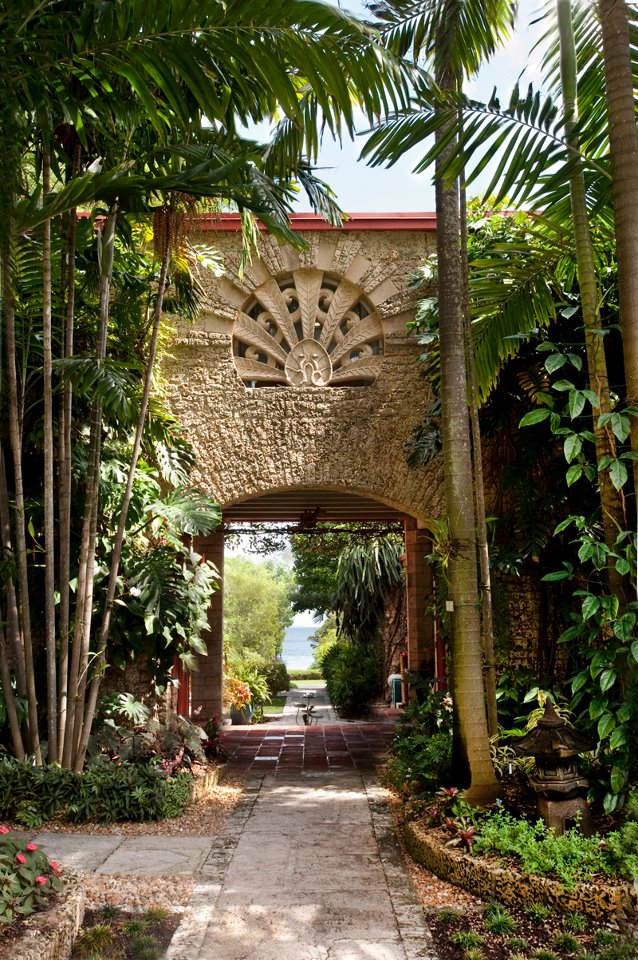 Photo credit: The Kampong Historic Home and Garden Estate
A list of unique wedding venues in Miami certainly would not be complete without mentioning 1111 Lincoln Road. The 25,000 square-foot seventh floor multi-use open air parking structure located at exactly 1111 Lincoln Road serves as a blank slate for a customized wedding reception. However, it's the dramatic views of the bay, ocean and downtown Miami that are absolutely breathtaking. Other floors of the award-winning architecture contains three restaurants, boutique shops and even fully-furnished urban residences. And yes, it's still used as -- gasp, a parking garage! Actually, it's not just any lot -- it's an exclusive 300 car valet parking facility.
1111 Lincoln Road, Miami Beach, FL. (305) 538-9320 extension 100.
Photo credit: 1111 Lincoln Road
Pure opulence is synonymous with The Cruz Building; the storybook setting to host your lavish Miami wedding, social celebration or exclusive corporate event. The glamorous three-level venue is accented with monumental stained-glass windows, majestic marble staircases, European and French/New Orleans architectural antiques, romantic interior balconies and sweeping outdoor terraces. Its soaring atrium ceilings are complimented by illuminated interior gas flame lanterns and glistening antique crystal chandeliers. Just outside are lush open air courtyards to complete the fairytale.

3157 Commodore Plaza, Miami, FL. (305) 508-9500.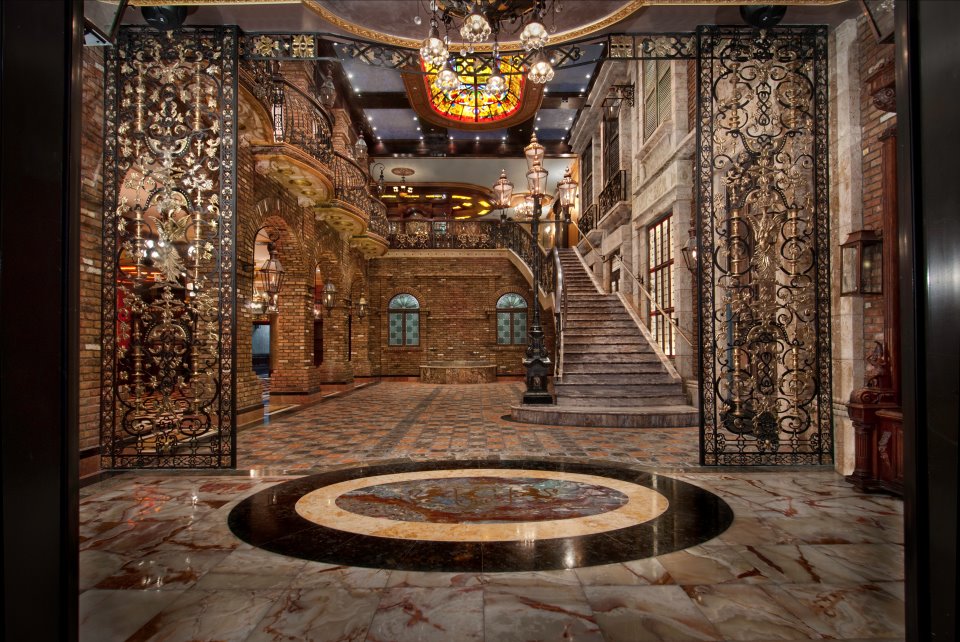 Photo credit: The Cruz Building
Sunset Cove at Miami Seaquarium
Miami Seaquarium, renown for marine-life entertainment and education, has become one of Miami's most popular wedding venues. The tranquil waters and aquatic life provides a one-of-a-kind atmosphere in this private location. In fact, it's one of the few Miami destinations with a private dock.
Sunset Cove's recently renovated waterfront gardens have two cocktail areas, and a large reception area that captures stunning views of the Miami skyline from Coconut Grove straight to downtown Miami. The gardens also have a raised stage that is perfect for daytime festivities or events at sunset. The Gardens, another option on the property, is a large open event area that overlooks the Miami skyline. It accommodates larger weddings, receptions, parties or picnics and has the capability of being completely customized.
Guests will be welcomed by a valet attendant in the circular driveway before entering the lush gardens comprised of various palms trees, bougainvillea and an array of tropical foliage through a private gated entrance. Once inside, professionally-trained event coordinators will greet and escort your guests into the cocktail area for refreshments or lead them to dinner reception seating.
4400 Rickenbacker Causeway, Key Biscayne, FL. (310) 421-1031.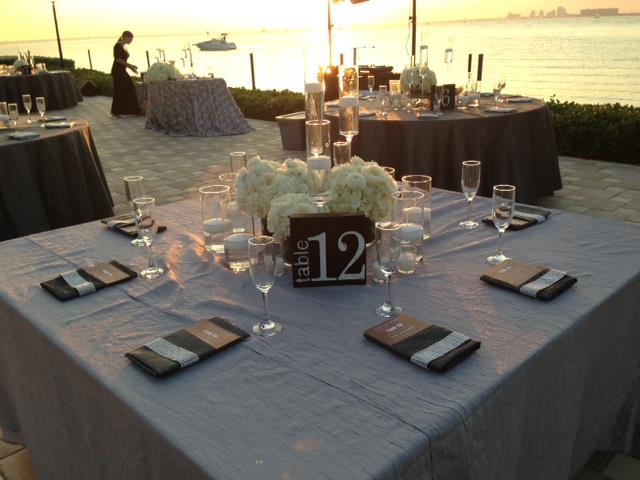 Photo credit: Sunset Cove at Miami Seaquarium
The Venetian Pool
The Venetian Pool is the fusion of a romantic old-world Mediterranean atmosphere and a water wonderland.
This aquatic facility is unlike any other in the country and boasts hundreds of thousands of tourists worldwide. Its most distinguishing feature is the 820,000 gallons of spring water derived from an underground aquifer. Cave-like grottos and two streaming waterfalls offer a scenic backdrop and fun experience for swimmers. The pool's beauty is accentuated by loggias, porticos, palm trees and its signature bridge. In addition, two large historic lookout towers add to the pool's intrigue as they offer views overlooking the city.

In its early days, it debuted as the "Venetian Casino," back in 1924 and was the premier destination for celebrities. The Venetian Pool was part of George Merrick's vision to embody a sense of hometown living in Coral Gables. The pool was also the site of concerts, in which the pool was drained and an orchestra performed on the pool floor. Originally constructed in 1923, the pool was made from a coral rock quarry, where much of the original coral rock serves to border and accentuate the pool.
Merrick's vision led to the creation of a city with Mediterranean flair complete with grand entrances, plazas, and Mediterranean style homes. Merrick, artist Denman Fink, and architect Phineas Paist transformed the pool into a paradise that has been included in the National Register of Historic Places; one of the first swimming pools to have such a designation.The pool's rich history has been preserved through photographs in the entry fountain room.

2701 de Soto Blvd., Coral Gables, FL. (305) 460-5306.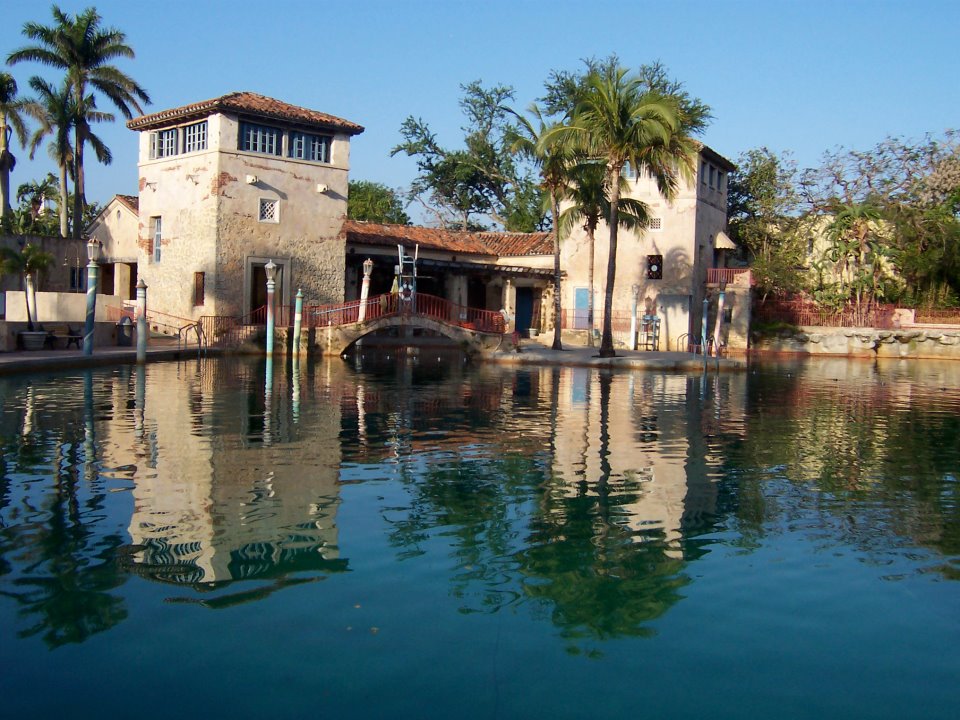 Photo credit: The Venetian Pool
Studio 743
You know you've arrived at Studio 743 when you see the cascading water fountain entryway and majestic, colorfully-lit stone pillar in the center of South Beach's art deco district. The lit tower is like a beacon for Miami partygoers. Situated in a prime freestanding spot along Washington Avenue, the 6,000 square-foot open floors space of Studio 743 allows it to be customized to your specific image and enhanced with moving lights, video displays, and wireless sound. It's even ready for special effects since the space is equipped with an audio/visual infrastructure.
743 Washington Avenue, Miami Beach, FL. (305) 674-0600.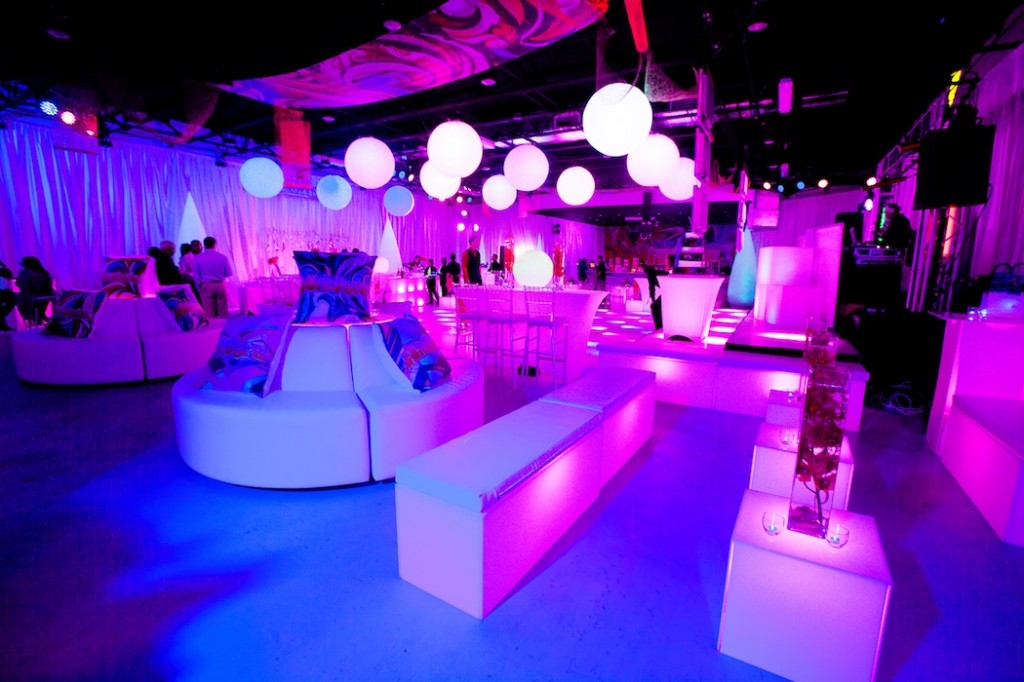 Photo credit: Studio 743
A luxury yacht is an ideal venue to host your South Florida wedding. Imagine cruising along the waterway in a sleek yacht that offers panoramic views of the sophisticated Miami skyline. Indulge in impeccable style, comfort and gracious amenities while entertaining guests in this steady but powerful boat.
401 Biscayne Blvd, Miami (305) 379-5119.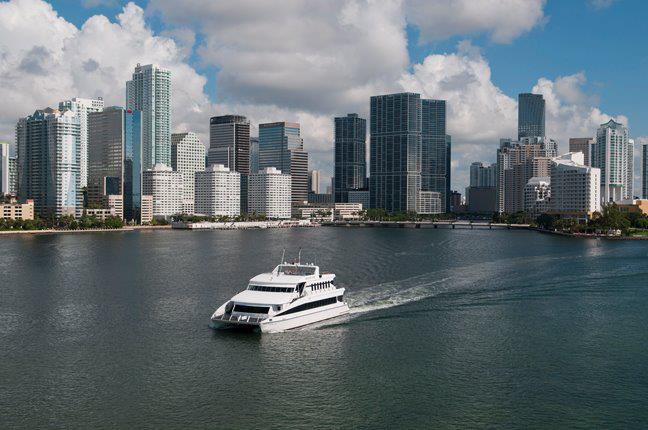 Photo credit: Biscayne Lady Yacht Charters