This week we are featuring some of our favorite Broward County venues!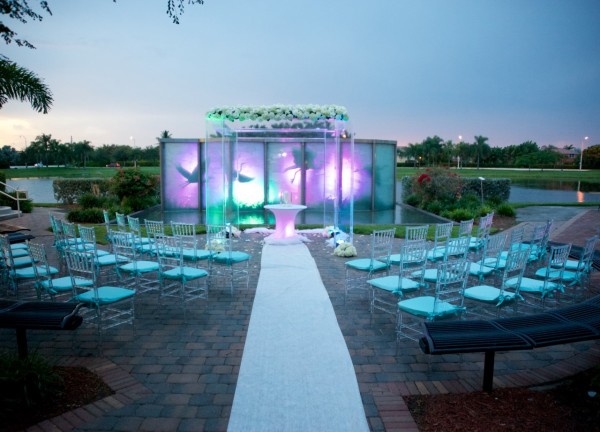 Photo Credit: Miramar Cultural Center
Germack Event Venue: This Broward County wedding and event venue is located in Davie, where it features "beautiful architectural design, luxurious decor, and state-of-the-art technological amenities" and strives "to be the best event venue and catering company in the world by creating an experience with world-class service, five-star cuisine, and awe-inspiring ambiance that cannot be duplicated." if you are looking for a beautiful venue and impeccable service all in one place for your next celebration, Germack Event Venue might just be the place for you!
NSU Art Museum: The Art Museum at Nova Southeastern University is located in Fort Lauderdale. The space is "One of downtown Fort Lauderdale's most sought-after venues... a unique setting for indoor and outdoor weddings making this the ideal Fort Lauderdale location for a memorable occasion." located right in downtown Fort Lauderdale, making it an ideal option for a South Florida wedding or event.
Bonnet House Museum & Gardens: This historic Broward County estate is also in Fort Lauderdale. Bonnet House Museum & Gardens is "a lush world filled with native and exotic trees, stunning orchids and a tranquil lily pond, home to graceful swans and the yellow bonnet lily for which the house is named." that allows guests to experience being "
Historic Needham Estate: This historic South Florida venue is also in Fort Lauderdale, located "directly on the New River has a magnificent lawn on which to dine and a fabulous courtyard in front of the estate to enjoy hors d'oeuvres and cocktails." The Historic Needham Estate "is the only choice for a truly unforgettable wedding or celebration!"
Lavan Catering & Events: Lavan Catering & Events is a banquet facility in Hollywood, close to the Seminole Hard Rock Hotel & Casino. This Broward County venue is described as "the ultimate catering facility" which includes "state-of-the art lighting, a beautifully manicured patio for cocktails and outdoor weddings, a magnificent waterfall and fountain." with space that can be split into two rooms and a lobby perfect for a cocktail reception.
Miramar Cultural Center: The Miramar Cultural Center is a Broward County wedding and event venue in its namesake city of Miramar. The venue includes "elegant indoor and scenic outdoor venues for private and public events, from weddings and birthdays to corporate meetings and community celebrations."
Vienna Cafe & Wine Bar: This South Florida wedding and event venue is a "a cottage with cuisine" in Davie. Vienna Cafe & Wine Bar will "transport you and your taste buds to Vienna," sure to make any special event especially delicious and unique!
America's Backyard: America's Backyard is an outdoor event venue in downtown Fort Lauderdale, close to Las Olas Boulevard and the beaches. At this venue, clients can "Take advantage of our large stage for live entertainment" and other features, including LED lighting, making this versatile outdoor venue perfect for any kind of event. a cottage with cuisine
Casa Reta: This unique Davie locaton is a historic-estate-turned-event-venue. At Casa Reta, "your guests will be enthralled with the beautiful fountain, oak trees and inviting entry leading from the front veranda into the stately home with its grand columns and 300-year old stained glass door."
Still looking for amazing venues? Click here! Searching for incredible vendors? Click here!