If you are "photo booth challenged," don't fret--Eventz Photo Booth has fool-proof methods in place to insure a good photo session.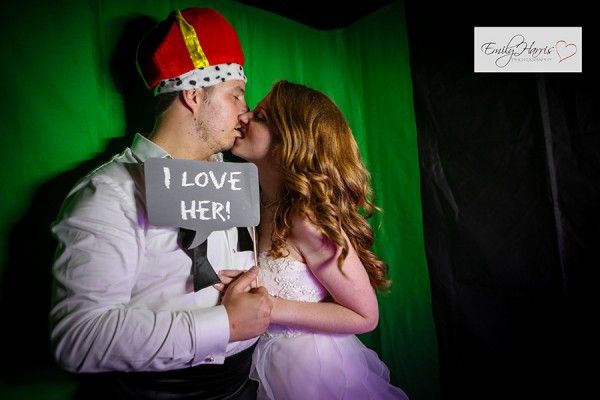 Where should you look for the camera? What poses look good on film? How close should we sit? We solve the problem of our guests not knowing where to look by always having two attendants at every South Florida event we do.
This way, one attendant escorts the guests in the booth, explains exactly what is going to happen with the countdown clock on the screen and points directly to where the camera is. Guests often get distracted by watching themselves on the monitor inside the booth so by doing this, we ensure great photos!
Photo credit: Eventz Photo Booth
There are some fun "go to" poses that always turn out well. For the adults, nothing beats a kiss inside the photo booth! We have seen the "Charlie's Angels" pose, the muscle flex, back to back…you name it…anything works as long as the guests are laughing and having fun.
Props always put guests who are not camera savvy at ease. We have so many props to choose from. We encourage guests to take in several items with them to change between shots. We have a platform inside the booth so they can plan their "costume" changes! Having to move quickly to make the change adds to the fun.
As far as props go….you can't beat a stick mustache! Our assortment of props includes quality hats, sunglasses, masks, stick props made of molded plastic (instead of the standard paper ones you see) and assorted signs. So much to choose from so our guests go in to take photos multiple times!

Photo credit: Eventz Photo Booth
We've been asked what is a good proximity between you and your buddy in the booth. Our Eventz Photo Booth is a large walk in booth that measures 5' x 5'. Depending on how many people fit in at a time (up to 10 can fit depending on size) will determine where you position yourselves. When you have a large group, taller people need to stand in the rear.
Check out Sparklers Add Fun to Your South Florida Wedding!
Searchng for the perfect South Florida wedding and event venue? Click here! Searching for event professionals? Click here!