First, when searching for a venue, consider your South Florida wedding and reception location and proximity of out-town guests.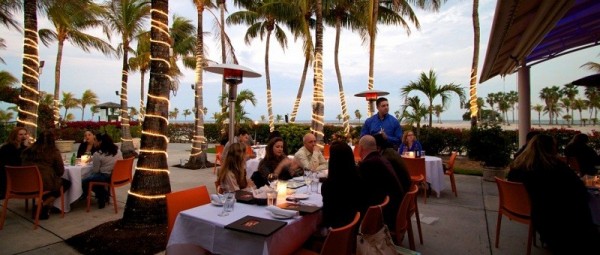 Photo credit: Red Fish Grill
Think about booking a restaurant nearby this central location since it follows your ceremony rehearsal. Of course, if there is a spot that has special meaning, host your rehearsal dinner there. Since, there will be a large group, book your South Florida rehearsal dinner venue about four-to-five months ahead of time to ensure you get a reservation.
Review the menu. Restaurants will often have a special menu for large parties to choose from. Other menu alternatives are a cocktail hour, family style or buffet options.
Consider toasts. Usual suspects include the father of the bride or groom and best man. Traditionally, the bride's father hosts the event; however, this is not necessarily the case anymore.
Of course, online or paper invitations should be sent after the wedding invites are mailed, about a month before the rehearsal dinner date. Traditionally, the bridal party (yes, the little ones too--and their parents), family, officiant and out-of-towners are extended an invitation.
Again, much like the wedding, the restaurant or caterer will need a final guest count a week before the rehearsal dinner. It's almost like a wedding 'mini-me.' A seating chart and place cards may be necessary, if choosing a sit down dinner. This is also the appropriate time to present bridesmaids, groomsmen and parent gifts.
If entertainment or that retro slide presentation is planned, arrange for audio/video equipment with the restaurant or venue manager ahead of time. And then, sit back and enjoy the company and celebrate the culmination of months of planning and what is yet to come!