It doesn't have to be Independence Day to enjoy beautiful glowing sparklers. Sparklers create a dramatic and magical South Florida wedding send-off the night of your reception. They also add glamour, dimension and complementary lighting to wedding photos.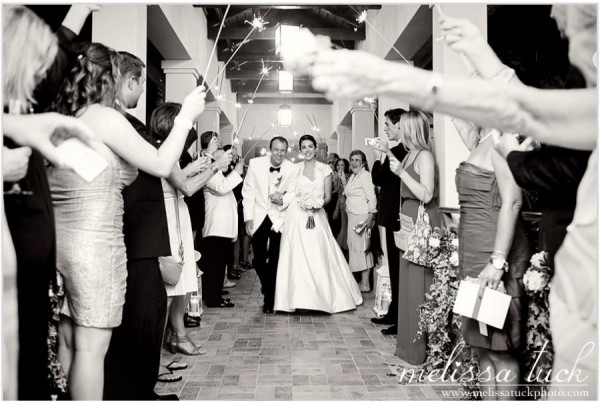 Photo credit: Melissa Tuck Photography
However, before you invest in a sparkler send-off, discuss it with your venue manager to ensure sparklers are permitted onsite. There may be an ordinance restricting sparklers or fireworks.
In addition, consult with your South Florida wedding photographer about incorporating sparklers in your pictures. They may want to select different camera equipment and special filters to better capture your incredible exit.
Sparklers can be ordered in small, medium and large sticks: 10 inch, 20 inch and 36 inch. As a guide, medium sized 20 inch sparklers will illuminate for 2 minutes. Longer sparklers will provide more prep time before the wedding couple exits the venue. Choose to have guests hold them or place them in a path on the ground. Some brides may consider changing into a shorter dress but is not necessary if the path is wide enough to avoid contact with a sparkler.
When calculating the right amount of sparklers, remember that many guests will not be able to stay to the very end of your reception. Also, many sparkler companies include several 10 inch sparklers with the order to light the others.
Delegate your Maid of Honor, Best Man or family member to distribute the sparklers to your guests, another to light them and one to collect used sparklers when the reception finale is over. Make sure all are extinguished and dispose the used sticks safely.