Traditionally, rain on your South Florida wedding day is good fortune. However, if this idea of a good omen is not enough to uplift you, here are some perks to wedding precipitation: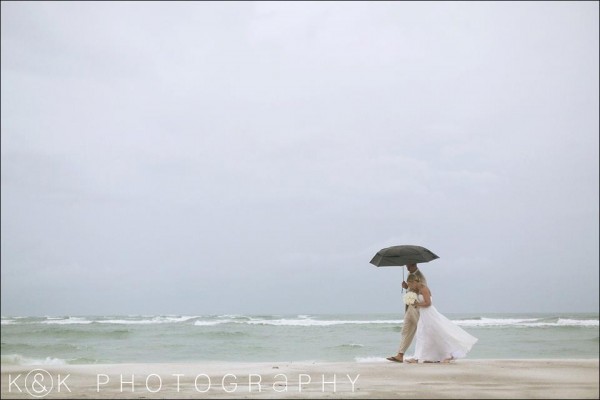 Photo credit: K and K Photography
First, most likely, South Florida rain won't last long and in a matter of minutes, clouds will disperse in favor of sunny rays.
Photography: Raindrops are beautiful in wedding photography. Umbrellas add chivalry and romance despite providing minimal shelter from the rain. Bright colored rubber rain boots worn with a glamorous wedding gown add character to South Florida wedding photos.
Adventurous couples may use puddles as playful action shots and artsy South Florida wedding photographers may see reflective puddles as an opportunity to capture unique wedding shots. Ominous wispy clouds can make sensational backdrops.
Rain cools a humid day and provides ideal soft natural light and lessens shadows for your wedding photography.
Adverse weather will certainly set your wedding apart from the rest and years from now will be remembered fondly. Finally, water reflects new beginnings just as the union of the two of you set out on Day One of your new life together.