The flowing train of a wedding dress isn't the only thing cascading at Embassy Suites - Fort Lauderdale. Its waterfalls provide a serene background for your South Florida wedding overlooking the pool at the resort's wedding and reception area, "Aqua." The hotel has 361 two-room suites that surround a 12-story tropical atrium and is located four blocks from the Fort Lauderdale cruise port and just two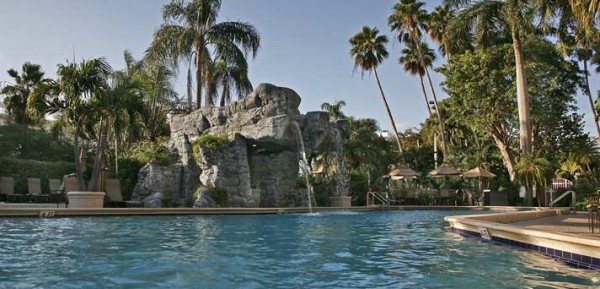 just two miles from South Florida tropical sandy beaches.
Embassy Suites' motto, "Dream It. Plan It. Experience It." is a simple 'to-do' list for engaged couples since its coordinator takes care of the details to make South Florida wedding dreams a reality.
"The Embassy Suites Fort Lauderdale is the perfect place to host your Fort Lauderdale wedding or special event," said Kimyatta Evans, Wedding Coordinator and Director of Catering. "We believe in stress-free planning. We like for our clients to feel pampered and spoiled at the end of the day," she said.
"Our team (the catering, banquets, culinary staff) is what makes South Florida weddings special here. We treat all guests like family."
There are five different packages to choose from with a variety of plated, buffet and station offerings. "All packages are customizable to meet all of our clients' needs and budgets too," Evans said. However, she said her favorite wedding package is the Oasis. "I think it's the perfect wedding day package for any couple for a once in a lifetime event," Evans said.
Embassy Suites offers creative and upscale catering from 10 to 400 guests on-site or can provide off-site services for parties with 50 to 1,000 guests. Venues include the E Spot Restaurant, Grand Salon, Terra Ballroom and Aqua, its outdoor event area. Other amenities include a tropical koi pond on the grounds, an outdoor terrace, gym and heated pools. However, Embassy Suites newlyweds receive a gift from hotel. "We like to surprise our couple with a special amenity to wrap up their wedding day," Evans said.
Newly-engaged couples planning a destination wedding in South Florida may want to consider scheduling their special day in April or October. "Both months tend to have slightly cooler temperatures than other times of the year," said Evans. "Both are before two very busy seasons – April is just before Hurricane Season and October is just before the holiday season."
Those looking to entertain visitors or engage in some fun, South Florida activities have a lot of choices. In addition to scuba diving and fishing, guests can hail a water taxi to tour the 'Venice of America' along the Intracoastal Waterway and admire yachts and mansions along the way. Everglades National Park is also in close proximity where adventurous couples can take an airboat ride to learn about native wildlife.