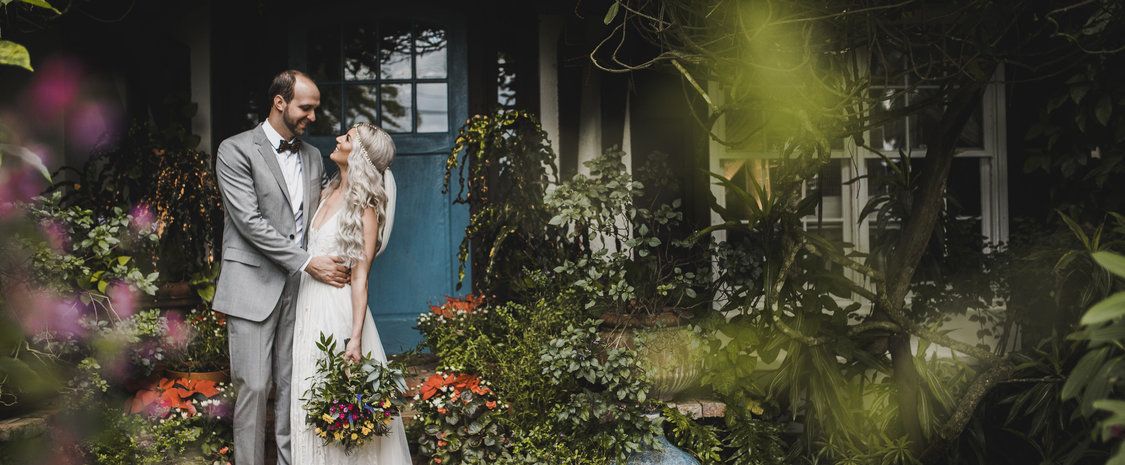 Zaitography
Historic Walton House
Redland/ Miami, Florida
Historic Walton House
This charming, historic English-style cottage was built in 1917 by W.K. Walton, homesteading pioneer, and is not typical of other houses built during the same period in rural South Florida. Its wood frame and stucco exterior is more reminiscent of the quintessential English cottage rather than the nearby residences. From its soaring gabled roof to the surrounding country English flower garden and adjacent European-styled horse stable which has been converted to an air-conditioned reception hall, you will experience the flavor and old world charm of England right here in South Florida.

The Historic Cottage has a lush tropical setting surrounded by a multitude of rare and exotic flora; The Walton House is sure to please. Situated within a 5-acre tropical botanical garden, The Walton House boasts a coral rock swimming pool with cascading waterfall, a large lagoon with beautiful white swans and Japanese koi, and a sunken pond with a flowing waterfall. Adding to the tropical ambiance is a large collection of macaws, parrots, flamingos, waterfowl, cranes, giant tortoises, and monkeys. The centerpieces to this tropical paradise is a large Indonesian-style Chickee hut with an expansive deck adjacent to the tropical lagoon. It also has an antique Bridal/Honeymoon Suite available for your convenience.
Reviews
We planned a destination wedding in Key Largo at a beautiful seaside property 15 months ahead of the wedding. With four months to go to the wedding, the property owner advised us the property had been sold. As bad as this sounds, it turned out to be the most serendipitous thing that could happen. As we scrambled to find alternatives on short notice, my daughter discovered The Walton House in the Redland, near Homestead, Florida. The location was near enough to the hotel we were using for our guests (the Harbor Bay Marriott Resort in Key Largo) so no changes were needed for that arrangement. We visited and were immediately enchanted with not only this spectacular venue, but with the owners, Frank and Magali. They were very understanding of our predicament and received us warmly. After a tour of their amazing property we booked immediately. A huge plus was their easy accommodation of our requests and we were able to use the caterer and DJ we had already lined up. One of the greatest features of The Walton House is the ability to have a multiple number of options for where to have the ceremony and reception. The weather leading up to the wedding day had been rainy, so during rehearsal the night before we decided to move the ceremony to the main entrance from the lawn. On the day of the wedding, with the forecast still questionable, we moved the ceremony to the beautifully converted stable. This kind of versatility at The Walton House has a very calming and confidence inspiring effect. Further, the grounds offer unique paths through lush tropical grounds that take you and your guests to new discoveries, like the tiki hut and deck overlooking a delightful pond complete with beautiful swans. Exotic birds, including flamingos enhance the experience. Most of our guests were from northern US, Canada and England. All of them were absolutely raving about this venue and the wedding. It was nothing short of magical. Learning about the change in our original venue choice was disappointing, but it turned out to be the best thing that could happen. The Walton House turned out to be more beautiful, exotic and memorable making us completely forget we ever picked a different venue. It was a true blessing. If you are planning a destination wedding or any wedding or event in the Keys or South Florida, there is no better place with nicer more professional people than The Walton House. We know, we checked into dozens of different spots and these people are the best. They are dedicated to making your wedding the most memorable occasion possible. I strongly recommend The Walton House if you are looking for a unique and memorable wedding for you and your guests.
Contact Person
Frank Blanco, Event Director
Address
28501 SW 187th Avenue, Redland/ Miami, 33030
Video Image
https://vimeo.com/158251078
Videographer
Curtis Smith Photograghy
Is your facility handicapped accessible
No
Is kosher catering available
No
Is outside kosher catering permitted?
Yes
Is the facility indoor only, outdoor only, or both?
Indoor and Outdoor
Does your facility have guest rooms
No
Does your facility have air conditioning
Yes
Maximum capacity with dancing
175
Maximum capacity without dancing
200
Facility restrictions
Antique bridal suite available from 9 am till the end of the reception. Complimentary valet parking service, over 4000 bistro lights, over 100 candle lit lanterns, restroom attendant and 2 hour pre-wedding photo session. Music must end by 11:30 PM. No self catering or self bought liquor. You must choose one of our 10 preferred partners for catering.
Rental fees
$8,500 plus 7% sales tax for Saturday (during peak season Oct-May) $7,500 plus 7% sales tax for Saturday (during non-peak season June-Sept) $7,500 plus 7% sales tax for Friday & Sunday (during peak season) $7,000 plus 7% sales tax on Friday and Sunday (during non-peak season). Photo Shoots are available at $180 for 2 hours (additional hours are available upon request and additional fee is to be discussed prior).