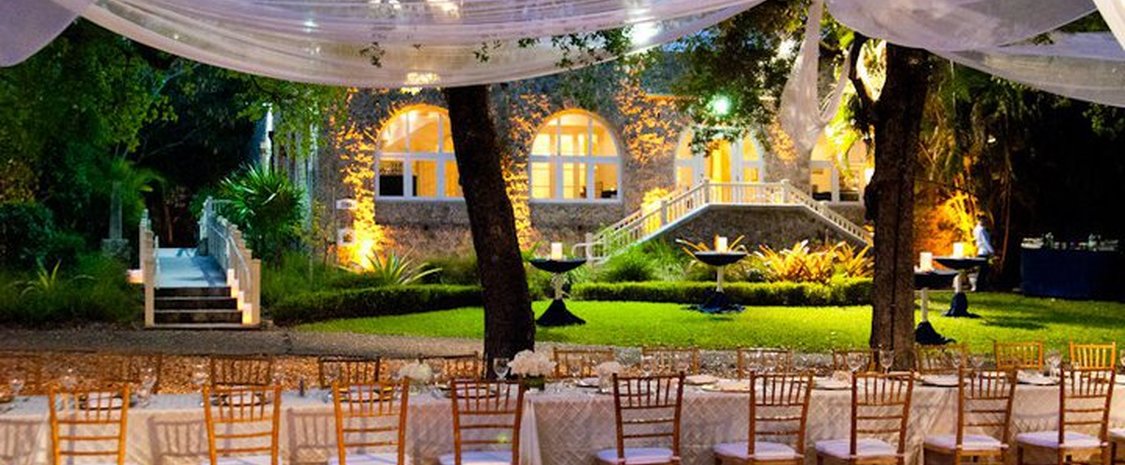 Woman's Club of Coconut Grove
Coconut Grove, Florida
Woman's Club of Coconut Grove
Situated in the heart of Coconut Grove, this beautiful 1891 historic building is nestled among magnificent Oak Trees, making it the perfect backdrop for weddings, social events or corporate events in Miami Dade County. Original date pine floors and open beam cathedral ceiling coupled with a Stone Fireplace add vintage old county charm to any special event.
Contact us today for more information!
Latest News
Reviews
My wife and I searched absolutely everywhere, and had a spectacular experience in this JEWEL of a place. The tea, is super, the location is perfect and every guest loved it. The price was also great and the elegance and uniqueness of the venue turned our wedding into a world class yet intimate event. THANK YOU very much.
We spent a lot of time trying to find the perfect venue that would be unique, elegant, special and cozy - not your typical ballroom. We LOVED this venue, as did our guests. It's not easy to find a historical building in Miami. The Woman's Club is cozy and beautiful in its simplicity. Leslie Rowe and her team were very professional and helped make the event run smoothly. They provided the venue, draping on the ceiling (which was key), lighting throughout and the parking attendant. The draping and lighting were crucial to set the mood. The venue is beautiful, but it needs some touches to make it stand out a bit more... and on 'value' I put 4 stars only because the "touches" each cost quite a bit. It's important to be conscious of the fact that the venue rental fee is one thing, but you'd have to add all the extras (which can really add up). We brought an outside wedding planning/catering company/florist, but Leslie Rowe did offer a great and competitive package. I'd do it here again in a heartbeat.. I'm still in love with "our" special venue. Side note: We had ~115 guests, which was a perfect number for the venue. I'm sure it would fit more, but I wouldn't go over 120/130 because it would take away dancing space.
I had my wedding at the Woman's Club of Coconut Grove and it was great. Leslie and Rudy were awesome, their service was great, I hired them for day of the wedding coordination and they made sure everything was perfect. I highly recommend this venue and working with them.
Show More Reviews
Contact Person
Event Specialist
Address
2985 South Bayshore Drive, Coconut Grove, 33133
Is your facility handicapped accessible
Yes
Is your facility handicapped accessible
Yes
Is kosher catering available
Yes
Is outside kosher catering permitted?
Yes
Is the facility indoor only, outdoor only, or both?
Indoor and Outdoor
Does your facility have guest rooms
No
Is the facility indoor only, outdoor only, or both?
Indoor Only
Does your facility have air conditioning
Yes
Maximum capacity with dancing
1280
Maximum capacity with dancing
1030
Maximum capacity without dancing
220
Maximum capacity without dancing
1330
Facility restrictions
Nothing can be attached to the building without approval. Open Flame candles in the fireplace and uplighting must go through the Club. Music must end by 2am. One event reservation per day.
Facility restrictions
Music off at 2:00am
Rental fees
Monday through Thursday $1800* Friday through Sunday $3500* *Plus a $1,000 Refundable Security Deposit + Tax
Rental fees
Please make inquiry upon contact.